Faculty Spotlight: Eric Kurlander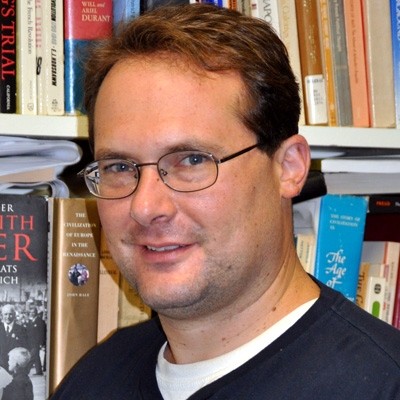 Associate Professor and Chair of History Eric Kurlander 
Although he always liked history, Eric Kurlander didn't imagine in high school that he would become an historian.  He expected, instead, to major in the sciences—in part because his semi-rural, northern Illinois high school only offered AP courses in biology, chemistry, and math.  Still, an especially memorable high school teacher (Mr. Pfannkuche) must have discerned his potential as an historian, for he was the first to suggest that Eric consider history.  At Bowdoin, Eric found himself avoiding the Advanced Calculus and Organic Chemistry courses for which his high school AP classes had prepared him, opting instead to take 14 of his 28 undergraduate classes (not counting a semester studying abroad in Belgium) in history.  What sealed that choice was a course in "Change and Revolution" taught by John Karl, a German historian, one of "the last Bowdoin professors who was primarily a teacher, in the sense that he didn't do much writing for publication, but he was also one of the most dynamic, rigorous, and inspiring professors in any department."
Despite a senior honors thesis that offered a new take on the Holocaust—departing from the conventional wisdom by arguing that there was not one but two separate views of Jews in Nazi Germany, one focused on eliminating the Jews from German society through disenfranchisement and emigration, the other on physical annihilation—Eric insists that he was "not terribly intellectual" as an undergraduate (though he did enjoy doing well in classes).  He joined a fraternity at a time when Bowdoin, like other top-notch liberal arts colleges, was getting rid of them (and therefore helped lead the transition from single-sex fraternity to co-ed social house).  He also played intramural sports and enjoyed "hanging out with friends."
In the year before he began graduate study at Harvard, he worked as a clerk in a law office and as a bouncer in a local bar & restaurant.  Both jobs allowed him time to read and study German.  In the law office, he was struck by the fact that so many lawyers in the office had books on history they were eager to discuss:  it seemed the "last thing they wanted to do was study law."  This, of course, only reinforced his decision to pursue graduate study in modern European history, with a focus on Germany—the site of the "most interesting events of the last century."  He ended up at Harvard because it offered the best combination of quality program and financial aid, but in retrospect he perceives that he was very "unsophisticated" in how he went about identifying programs that would be best, given his particular interests.  (He applied to some that weren't the right fit for someone wanting to pursue a PhD in modern German history, his area of specialization.)
In graduate school, everything was interesting:  learning, teaching, ideas, interacting with people who were intellectually daunting and accomplished.  Indeed, that experience fueled Eric's commitment to scholarship.  Remaining an active scholar is a way of always having that, of maintaining that kind of intellectual community.  This is what made research and scholarship interesting in the first place—intellectual engagement with the best minds in the field.  For Eric, it's "not really a choice.  If I weren't doing this, I would be unhappy."
Since his appointment at Stetson in 2001, Eric has been one of Stetson's most prolific and accomplished scholars.  He has received numerous Stetson summer grants, and in 2006, was honored with the Hand Award for Scholarly Achievement.  He has also held several fellowships abroad:  The Thyssen-Heideking (German Historical Institute) Writing Fellowship at the University of Cologne (2007-8); the Alexander von Humboldt Research Fellowship for work in Bonn and Berlin (2007-8); and the Fulbright Scholar Grant, which he held while teaching at the Freiburg Pädagogische Hochschule in spring 2012.
While at Stetson, Eric has published numerous articles and two books.  The first, The Price of Exclusion:  Ethnicity, National Identity, and the Decline of German Liberalism (2006), he describes as a traditional work of political history.  The second, Living With Hitler: Liberal Democrats in the Third Reich(2009), offers more of a social and cultural history of liberal resistance, collaboration (and everything in between) during the years 1933-45.  A textbook forthcoming in 2013, The West in Question:  Continuity and Change (Pearson Longman), was co-authored with Stetson colleague Dr. Kimberly Reiter (who also teaches in the History Department).  Currently under contract with Yale UP trade division is a study of Hitler's Monsters:  A Supernatural History of the Third Reich.
With the latest book, Eric revisits ideas that he has long found interesting but has not until now felt that he had the scholarly freedom or the methodological sophistication to undertake.   Inspired in part by the recourse to the supernatural he perceives in contemporary American culture, Eric examines the turn away from empirical evidence and reason—in public discourse—in the face of intractable social problems.  Informed by classic studies of interwar occultism and the macabre by Frankfurt School theorists like Adorno and Kracauer as well as more recent revisionist cultural and intellectual history emphasizing the "reenchantment" of twentieth century Germany , the current book analyzes the Nazis' manipulation of the supernatural to attain power and maintain their sociopolitical hegemony .  What interests Eric is the way that—in Nazi Germany as in our own time—the supernatural can be invoked to justify any belief, sometimes with horrifying consequences, without regard to material realities.
How does he accomplish so much, while chairing a department, teaching a full slate of classes, serving on important College/University committees, and raising two small children with his wife, Monika?  Especially given that he rarely works once he leaves the office, choosing instead to relax and spend time with his family?  For one thing, he reports that he's very self-directed, and as he works he follows his interests.  He may engage in many different kinds of activities in the course of a day, but he works efficiently—he's not easily distracted.  For another, he's never been a perfectionist.  Unlike many other scholars, who will keep working on a project that isn't yet perfect, he is able to let his work go, knowing that his editors will lend a critical eye later on.
At Stetson, Eric is known as a tireless advocate of the kind of rigorous academic quality that characterizes the best liberal arts colleges.  For him, the best thing about Stetson is the chance to teach a wide range of courses to small groups of really smart and engaged students, while working with talented faculty who share a commitment to liberal learning and passion for scholarly inquiry. This story is posted on Stetson's Academic Affairs website.
Karen Kaivola, September 2012
Associate Provost for Faculty Development, Professor of English