Bluemner exhibit opens at Stetson Jan. 25
OSCAR BLUEMNER'S GERMANY: JUXTAPOSING JERICHOW
Works from Stetson University's Vera Bluemner Kouba Collection
January 25 – April 29, 2013
OPENING RECEPTION 6-8 P.M., FRIDAY, JAN. 25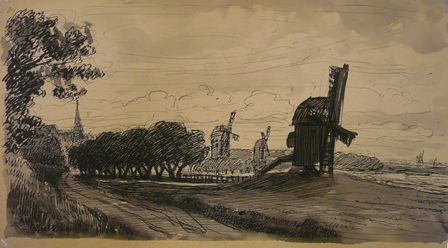 Since its opening in 2009, an important mission of the Hand Art Center at Stetson University has been the exhibition and interpretation of the artwork of Oscar Bluemner (1867-1938) that was bequeathed to Stetson University by the artist's daughter in 1997. Bluemner emigrated to the United States in 1892 and became an important American Modernist painter at the beginning of the 20th century. Oscar Bluemner's Germany: Juxtaposing Jerichow is the first exhibition to focus on works created by the artist in his native Germany. The exhibit, curated by Dr. Susanne Eules, concentrates on images Bluemner made in and around the town of Jerichow before his emigration and on a return trip to Germany in 1912. Bluemner's original artworks are accompanied by contemporary photographs of the locales he portrayed.
During a research trip to Germany in the summer of 2010, Eules traced Bluemner's footsteps in Jerichow and surroundings. This trip also yielded new insights into the artist's family history. A surprisingly high number of works in the Vera Kouba Bluemner collection – more than 160 – feature scenes in the towns of Jerichow, Tangermünde, Stendhal and the surrounding countryside. The sketches document the transition from Bluemner's more traditional style towards a late impressionist one. The works of cubist, futurist and German expressionist artists  that he saw in many avant-garde exhibitions in European museums and galleries during his 1912 trip impacted Bluemner's work only later, after his return to America. Today, Jerichowisa town of about 7460 inhabitants located in the Jerichower Land district in the state of Saxony-Anhalt, Germany. The most prominent feature of Jerichow is the fully restored, oldest brick church in Romanesque style in Northeast Germany. Before his emigration to America in the fall of 1892, Oscar Bluemner often visited the small town to see his paternal grandparents and other relatives living in nearby villages. The Jerichow sketches rely on direct observation; some are annotated, specifying names, places and professions some of which no longer exist.
The people of Jerichow were very surprised to learn that one of their great "grandsons" had become part of the American modernist movement in art. This fact brought a sense of pride to the inhabitants of this small town that still suffers from the aftermath of economic and cultural neglect under the former East German regime from 1949 -1989.
On Wednesday, March 13, 2013, 7 p.m. exhibition curator, Dr. Susanne Eules, will present a public lecture about the exhibition in Room 25 of the Instructional Media Center of the duPont-Ball Library (reached from the courtyard on the north side of the library), 134 E. Minnesota Ave.