Basketball coaches' salaries soar, says research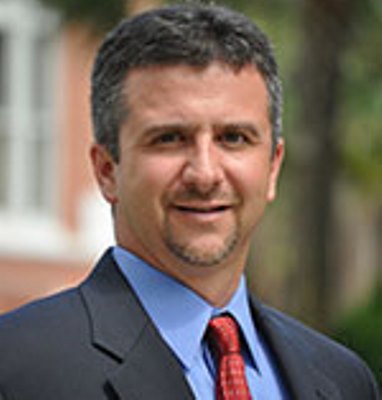 Matt Wilson (pictured at right), Sport Management Program director and assistant professor at Stetson University, conducted research on incentives for intercollegiate men's basketball coaches that has been published in the Journal of Issues in Intercollegiate Athletics and garnered attention from USA Today. Teaming up with Kevin Burke, dean and professor at Queens University of Charlotte's Blair College of Health, they published, "NCAA Division I Men's Basketball Coaching Contracts: A Comparative Analysis of Incentives for Athletic and Academic Team Performance Between 2009 and 2012."
In their research, Wilson and Burke compared the contracts of 65 Intercollegiate NCAA Division I men's basketball head coach salaries from 2009-10 school year with the contracts of the 68 coaches from the 2011-12 school year. The results reveal extreme inflation in incentives for head coaches of competing NCAA Division I men's basketball teams, specifically for non-automatic qualifying (non-AQ) teams – teams that come from conferences whose football teams do not automatically qualify for the Bowl Championship Series (BCS). In their research they found that among coaches at the non-AQ conference schools, the average total pay in 2009-10 was $357,440; in 2011-12, it was $513,872, a significant increase of almost 44 percent.
The incentivization for athletic and academic team performance is often the reason for these huge increases. For example, if a team's GPA goes up then the coach's financial reward is higher. Using Rick Pitino, head coach at the University of Louisville, as an example, if his team has an average GPA of 2.5, he receives  a $50,000 bonus; 2.75, $75,000; 3.0 $100,000. In addition to GPA, coaches' contracts also can include incentives for academic progress rate and graduation rate.
The research also reveals an increased gap between automatic qualifying (AQ) schools (teams that come from conferences whose football teams automatically qualify for the BCS)  and non-AQ schools in the potential compensation for both athletic and academic incentives. AQ schools increased their potential pay for athletic incentives  by 70 percent between 2009 and 2012, but dropped in average academic incentives  by 45 percent during the same time period. However, the non-AQ schools potential pay for athletic achievements increased 118 percent between 2009 and 2012, while the potential pay for academic achievements increased by nearly 1,000 percent.
The statistics demonstrate the extreme differences between what the AQ schools and the non-AQ schools pay for both academic and athletic achievements. Wilson and Burke state in their journal article that the success of non-AQ teams could "explain the increase in amount of athletic and academic incentive clauses being placed in non-AQ conference schools' coaching contracts. To retain top coaching talent, non-AQ conference schools might become more 'creative' in contract structure, thereby adding more athletic and academic team performance incentives to coaches' contracts as a way to increase overall compensation. Furthermore, non-AQ conference athletic directors may be increasing the amount of academic incentives in these coaches' contracts as a means of continuing to emphasize the term 'student-athlete.'"
"The business of college athletics has grown exponentially in the last 20-30 years," said Wilson. "Athletics directors are now CEOs of multi-million dollar programs. Coaches are getting paid three to four times as much as university presidents. More and more schools are entering the 'arms race' – increasing coaches' salaries, building new athletic facilities, keeping up with the Joneses in order to attract the top recruits.
"We are simply reporting what's being done. We are identifying this trend," said Wilson. "Do I see this stopping? No, because we have some realignment with conference affiliation all being driven by TV money. It would appear college athletics, from a marketing and advertising standpoint, can bring large visibility to universities that maybe other areas cannot. Colleges are using athletics to market their universities. Athletic success can bring huge increases in unique visitors to a school's website, huge increases in college merchandise sales and thousands of people to a university's campus."
Citing a dearth of empirical research in this area, Wilson said that there is room for additional research and expansion to other sports such as football or women's basketball.
Some information for this research was obtained from USA Today, which has published a second article on this topic citing the research. Neither Stetson University nor Queens University of Charlotte provided information on coaches' salaries for the research. Click to read the the research article in the journal.