Rickman celebrates 30 years at Stetson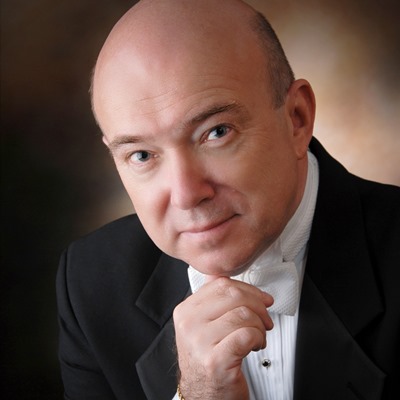 Hailed by the New York Times, Daytona Beach News-Journal and newspapers around the globe for his brilliance on the piano, Dr. Michael Rickman, Steinway Artist and Professor of Piano, will celebrate 30 years teaching at Stetson University with a much anticipated recital on Sunday, April 7, at 3 p.m.
Upon entering his studio in Presser Hall at Stetson, one might feel slightly intimidated by the two grand pianos that sit side by side or the numerous diplomas and accolades that grace the walls. Instead you will find the presence of a worldly, knowledgeable man who is personable, well studied and a master of his instrument.
With roots in Asheville, N.C., he completed his degrees at Mars Hill College and the University of North Texas. The many influential teachers of his profession, of whom he speaks so highly, included the late Grace Potter Carroll, Richard Cass, Jack Roberts, and Karen Shaw.
Before beginning his current post at Stetson University in 1983, he served on the faculty of William Woods and Westminster Colleges in Fulton, Mo., and at Southeastern Louisiana University in Hammond. It was at the suggestion of colleagues, Dr. and Mrs. Rich, who felt Rickman could make a substantial contribution to this private, central Florida university that he, with some trepidation, applied for the position at Stetson. It was during the interview phase, when he witnessed the level of student achievement and the professionalism of his future colleagues, that his decision came with ease.
Over the years, Rickman's contributions to not only the University but also to his profession, have been more than substantial. In 1990 he received the Homer and Dolly Hand Award for Creative Activity and Research and, in 1995, was the recipient of the most prestigious faculty award granted by Stetson University, the William Hugh McEniry Award for Excellence in Teaching. One of his most significant achievements came in 2009 when Rickman was named to the prestigious roster of Steinway artists, consisting of approximately only 1600 pianists worldwide.
With international performances in Latvia, Chile, Bolivia, Italy, Germany, Austria, Toronto, London, and Paris as well as in Miami, Palm Beach, Philadelphia, Louisville, Kansas City, Sacramento and at the Alice Tully, Bruno Walter and Carnegie Halls in New York, Rickman's performances have received exceptional praise from audiences and the media worldwide. Rickman and his students have impressed audiences for the past seven years at the Orfeo (formerly Schlern) International Music Festival in Northern Italy.
As he approaches the milestone of teaching 30 years at Stetson, he is grateful for the many students whom he has seen excel and who have themselves created magnificent careers. His face lights up when he speaks about teaching Master Classes during which students and the general public witness Rickman's teaching of other students. His passion for the piano, for music making and for the continued success of his beloved students is obvious.
With thoughts to the future, Rickman's greatest desire is to see a first-class performing arts center on campus. He looks to the skills of the new dean of the School of Music to help develop this dream and envisions a time when students, alumni and members of the community will enjoy outstanding music in this new center.
As he approaches his milestone recital on Sunday, April 7, he is excited about the works he chose to include, which took great consideration. Rickman's Faculty Recital, featuring his celebrated skills on the piano, will take place in Lee Chapel inside Elizabeth Hall at 3 p.m. on Stetson's DeLand campus, 421 N. Woodland Blvd.
Tickets are free to the Stetson University community with ID, and concert series card holders. For more information, contact the School of Music at www2.stetson.edu/music, or call the Ticket Office at (386) 822-8950.
Click here to enjoy the Schubert posthumous Sonata in A Major, one of the works Rickman plans to perform at his celebratory recital April 7. Rickman was also interviewed live on WSBB Radio on Tuesday, April 2, AM 1230 and AM 1490.

by Mary M. McCambridge