StetsonU Intercultural Series starts 9-24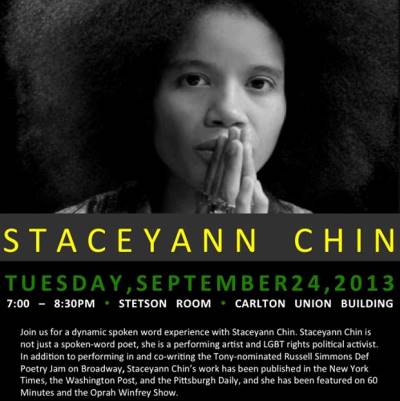 From September to November, Stetson University will host a series of six lectures and presentations that explore racial, sexual, gender, and religious identity and the issues surrounding them.
Stetson University's Fall 2013 Intercultural Program Series, sponsored by Stetson's Cross-Cultural Center and the Multicultural Student Council, is free and open to the public. For more information on the Intercultural Lecture Series, contact Stetson's Tri-C at (386) 822-7402, [email protected].
The first presentation is Tuesday, Sept. 24, 7 p.m., in the Stetson Room, second floor of the Carlton Union Building, 131 E. Minnesota Ave. Spoken-Word Artist Staceyann Chin is a performing artist and LGBT rights political activist. In addition to performing in and co-writing the Tony-nominated Russell Simmons Def Poetry Jam on Broadway, Staceyann Chin's work has been published in the New York Times, the Washington Post, and the Pittsburgh Daily, and she has been featured on 60 Minutes and The Oprah Winfrey Show. More information contact Tri-C, 386-822-7402, [email protected].
The second presentation will be Monday, Sept. 30, 7 p.m., Stetson Room, Carlton Union Building, 131 E. Minnesota Ave. Rita zhang will present "Asian American Counternarratives: What does it mean to be Asian American in the 21st Century?" Her counternarrative will touch upon broad themes affecting the broader Asian Pacific Islander American community, including the model minority myth, intergenerational-conflict, racial marginalization/invisibility, and gender. In addition to being sponsored by the Cross-Cultural Center, this lecture is also sponsored by the Asian Pacific American Coalition.
The other presentations in this program include:
Thursday, Oct. 3 – Stacey Waite – Workshop – 2:30-4 p.m., Tri-C, located at 611 N. Bert Fish Dr.  – Stacey Waite is a poet from Long Island, New York.  She received a Master of Fine Arts in poetry in 2002 and a Ph.D. in Composition and Rhetoric from the University of Pittsburgh. Waite has published four collections of poems: Choke (winner of the 2004 Frank O'Hara Prize in Poetry), Love Poem to Androgyny (winner of the 2006 Main Street Rag Chapbook Competition), the lake has no saint (winner of the 2008 Snowbound Prize in Poetry) and Butch Geography (Tupelo Press, 2013).
Tuesday, Oct. 22 – Rev. Dr. Jamie Washington and Rev. Sam Offer – The Journey To Wholeness: Black, Christian, and Gay; 7 p.m., Stetson Room, Carlton Union Building, 131 E. Minnesota Ave. LGBT History Month Keynote speakers. Washington and Offer are two Black, Gay, Ordained Preachers in the Christian Church. They each have had a remarkable journey navigating and reconciling what it means to be all of who they are. They will inspire, encourage and challenge you. Come on the Journey to Wholeness: Black, Christian and Gay. Also sponsored by the Asian Pacific American Coalition.
Wednesday, Oct. 30 – Amer Ahmed – Addressing Islamophobia: Proactive Efforts to Address Hate and Bias On and Off Campus – 7 p.m., Allen Hall, 508 N. Woodland Blvd. The post-9/11 era in the U.S. has exposed a significant degree of prejudice and bigotry towards Muslim people and those who may be perceived as Muslim. Racial profiling, surveillance, bias incidences and bullying continue to be widespread not only in society at large, but on college campuses as well. In light of this reality, questions remain regarding what campuses can do to proactively address these issues. Participants will learn the current realities related to Islamophobia and practical steps that can be made to address the issue.
Monday, Nov. 18 – Debra Freemont, Umonhon "Omaha" Tribe of Nebraska – 7 p.m., Stetson Room, Carlton Union Building, 131 E. Minnesota Ave. Debra Freemont is the Interim Program Director American Indian Student Services at the University of Colorado- Denver. In this capacity she provides support to Native American students, coordinates programs around social justice issues that impact Native American communities and develops awareness programs around identity, culture, heritage, and traditions.
Cultural credit is available to all Stetson students attending these lectures.