Dunn inducted into ABCA Hall of Fame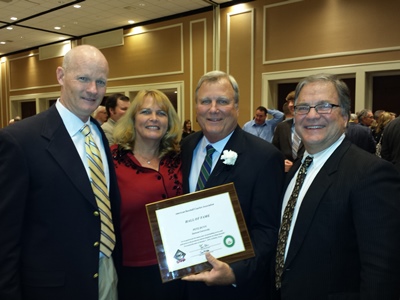 Longtime Stetson baseball head coach Pete Dunn, along with six others, were inducted into the American Baseball Coaches Association Hall of Fame at the 2014 ABCA Hall of Fame/ Coach of the Year Banquet sponsored by Diamond at the Hilton Anatole in Dallas, Texas, Jan. 3.
"It's a tremendous honor and probably the highest honor that a college coach can have conferred upon him," said Dunn, posing with Athletics Director Jeff Altier (far right) Sarah Altier, and Tommy Riginos (far left), Hatter from 1987-90 and assistant coach with Dunn from 1993-2002. (Photo by Debbie Dunn.) "It's a result of being at an institution, the same institution in my case, that supports athletics in general and the baseball program in particular.
"I've always tried hard to surround myself with good people, including assistant coaches and student-athletes. I've been very fortunate to have an administration that believes in the program. The construction of Melching Field, for example, is a testament to the commitment of both the University and the community of DeLand to this program."
Set to begin his 35th season as head coach at Stetson, Dunn ranks eighth among active NCAA Division I coaches with 1,228 victories. He has led the Hatters to 16 NCAA post-season appearances, eight conference championships, and has been named conference coach of the year six times.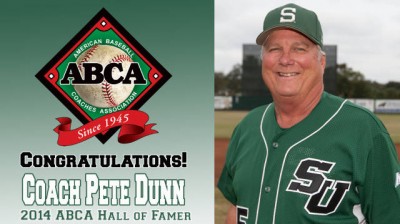 "You look at the people already inducted in the hall of fame, and to be mentioned in the same breath as some of those guys is pretty amazing," said Dunn. "Coach (Ron) Fraser (of Miami), Mike Martin (Florida State) and guys like that here in the state of Florida that I've gotten to compete against and look up to, especially Coach Fraser. He took me under his wing when I was a young coach. Coach Fraser made a commitment early on to play us regularly home-and away when he really didn't have to. He was a big help in getting me to where I'm at now."