Concert Choir is New York Bound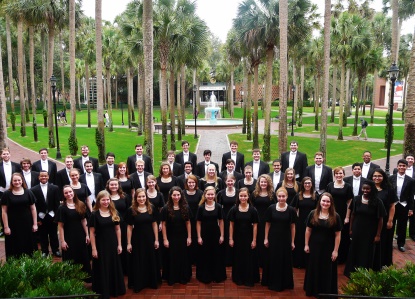 While most students are looking forward to spring break as a chance to kick back, relax and work on a tan, the 52-voice Stetson University Concert Choir is New York bound!
Regarded as one of the finest undergraduate university choirs in the country, the highly selective 52-voice Stetson University Concert Choir, under the direction of Timothy Peter, director of Choral Activities, will begin Stetson's Concert Choir 2014 Spring Tour on March 1. With performances scheduled in North Carolina, Virginia, Maryland and New York, the choir will perform in churches, concert halls, and high schools in five states along the east coast, and ultimately in Alice Tully Hall at the Lincoln Center in New York City on Thursday, March 6.
The concerts will feature works written by Tallis, Stanford, Ives and Vaughan Williams as well as a diverse group of sacred and secular choral works and folk songs. There will also be two new pieces by Dr. Kevin Isaacs from Western Connecticut University, and Stetson University's own Professor of Music and Music Theory Janis Kindred.
Performing with the choir in New York City, will be University Organist and Price Professor of Organ Boyd Jones and Tammy Miller, adjunct professor of music, keyboard and collaborative piano.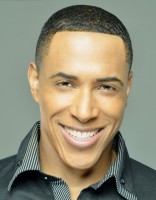 The choir will also be joined in New York by Stetson alumnus, class of 2006, and Metropolitan Opera Competition winner, Donovan Singletary, pictured left, bass/baritone. Singletary received his bachelor's degree in vocal performance from Stetson University and pursued additional music studies at the Mannes College of Music in New York City. He won the Met's then-General Director, Joseph Volpe Award, and recently finished the prestigious Lindemann Young Artist Development Program at The Metropolitan Opera. Singletary will also be singing with the choir in a new setting of "Shall We Gather at the River" by Dr. Peter, at Alice Tully Hall at the Lincoln Center.
"The 2014 choir tour marks an exciting era for Stetson University performing on the national stage as we promote musical excellence and experiential learning through multiple concert performances and transformational opportunities for our students," said Peter, conductor of the Concert Choir. "We will connect with loyal Stetson alumni, build relationships with prospective students and their influencers and celebrate the joy of singing with many new people. Our students have worked very hard in rehearsals and they are outstanding leaders in their academic work and musical talents. I am honored to join them in representing Stetson University on the road as we dare to be significant."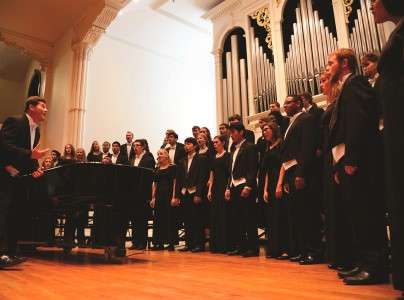 "I'm very excited about our Spring Tour," said Drew Neitzey, Stetson student singing bass in the choir. "Not only do we get the chance to share our music with different communities outside of Stetson, but this year, we will be performing at the Lincoln Center in New York City which will be an incredible experience. Our Spring Tours are always a special time for Concert Choir because we get to travel around the country, meet new people and see new sights. More importantly though, Tour is when our choir really starts to become a family."
The Concert Tour will wrap up the spring tour with a performance on Stetson University's campus in Lee Chapel inside Elizabeth Hall on Friday, March 14, at 7:30 p.m. Elizabeth Hall is located at 421 N. Woodland Blvd., DeLand.
All tour performances are open to the public, free of charge, with the exception of the performance at the Lincoln Center. General admission for the Lincoln Center performance is $20; student pricing is $10. For ticket information visit Alice Tully Hall-Lincoln Center's website or call 212-671-4050.
Stetson University is a highly ranked private liberal arts institution located in DeLand, Fla. The School of Music is a vibrant community of approximately 200 exclusively undergraduate musicians and 47 faculty members. Established in 1936, the Stetson University School of Music was Florida's first collegiate music school celebrating a deep tradition and long history of excellence in choral singing and vocal artistry.
For more information on the Stetson University Concert Choir 2014 Spring Tour, call Stetson's School of Music at 386-822-8950.
For high res photos, click here: http://www.flickr.com/photos/stetsonu/sets/72157641271798654/
To view the video, click here: http://youtu.be/7TJo7XF58Ew.
by Allison Cooper