Climate Change, Environmental Stewardship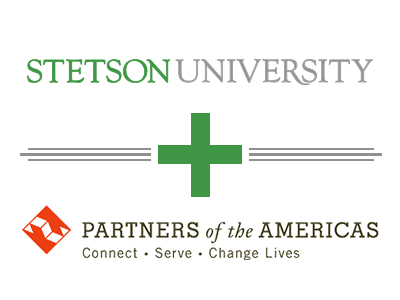 Stetson University and the Florida-Colombia Partners of the Americas, marking 50 years of connecting, serving and changing lives in the Americas, will sponsor a public forum on Climate Change and Environmental Stewardship, on Friday, April 4, on Stetson's DeLand campus. The all-day forum, open to the public, free of charge, will be held from 9 a.m. to 4 p.m. in Stetson's Rinker Environmental Learning Center, 230 E. Michigan Ave.
The program's agenda includes a Climate Feud Game Show, with audience participation; lunch-break with Hip-Hop music by Sekajipo and Florida Partner Alberto Gomez Art Exhibit; Examples of Partners Environmental Projects and Opportunities: Our Birds are Their Birds too—(a Student-to-Student Program between Florida and Colombia); Florida's Passive-Aggressive Policy and Approach to Climate Change; Building Partnerships for Environmental Stewardship and Positive Change in the Americas; and a panel/audience discussion of climate change and environmental stewardship in the Americas.
Featured Speakers and Panelists: 
Clay Henderson, Speaker is senior counsel at Holland & Knight specializing in environment, land use and smart growth, and nationally recognized for his work on land conservation issues. A 1977 Stetson alumnus, he was elected to the Volusia County Council from 1986-92 and served as President of Florida Audubon Society from 1995-2000. In 1998 he served on the Florida Constitution Revision Commission and sponsored most of the environmental provisions in Florida's Constitution. He has extensive experience in conservation land acquisition and planning and has negotiated the acquisition of over 300,000 acres of lands now part of national and state parks and preserves. He has received numerous public service awards from groups including: the Nature Conservancy, Florida Wildlife Federation, Sierra Club, Florida Audubon Society, Museum of Arts and Sciences and the League of Women Voters. He is the 2012 recipient of one of Stetson University's most prestigious awards, the Hood Award, for his strong advocacy for issues of environmental responsibility. The Florida Bar honored him with the Bill Sadowski Memorial Award for lifetime public service in environmental law. The Central Florida Partnership named him Champion of Sustainability. His book, The Floridas, celebrates the state's special places and he is an adjunct professor at Stetson University and Rollins College in environmental studies.
Steve Vetter, Speaker has served as the President and CEO of Partners of the Americas since 2008. With over 35 years of experience in international and domestic development, Vetter offers a rich background in international voluntary service, grassroots community leadership and developing public-private partnerships to reduce poverty and improve the economic and social development of disadvantaged populations. Prior to his arrival at Partners, Vetter held a number of executive-level positions at the Inter-American Foundation (IAF), a public corporation dedicated to supporting the self-help efforts of grassroots communities in Latin America and the Caribbean. He also served as the President and CEO of Eureka Communities, a non-profit leadership program that provided fellowship support to inner city leaders working to improve the life conditions of children and families  living in poverty. He is also an active Woodrow Wilson Fellow.
Panelists:
Tony Abbott, Ph.D., Panelist: Associate Professor of Geography and Environmental Science, Stetson University. Partners of the Americas Climate Change Fellow.
Barbara Bischof, Ph.D., Panelist: Visiting Assistant Professor of Geography and Environmental Science, Stetson University.
Melissa Golladay, Panelist: Director of the Climate Change Fellows Program, Partners of the Americas, Washington, D.C.
John November, Panelist: Executive Director of Outreach, COAST: Coastal Ocean Association of Science & Technology, Inc.  St. Augustine, Florida. Partners of the Americas Climate Change Fellow.
Caity Peterson, Stetson, '12, Visiting Researcher, International Center for Tropical Agriculture (CIAT), Cali, Colombia.
Guests:
Robert Apgar, Mayor, City of DeLand
Juan Camilo Benevides, President Central Colombia, Partners of the Americas.
Raaida Mannaa, Representative of the North Colombia Partners and Partners of the Americas International Board Member.
For further information, please contact John K. Schorr, Ph.D., senior professor of sociology at Stetson University: [email protected], (386) 405-2212.