Documentary lands graduate in film school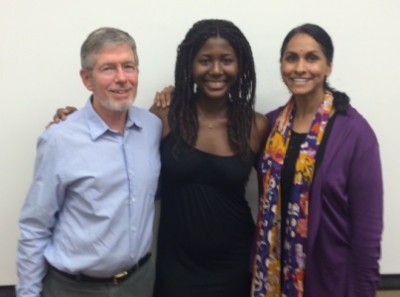 Recent Stetson University graduate, Alexandrina Sue Andre, was assigned a film that won her a spot in a competitive film school in Florida. She was one out of the 24 students admitted into the prestigious program.
"I think my passion for showcasing diversity and equality in gender and race specifically, stood out even in the interview," said Andre. "And seeing the other applicants, I was different; and I believe just by being myself is the reason I got accepted over so many others who were more 'qualified' in film."
Andre's documentary, The Colors of Stetson was part of her senior independent study class with Grady Ballenger, Ph.D., professor of English and former dean of Stetson's College of Arts and Sciences. "I could tell that she was itching to make a film of her own," said Ballenger. "After several false starts, she settled on a topic of great importance to her: the challenges faced by students of color at Stetson, and especially in humanities departments," said Ballenger.
Ballenger and Rajni Shankar-Brown, Ph.D., right, associate professor of education, pose with the young filmmaker above. The two professors will be showing the film again at Stetson's Values Day, scheduled for Sept. 16, in the upcoming fall semester.
The assignment was to create a short documentary—a five-to-10-minute film, but Andre explained that she felt that her idea was too large to keep within 10 minutes. "My idea just exploded into something bigger than five minutes. I came up with the idea based on issues that I and other students in the English Department had been going through."
Many students of many ethnicities voiced their opinions of the various colors of the university. They included: Salma Belakbir, Ahsahri Jay Osei, Kyo-Nicole Padgett, Alexandra Sullivan, Ashley Sullivan, Caron Davis, Kevin Serrano, Casey Kelly, Drew Neitzey, Chyina Powell, Leah Smith, Amanda Towner, Michael Allen Galvez and Dee-Ann Enniss.
Alexandrina's name means 'defender of mankind,' and through her documentary, her name rings true. Her mother was born in Haiti to a Haitian mother and French father, and Andre's father was born in the Dominican Republic. "I grew up being open in an open and honest family…so honesty and integrity is what I grew up believing," Andre says.Her documentary was inspired by the many students that felt like certain professors were not taking their issues seriously.
"I had an 'Aha!' moment and felt as though what better way to show faculty that students not only are capable of expressing serious issues such as race, but that we care about these issues," said Andre. "A professor and an administrator can't come back and say, 'Students don't express these issues,' because here's the proof," she said.
In the 30-minute documentary, students are faced with questions, including:
How do you identify yourself by race and ethnicity?
Do you feel there is racial diversity in your department of study?
Do faculty encourage diversity in their lesson plans?
What steps should be made to move forward?
The student-interviewees shared the general consensus that Stetson is in the process of making our campus more diverse. "For the 2013-2014 school year, 65 percent of students were White; 11 percent Hispanic; eight percent Black; two percent Asian; one percent unknown; and one percent Pacific Islander, etc.; and this is the whole campus," Andre said. "Which means only about 30 percent of Stetson's community is of a minority race; 65 percent, compared to around 30-35 percent, is not very diverse. I think Stetson is trying to become diverse and it's getting there, but it's not there yet."
Some students in the film said that Stetson was very diverse, but their specific department of study was not. "There's diversity in Stetson as a whole, but in the English Department there isn't as much…It's majority white," said Casey Kelly, English major. Although some departments might not be as diverse as others, Kelly admitted that "there aren't any restrictions at all on what students choose to learn."
Stetson junior, Kevin Serrano said, "If you're learning about a particular people group, it will probably be taught to you in the best way that professor can," when asked about racial diversity within his department of study. Another student said, "Race is like the elephant in the room, but it's progressive to talk about it."
"For a 'white' instructor like me," said Ballenger, "it's a great gift to hear the honest voices of so many students, across the rainbow of colors and racial or ethnic self-identifications; and I have come away from the project with much to think about in my own teaching."
"Some people don't have the strength to move on from that [racial discrimination]," Salma Belakbir said in the film. In order to move forward students suggested having more classes like Gender Studies or African American Studies. One student suggested a class for the 'unheard voices.' "It's going to take a lot of push, it's not just our school," another student said when asked about how to change.
"We are 99.9 percent the same, and the .1 percent difference we have, scientists are saying, isn't even race; it's gender," Andre said. "The differences of skin color are due to melanin and pigmentation; that's it. Yet as a society we focus so much on the negativity of our differences rather than focusing on how much we are alike despite our differences, and that's what I try to promote."
In every university, public or private, there is racial discrimination, bullying, gender separations, but through this documentary, Andre hopes to bring to the viewer's attention, that there can and should be change through the voices of students.
"The impact that I want from this documentary is to show students that they can be brave and honest like the students in the film," Andre stated. "I want students to be encouraged to speak out in their own ways. It doesn't have to be a documentary film; it can just be speaking out in class or to a professor if you feel they are demeaning you. Stand up for yourself. Don't be afraid. And while the original reason I made the film was to showcase to faculty the student perspective, it's more than that to me now because so many students have come up to me and expressed the same issues and fears. I want the impact to not just influence faculty, but also students," Andre proclaimed.
"Like the best documentaries, Alexandrina's film challenges us to see the world through the eyes of others and then, with that new understanding, to change how we see the world, and act in it, ourselves," Ballenger stated.
To watch the documentary, The Colors of Stetson, click here.
by Grace Aguda