TV Meteorologist talks hurricane season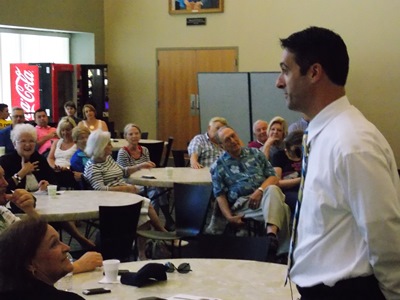 WESH-TV's Tony Mainolfi, who many feel is the consummate meteorologist, communicator and guest lecturer, was a recent speaker and presenter for the Stetson Lifelong at Celebration Lecture Series. WESH 2 First Alert Chief Meteorologist Mainolfi spoke to an audience that filled the whole Atrium at the Center at Celebration, covering the history and workings of Doppler Radar, and the ever-important upcoming hurricane season for central Florida.
Having joined the WESH 2 team in May 2005, Mainolfi can be seen weekdays on WESH 2 News at 5, 6 and 11 p.m., as well as on CW18 at 10 p.m. As stated on the WESH 2 News website, "Tony is committed to keeping central Floridians safe from severe weather."
Mainolfi entertained questions from the audience and entertained the audience with his wit, charm and knowledge of his subject matter. His strong and soothing voice conveyed confidence and sincerity. As one lady shouted from the audience toward the end of his Q&A, "Thank you for being here. I could listen to you all day!"
For our own safety and well-being, we all should.
By Toni Castillo
Director of Stetson University Center at Celebration