Gillespie Museum awarded Grant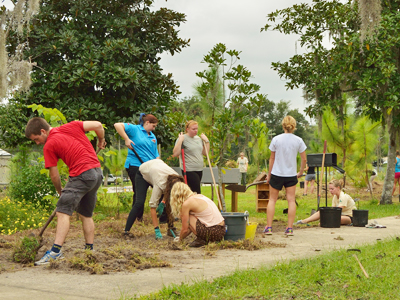 Visitors to Stetson University's Gillespie Museum will be able to enjoy a stroll among some of Florida's native wildflowers, thanks to a $2,500 grant recently awarded by the Florida Wildflower Foundation. The project, which aims to showcase the beauty and variety of Florida's first flowers while demonstrating their use in landscapes, will also give guests an opportunity to learn more about the natural heritage of La Florida, "land of flowers."
"We're honored to be chosen as a demonstration site in the Foundation's 2014 grant program," said Karen Cole, Ph.D., director of the Gillespie Museum and project co-coordinator. "Through this partnership we will establish the southern entrance of our ongoing restoration project, Volusia Sandhill Ecosystem, A Teaching Landscape, as a wildflower garden with a connection to our local environmental history."
The 50 by 100-meter garden site, along the DeLand Greenway Trail of Ohio Avenue, will feature perennials and shrubs associated with the longleaf pine sandhill ecosystem which once existed on this part of the DeLand Ridge. In the photo, left, Stetson students are working in the landscape/outdoor classroom, outside the Gillespie Museum. (Photo by Peter May, Ph.D., Stetson biology professor.)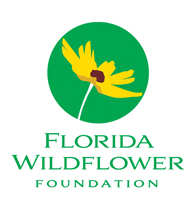 The Teaching Landscape, started in 2011 with grant funding from Volusia County Environmental Management, has 80 trees and a range of understory areas, including wiregrass, pawpaw, standing cypress and blazing star. It serves as an outdoor classroom for the Museum's environmental education programs as well as a laboratory for a range of undergraduate classes in the natural sciences and environmental studies.
Cindy Bennington, Ph.D., professor of biology, explained the importance of the restoration: "Stetson's location on the DeLand Ridge, an area formerly dominated by longleaf pine, makes the Volusia Sandhill Ecosystem a visible reminder of the natural and cultural history of the area and provides an ideal setting for education about the preservation of biodiversity and conservation of natural resources."
Stetson students have had the opportunity to apply their knowledge of the ecology of native sandhills to their own research, with projects that have included investigations of the growth of longleaf pine, the establishment of native plants, and measurement of insect and bird diversity in this corner of campus. Bennington, co-coordinator of the teaching landscape, pointed out its connection to the undergraduate curriculum: "In addition, through their participation in public outreach events, students have translated their understanding of sandhill communities to a wide audience, creating greater understanding of the importance of this disappearing habitat."
The new demonstration garden will welcome the community to the Teaching Landscape, which is "at once a restoration, a laboratory, and a living museum," remarked Cole. In August the garden will begin to take shape, from site preparation to the planting of Florida wildflower seedbeds and areas filled with containerized plants. Volunteers from throughout the county– Stetson undergraduates, Volusia ECHO Rangers, members of the Florida Native Plant Society among them—will be invited to dig, plant, and watch the garden grow.
The demonstration garden will allow the community not only to enjoy but also to contribute to the beauty of the Stetson campus. Beyond their natural beauty, wildflowers play an important role in Florida's ecosystem. "Raising the awareness of our state's native flowers is paramount to our own health as well as to the health of Florida's natural places," said Lisa Roberts, the Florida Wildflower Foundation's executive director. "We need to be mindful of all the things wildflowers do for us; they support pollinators that put food on our tables, curb water use in landscapes, reduce water and air pollution, provide wildlife habitat, beautify communities and roadsides, and help maintain a healthy environment for us all."
Funding for the grant was provided by donations received through the State Wildflower license plate.
Visit the Volusia Sandhill Ecosystem webpage, www2.stetson.edu/gillespie for more information about the demonstration garden and ways to get involved.  Stetson's Gillespie Museum and the Rinker Environmental Learning Center are located at 234 E. Michigan Ave., at the southeast corner of Stetson's DeLand campus at the intersection of Amelia and E. Michigan avenues. The Gillespie Museum is Stetson University's Earth Science Museum in a natural setting, and is open to visitors Tuesday-Friday, 10 a.m. through 4 p.m.  Along with its permanent collection of minerals and earth science displays, the museum hosts monthly Science Saturday programs, an opportunity for young scientists to learn important principles from university faculty and undergraduates. Contact the Gillespie Museum at (386) 822-7330, email [email protected] or visit www2.stetson.edu/gillespie for more information including the special events planned for the Fall 2014.
The Florida Wildflower Foundation is a 501(c)3 nonprofit organization based in Maitland, Fla. With proceeds from State Wildflower license plate sales, it supports wildflower research, education and planting projects statewide. Visit the Foundation's Website, www.FlaWildflowers.org, to learn more about Florida's native flowers.