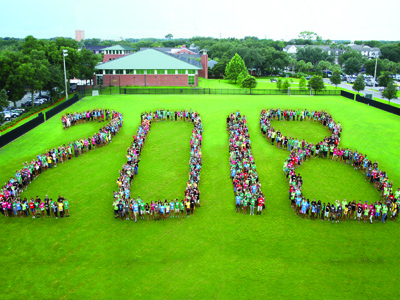 Stetson University welcomed the Class of 2018 during FOCUS, "Friends On Campus Uniting Students," held the week before classes began. Attendance for this year's orientation boasted high numbers with an incoming class of 878 new students.
FOCUS week is designed to provide incoming students with an easy transition into college life. The activities allow time for students to bond with their peers in FOCUS groups that are led by energetic student FOCUS leaders. The new Hatters are assisted in moving into their assigned residence hall rooms and then participate in activities to help them get to know their new res hall neighbors. Once they're settled into their rooms, they met with their FOCUS leaders and began experiencing life as a college student.
President Wendy B. Libby was joined by members of the Stetson community in welcoming the incoming students and their families during Opening Celebration. From there, the students had a full schedule to quickly get them integrated into Stetson life.
Some of the scheduled events included: Playfair – a time for students to enjoy music, games and poetry; Sex-Signals – improvisational comedy, education and audience participation in a provocative, in-your-face look at issues surrounding dating, sex and date rape on college campuses; FOCUS Takes Over the CUB – when students could participate in karaoke, Dance Dance Revolution, and a screening of 'Godzilla' in the Stetson Room. This year was the inaugural year for a new tradition during FOCUS week; new students were invited to Pass Through the Gate in a ritualistic reflection of what it means to be a Stetson Hatter.
The First Year Seminars also began during FOCUS week, giving students a taste of balancing college coursework with a social life.
"We are so excited to welcome our Hatter Class of 2018 to Campus," said Matthew Kurz, director of Student Development and Campus Vibrancy. "It was inspiring to witness both their energy and engagement as they got involved in the various meetings and events. We look forward to the coming year and all that this class will accomplish!"
Go Hatters!
By Nikki Tucker