Lifelong Learning Member Wins Best Play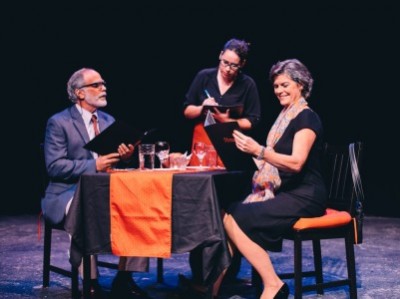 Stetson Lifelong Learning member W.L. Newkirk, M.D., won Best Play in the Tampa Bay Theatre Festival for his first play East Lansing. The festival, which was launched this summer by the non-profit theater company RL Stage Inc. and took place during Aug. 29-31, combines entertainment and education with professionally-led workshops and playwright competitions.
After a rewarding career in the medical profession, Newkirk pursued his creative side by joining Lifelong Learning, a Stetson initiative designed for mature adults who enjoy learning and knowledge for its own sake. The initiative offers various programs and learning opportunities at the DeLand and Celebration campuses and has attracted such celebrities as former Senator of Colorado Pat Schroeder as well as Equity actor Don Salvo, who has performed on Broadway and with other actors, such as Florence Henderson and Sidney Portiere.
"My specialty is Preventive Medicine," Newkirk said. "I worked for over 30 years in a poor, Maine mill town treating and trying to prevent workplace illness and injuries. I divided my time half to patient care and half to writing textbooks, software, research papers and essays. I was on the initial planning committee for Lifelong Learning. I was interested in it because there were things I had always wanted to learn but never had the opportunity."
During the fall of 2013 Newkirk participated in the Playwriting course instructed by Salvo.
"The course was three classes with Don and then a public reading. When I first saw he was teaching a playwriting course, I was really excited. I had published a lot of works in my career, but never a play. I talked with Don at the Open House before the term and he suggested that we bring a play to the course. By the time the course started, I had completed a 45-minute one-act play and it was quite terrible, but over time, my play improved significantly with Don's instruction. As a class, we had a really dynamic group, especially coordinated by Don, who is a terrific teacher and person."
Newkirk's first play, East Lansing, is about Mary, who is estranged from her family and nearing 70 years old. During the story, she finds and loses true love, confronts a long-buried secret and is eventually redeemed through a relationship with her granddaughter.
"As for writing the play, I'm not a very good first-draft writer, but I love revising and I've written every day for the last 30 years. For this play, I wrote over 150 different full-length drafts. Each one was a little better and a little different than the one before. I chose this story because I had long realized that women between the ages of 50 and 80 make up a large percentage of theater audiences, yet on the stage there are very few powerful roles for them. I wanted to write a big, dynamic, funny, soulful, and sexy role for an older female actor. The story has many levels. When it works, audience members both laugh and cry as hard as they can."
The Tampa Bay Theatre Festival is an event that is centered on five full-length plays performed by five professional theater groups, which are selected from around the country in a national competition.
"To be selected as one of the five plays presented is a really big deal. Just having an opportunity to actually see the play performed by a professional company in a great theater is thrilling and totally unexpected. To be chosen as the best play, as a first-time playwright and over the age of 60, is astonishingly rare. I am most happy for the cast and crew. They worked really hard and are extremely talented."
Modern entertainment, such as films, is exceedingly wrought with CGI (computer-generated imagery) and special effects, but a play, as Newkirk sees it, is real and raw.
"Plays are certainly old-school. They involve real human beings talking on the stage, and the actors, as well as the audience, may be crying real tears. A play is much more of a high-wire act, which is part of the excitement. It is like a moth; it exists for one or two or 10 performances and then it's gone forever. The actors and audience move on to other things. It will never be re-created exactly in the same way again—each night in the theater is unique."
As a Lifelong Learning member, Newkirk never stops challenging himself.
"Don Salvo is teaching a course on the Musical, which is a must-attend for me. The thing is, when in school, you usually decide on what you were good at and what you weren't. Your view of who you are is very much based on those opinions. But what's remarkable about Lifelong is that it challenges those conceptions. For example, I knew I couldn't draw, so I took a drawing course and eventually learned that I could, in fact, draw. Such a thing is pretty shocking at an age when you are supposed to be able to do fewer and fewer things. Lifelong teaches you that your long-held opinions of yourself are flat-out wrong, and that you have abilities you never before realized."
Pictured above, from the Play's website: eastlansingplay.com – Matthew (GREG THOMPSON) with Mary (ANGELA BOND) and Server (VIVIAN RODRIGUEZ). August 29, 2014 performance of East Lansing at Stageworks in Tampa, FL. (Crawford Long Photography)
For more information about Stetson University's Lifelong Learning Program, contact Toni Castillo, director, Stetson Center at Celebration at (386) 822-7617, or email [email protected].
by George Salis