Former Hatters Make Big Splash in Big Leagues
(UPDATE Nov. 2014: deGrom has been named NL Rookie of the Year. Kluber won the AL Cy Young Award.)
by Jack Roth
Since baseball started at Stetson University in 1895, 10 Hatters have made it to "the show" – Major League Baseball. Impressively, three have made it since 2009, and — even more impressive – two are candidates for a couple of the MLB's most prestigious awards.
Corey Kluber, pitcher for the Cleveland Indians, has been talked about as a possible Cy Young Award winner; and there is buzz about Jacob deGrom, pitcher for the New York Mets, becoming the National League Rookie of the Year. The third former Hatter currently in the MLB is Chris Johnson, third baseman for the Atlanta Braves who earned that coveted spot after Chipper Jones retired last year.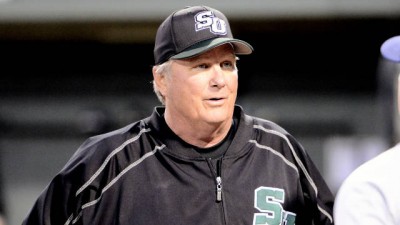 Kluber, deGrom and Johnson all played under Coach Pete Dunn, who has guided the Stetson University baseball program for 35 years and was inducted into the American Baseball Coaches Association Hall of Fame earlier this year. To many in the Stetson community, Dunn is much more than a baseball coach, having positively impacted the lives of many young men who have played for him over the years. Whether training a player how to bunt properly or teaching a life lesson, he loves being a teacher.
"I think we're recruiting the right people academically, athletically, and with character," says Dunn, who believes the program is doing a good job preparing a number of its young men to play at the next level. "We get high-caliber kids at Stetson because of our academic standards, and their parents have pushed them to be good students as well as good baseball players."
Corey Kluber
After being named the Atlantic-Sun Pitcher of the Year in 2007, Corey Kluber was drafted by the San Diego Padres. He spent a few years in the minors and, after being traded to the Cleveland Indians, was called up to the majors in 2011. Kluber, who was also recently elected to the Stetson University Athletics Hall of Fame, had a breakout season in 2014, sporting an 18-9 record and a 2.44 ERA.
According to Kluber, Stetson "played a big role" in his current success.
"I spent three years there that ultimately led me to being drafted and playing professionally," Kluber said. "I also met my wife, Amanda, there and we have two beautiful kids. It's been my life-long goal to play Major League Baseball and to live that out is really a dream come true."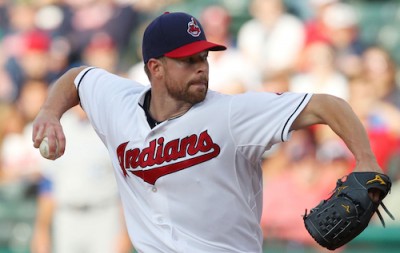 Dunn admits Kluber was an "out of the blue" discovery for Stetson. Former recruiting coordinator Mitch Markham was scouting another player from Miami, who was pitching against a team out of Texas, an area that Stetson traditionally doesn't recruit from.
"Corey happened to be pitching for the Texas team," remembers Dunn. "When Mitch got back from that trip, he said the Miami kid wasn't what we were looking for, but that he found a real gem in Kluber. We got into the recruiting mix and won out over a number of other top institutions." Dunn also impacted Kluber's life as a professional athlete.
"He taught me a lot about the game and how to play it the right way," said Kluber. "The little things, the little intricacies, that are really important that you don't pick up on at lower levels, that now come second nature to you thanks to people like Coach Dunn. He was more of a teaching figure than parent and I respect that. I thoroughly enjoyed playing for him."
Jacob deGrom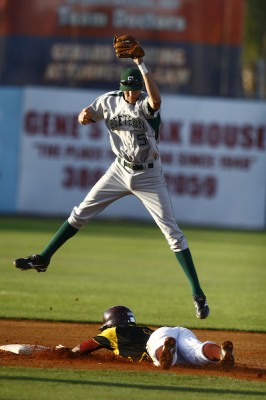 The New York Mets drafted Jacob deGrom as a pitching prospect in 2010, his junior year at Stetson. Dunn recruited him as a shortstop, but a quarter of the way into the season Dunn was struggling with his starting pitching and told deGrom that he wanted to move him into the number one starting role.
"Although he had to give up a good amount of playing time at shortstop, he agreed to the move and the rest is history," said Dunn. "Jacob impressed the scouts not only with his velocity but also with his pinpoint command. His hitting experience in college has obviously served him well in the major leagues — he's one of the best hitting pitchers in the National League."
deGrom, who was called up to the majors in 2014, appreciated his time at Stetson.
"It was a great atmosphere to play in with good fan support," he says. "I learned what it meant to be part of a team and how to appreciate the game." As far as Coach Dunn's influence on him is concerned, deGrom says he taught him how to respect the game.
"He always told me not to get too high when you're doing well and not to get too low when things aren't going your way," said deGrom. "This is important advice, and I would tell any college athlete trying to make it as a professional that anyone can make it as long as you work hard and persevere. And if things don't go your way, don't give up."
Chris Johnson
Chris Johnson, who led the Hatters to the 2005 and 2006 Atlantic Sun Conference Tournament Championships, was drafted by the Houston Astros and was called up to the majors for the first time in 2009.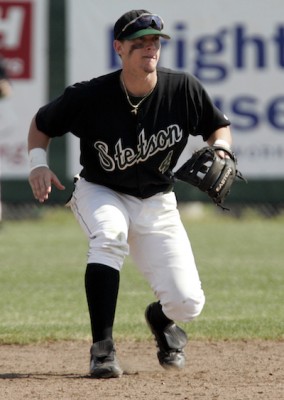 In 2012, he enjoyed a breakout season for the Atlanta Braves, hitting .321 with 12 home runs and 68 RBIs. Dunn says that Johnson, who was elected to the Stetson University Athletics Hall of Fame in 2012, was a versatile player for Stetson. He played all four infield positions during his three-year college career, although most of his time was spent at first base.
"What's gratifying to me personally," adds Dunn, "is that Chris took over third base in Atlanta upon the retirement of my godson Chipper Jones."
Life Without Baseball
Dunn, who gives a great deal of credit to his staff, believes that a coach's job goes well beyond the field.
"Most college players never go on to play professionally, so we must prepare them for life without baseball," he explains. "A Stetson degree is the first thing we sell in the recruitment process. Once they're here the staff teaches and emphasizes life skills as much as baseball skills. The time spent here is the transition period between living under mom and dad's roof to facing life out in the real world on their own."
Dunn stresses that other than their teammates, the players spend more time around their coaches than any other entity on campus. Because of that he believes it's incumbent upon him and his staff to do all they can to prepare the players for life's challenges once they graduate.
That training seems to have hit home for Kluber, who has some advice of his own for college athletes that could be applied to life in general.
"Put your work in, do not take short cuts because the only person you cheat is yourself," said Kluber. "You have to stay determined and focus on the goal at hand because there will be bumps in the road. Things won't go smoothly or 'as planned' the entire time."
As far as Johnson, Kluber and deGrom are concerned, Dunn is extremely proud of what they have been able to accomplish.
"They were such huge contributors to our success here," he says. "Now they're carrying the Stetson name and banner every day on the Major League stage. They continue to make contributions to the program through their play in the big leagues."