Debuting Stetson Broadcast Productions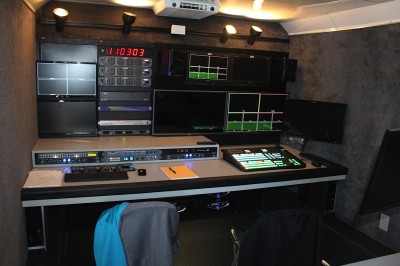 Stetson University has a new high-tech way to get its stories out to the world.
For the first time ever, with a trailer decked out with high-tech equipment, Stetson University will be able to broadcast events live. As a result, Stetson Athletics has partnered with the Atlantic Sun Conference and ESPN3 to broadcast every men and women's basketball home game this season as part of the conference's E3 On-Campus Initiative. (Pictured, left: production switcher and front bench.)
"It's going to be huge exposure for the university and the athletics program," Ricky Hazel, assistant athletics director for communications, said.
ESPN3 is available in 95 million homes and to an additional 21 million U.S.-based college students and military personnel. A total of 27 home games will be streamed live at ESPN3.com and on the WatchESPN app, which is available for iOS and Android smart phones and tablets, as well as digital media players such as Apple TV, Roku, Google Chrome and others.
The first Stetson broadcasts will be on Friday, Nov. 14. Both basketball teams will play their 2014-15 season opening games. At 5:30 p.m., the women's team will go against Bethune-Cookman, followed by the men's team against Edward Waters at 8 p.m. (Check out "Men's Hoops Opens Season Friday vs. Edward Waters" in Stetson Today.)
"I'm excited. It's been a two year process getting all of this together," Hazel said. "But it's important to note that this is not an athletics unit — it's going to be much more than that. It's going to be a tool for lectures and graduations. It's going to be a learning lab for students who want to get involved in broadcast. And it's obviously mobile so if something is going on at the College of Law we can hook it up to the truck and take it down to St. Petersburg. Also, if there's something going on in DeLand, such as a parade or some other city function, we can rent the trailer out, along with the crew. It has a lot of applications."
To run the trailer, Stetson hired Kevon Wilson, broadcasting director, and Brian Vandell, technical director.
"Brian comes from a television background," Hazel said. "Kevon was the PA announcer for the Harlem Globetrotters for couple of years and he has a marketing background. Like Brian, Kevon has worked in television. I'm extremely pleased with them; they are both professional and talented. They're going to take this to new levels."
"This is a huge moment for the university," Wilson said. "We have the opportunity to put together quality broadcasts, which is something that a lot of universities don't have. Alongside Ricky, and other departmental heads across Stetson, we are putting together a strong game plan so we can have a positive push forward to grow our brand and exposure. It's a great opportunity for the university, but most importantly for the students. This whole environment is helping them grow and helping them graduate into lasting careers."
"Soon we can begin to build a video archive to tell Stetson's story," Hazel said. "And that's what it's really all about."
There is also an important academic component to Stetson's new broadcast production facility. "When we redesigned our curriculum, we wanted to offer a distinctive focus of student preparation, much like a graduate program," said Ben Goss, Ed.D.,  associate professor of sport business. "The focus we chose was engaging fans through sponsorships and emerging media, since both are major revenue-drivers, and since both will probably always be part of the sport industry in some fashion. Accordingly, this new production platform is one of the biggest strokes of good fortune that could ever happen to the sport business program.
"Having this platform literally provides us with an on-campus lab that gives our sport business students first-hand immersion into the emerging media sector of the sport industry. No better kind of opportunity to learn about sport media exists anywhere else in the nation, and it puts us on par with, if not ahead of, some other very well established sport business programs. No other sport business program has anything any better to offer in this regard, and we will be seeking to integrate it deeper and deeper into as many of our courses as we can," Goss said.
Goss said that Wilson had made a pointed effort to attend some of his sport business courses and events. "Another stroke of related good luck is that Kevon Wilson was the person hired to oversee it. Kevon's contagious enthusiasm for the initiative has begun to rub off on our students and faculty. All the fancy equipment in the world would be practically useless if we didn't have someone of Kevon's likability and professionalism running it.
"We look forward to seeing where this partnership will lead and what it will produce for Stetson Athletics in the short-run and for our students in the long-run," Goss said.
by George Salis