SU Wins 3rd in Collegiate Ethics Case Competition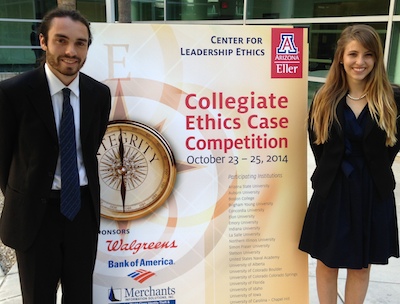 Stetson students placed third in the national Collegiate Ethics Case Competition held in October at the Eller School of Management at the University of Arizona. The Stetson team of Emma Campbell (right) and David Sawyer (left), coached by Dr. Jim Beasley and Dr. John Tichenor, competed against 27 other universities from around the U.S. and Canada. The Stetson team won the Eastern Regional bracket against six other teams, including University of Oregon, Emory University, Arizona State University, University of Idaho, Concordia University, and University of Colorado—Boulder. In the finals, Stetson competed against bracket winners Indiana University, University of Texas—Dallas, and University of Alberta.
Stetson was the smallest University to field a team in the national competition, being one of seven private institutions that participated, including La Salle University, Yale University, Brigham Young University, Boston College, Elon University, and Emory University. The University of Florida was the only other participating institution from the Sunshine State.
Campbell '16, a double major in Business Systems Analytics and Family Enterprise from Wesley Chapel, Fla. said, "Participation in the Collegiate Ethics Case Competition was an experience that will benefit me for the rest of my professional career. The opportunity to sharpen my research, analytical, presentation, and problem solving skills in a competitive environment will give me an edge in a job market where employers are seeking persons with this kind of training."
Sawyer '15, a Finance major with a minor in Entrepreneurship, echoed his colleague's sentiment saying, "As an athlete I have long had a competitive spirit. This intellectual challenge moved me to a new level in the development of skills that will undergird my continuing embrace of innovation and entrepreneurship." Sawyer is from Oviedo, Fla., and, in addition to his full-time studies at Stetson, serves as head coach of boys soccer at New Smyrna Beach High School, having been recognized as the youngest high school head coach in the state of Florida.
Teams invited to the National Collegiate Ethics Case Competition are given a business case three weeks before the competition. This year's case was on corporate tax inversions, an increasingly popular option exercised by U.S. companies who choose to reincorporate in another country, often for the purpose of lowering corporate tax expenses. Burger King's recent decision to reincorporate in Canada has drawn considerable international attention. Student teams were asked to assume the identity of consultants who are offering advice to a company considering a corporate inversion. They were required to deliver a 20-minute presentation on the financial, legal, and ethical implications of the decision facing the company board of directors.
Beasley, Professor of Management, initiated Stetson's participation in business ethics case competitions when he secured an invitation to the 2013 Arizona event and took two student members of the newly-formed Stetson Organization for Business Ethics (SOBE), Katie Kurtz '14 and Ken DeMoya '15, to represent Stetson in last year's competition. DeMoya is the current president of SOBE.   Beasley and Tichenor, who is Chair of the Management Department, intend to expand Stetson's presence in this significant area of experiential learning by pursuing funding to send teams to other national competitions, including the International Business Ethics Case Competition, sponsored annually by the Ethics and Compliance Officer Association.   Tichenor said of the 2014 event at the University of Arizona, "The outstanding performance of Emma and David on this national stage is both illustrative of the capability of our students and supportive of the core values of the University. Jim and I hope to give increasingly more students the opportunity to gain this kind of practical educational experience."