Stetson University Announces New Master of Arts in Teaching at White House Event
President Libby details new program at College Opportunity Day of Action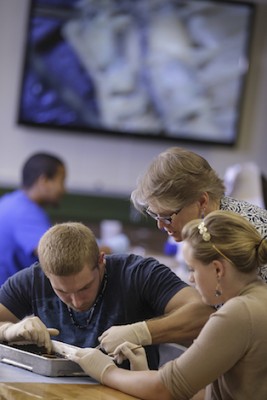 Today, Stetson University President Wendy B. Libby, Ph.D., will join President Obama, the First Lady, and Vice President Biden along with other college presidents and higher education leaders to announce new actions to help more students prepare for and graduate from college.
The second White House College Opportunity Day of Action is part of the President's commitment to partner with colleges and universities, business leaders and nonprofits to support students across the country to reach a goal of leading the world in college attainment.
"We are very pleased that Stetson University's commitment was selected to be highlighted at this event," said Wendy B. Libby, Ph.D., president of Stetson University. "Historically, Stetson has had as part of its mission the expansion of opportunity for attendance and completion of college. This goal is very dear to us.
"Stetson University's commitment is to develop a new Master of Arts in Teaching program that offers academic grounding in teacher education for students with a STEM subject area specialty, either coming straight from an undergraduate program or as a mid-career person," said Libby.
Stetson's MAT must first be approved by the Florida Department of Education, Libby added, so the first students in that program are expected in 2017. "Within a year of the launch date there should be 60-70 students in the program, providing Florida schools with more well trained STEM teachers," Libby said.
Students earning an MAT from Stetson will have strong core credentials with a bachelor's degree in a STEM area; they will also have the pedagogical training needed to be a high-performing teacher. This program will respond to the growing need for well-trained teachers of STEM disciplines in K-12 education in the U.S. and in Florida in particular. The curriculum is designed to be constantly innovative, comprehensive, and consistent with state and national performance standards. Students are expected to become collaborative instructional leaders, responders to diversity, facilitative agents for change, and reflective practitioners.
This new MAT degree that Stetson is developing complements its new M.Ed. in Elementary Education: Educating for Social Justice. This degree, which is currently being brought on line, focuses on advocating for socially marginalized students in local and global societies. This theory to practice M.Ed. program is founded upon the commitment to pedagogical practices that promote closing persistent and growing opportunity gaps.
Both the M.Ed. program and the developing MAT program focus on experiences suitable for our diverse 21st century learners, leverage technology for enhanced learning and communication, emphasize intercultural learning, and provide academic excellence and distinctiveness.
During the College Opportunity Day of Action, President Obama will announce new steps for his administration to support these actions, including $10 million to help promote college completion and a $30 million AmeriCorps program that will improve low-income students' access to college. Today's event is the second College Opportunity Day of Action, and will include a progress report on the commitments made at the first day of action last January.
Stetson offers one of the most outstanding teacher education programs in Florida and is one of only three private institutions in the state accredited by the National Council for Accreditation of Teacher Education (N.C.A.T.E.). In collaboration with the schools and the community, Stetson's Department of Education stresses a holistic program of individual development that views students as active inquirers and participants in their own growth. At Stetson, students find small classes with dedicated, experienced teachers who take a personal interest in each student. We offer modern facilities and equipment and, most importantly, access to newly developing knowledge and innovations in the rapidly changing world of education.
Watch the live stream of today's announcement from President Obama by visiting WhiteHouse.gov/College-Opportunity
About Stetson University
Stetson is a small, comprehensive, private university in Central Florida with an enrollment of 3,900. Stetson's mission is "to provide an excellent education in a creative community where learning and values meet, and to foster in students the qualities of mind and heart that will prepare them to reach their full potential as informed citizens of local communities and the world." Stetson serves a diverse population, with a 33.5 percent minority undergraduate enrollment and a 17 percent minority graduate enrollment. Ninety-eight percent of Stetson students receive financial aid and 35 percent are Pell-eligible.