Alumni program to benefit Hatter students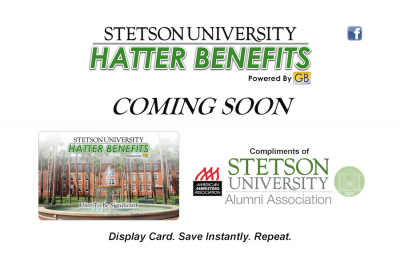 Charged with identifying meaningful and strategic ways to engage alumni while also involving the entire university community, Stetson's Office of Alumni Engagement has partnered with the Student Government Association, the Gold Benefits Membership Program and the American Marketing Association, to sponsor a new Hatter Benefits program to Stetson students. This program provides free access to the Gold Benefits Membership platform, where students can display their membership card and save instantly at hundreds of Central Florida Gold Benefits Merchants around campus and beyond. These cards will be distributed soon to all currently enrolled students.
"Part of the Alumni Office's charge includes becoming more of an active participant in the lives of our current students," said Woody O'Cain, executive director of Alumni Engagement at Stetson. "We want our students to become more aware of how we can help them in their personal and professional development. Our goal is to utilize our amazing alumni and connect them to our most important resource, our currently enrolled students."
For more information about Stetson's Gold Benefits Membership program, please contact Kat Thomas, assistant director of Student Governance and Organizations, in the Office of Student Development and Campus Vibrancy, at [email protected], or call 386-822-7138.