Stetson wins distinction as Tree Campus USA for 4th year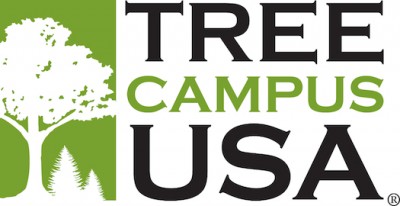 Stetson University has been named 2014 Tree Campus USA by the Arbor Day Foundation in honor of its commitment to effective community forestry management and a healthy outdoor environment. This is the fourth consecutive year that Stetson has received this distinction. Stetson achieved the designation by meeting the required five core standards for sustainable campus forestry: a tree advisory committee, a campus tree-care plan, dedicated annual expenditures for its campus tree program, an Arbor Day observance and the sponsorship of student service-learning projects.
"Being good stewards of our environment is a Stetson University value," explained Al Allen, associate vice president of facilities management. "Part of our commitment is to plant only native trees on campus, increase the number of trees on campus and care for them. We have planted in excess of 1,000 native trees on campus since 2010. The trees add beauty to the campus, provide shade and assist in our efforts to reduce carbon dioxide in the atmosphere as trees naturally absorb it."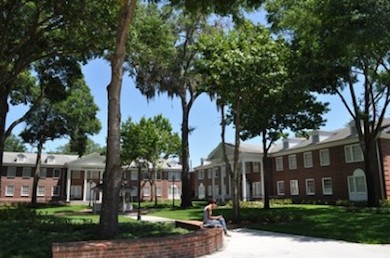 Tree Campus USA is a national program founded in 2008 by the Arbor Day Foundation and Toyota. The program strives to help colleges and universities around the country establish and sustain healthy community forests while engaging students and staff in the spirit of conservation. Founded in 1972, the Arbor Day Foundation has grown to become the largest nonprofit membership organization dedicated to planting trees, with over one million members, supporters and valued partners.
"Throughout the fall semester of 2014," said Cynthia Bennington, Ph.D., professor of biology, "students in a Plant Ecology (BIOL 450) class worked in the Volusia Sandhill Ecosystem, where, in 2011, we planted over 80 native trees, mostly longleaf pine. They measured height and diameter of each tree to provide data that will allow us to assess the health of the small urban forest we are creating. Plant Ecology students also designed children's activities, including a 'scavenger hunt' for trees, as part of a Science Saturday event at Stetson's earth science museum, the Gillespie Museum of Minerals, located adjacent to the Volusia Sandhill Ecosystem Teaching Landscape. All of these events provided opportunities for active learning about trees."
"The distinction of being a Tree Campus highlights the great work our landscaping crew does every day," added Bennington, "and provides motivation for us to continually honor, and improve upon, our commitment to the outdoor landscape."
 by George Salis