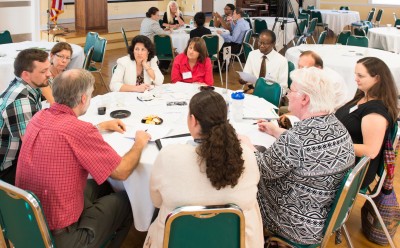 What does a professor with an "office" in a lobby, and a 3-D printer have in common?
They are just two of many innovative ideas presented at Stetson University's first-annual Teaching and Learning Colloquium – a unique, "think outside the box" forum where professors discuss new and more effective ways to engage their students. The April 10 colloquium was the culmination of a year-long endeavor with the new Brown Center for Faculty Innovation and Excellence, launched last fall with generous support from longtime Stetson University Trustees Hyatt and Cici Brown.
According to W. Tandy Grubbs, Ph.D., chair of the chemistry department, 3-D printing has become more cost efficient and can become a valuable visual tool for students in chemistry (minuscule molecules and complex bonds can "come to life"), biology (life-like skulls and other bones can be created) mathematics (students can touch forms and shapes), computer science (drone components can be constructed) and music (unique instruments can be designed).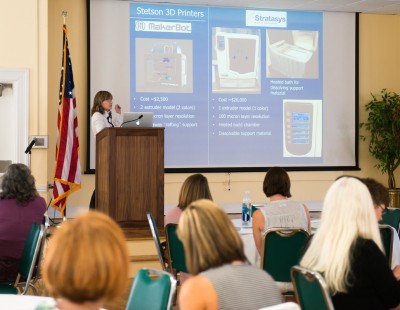 "The student response to 3-D printing has been tremendous," explained Grubbs. "Their motivation to learn has skyrocketed. They love this technology."
Statistics professor John Rasp, Ph.D., wondered how to get more students engaged outside the classroom and nearly two years ago began hosting some office hours in the lobby of the Lynn Business Center.
"The results were astounding. Not only did I have more students seeking to talk with me but, while they are waiting, they are talking and solving problems with each other," explained Rasp. "It works so I just keep doing it."
"It's our responsibility to educate the next leaders of our free world and we need to examine what 'learning' looks like," said Rosalie Richards, Ph.D., associate provost for Faculty Development and Colloquium Chair. Richards, who is also a chemistry and education professor at Stetson, has led the development of the Brown Center for Faculty Innovation and Excellence while supervising the expansion of the Brown Teacher-Scholar Fellows and visiting master teacher-scholar programs.
Alicia Slater, Ph.D, Provost Faculty Fellow for Faculty Development and associate professor of Biology, helped designed the inaugural Brown Innovation Fellows Program this past year and had teams of professors from accounting, biology and philosophy who revised their courses to include unique learner-centered pedagogies. These professors presented frequently-discussed topics at the colloquium: team-based learning and "backward design"—a concept in which professors start with what they want their students to know by the end of the semester and then outline the coursework to achieve that result.
"We are trying to build momentum in innovative teaching," explained Slater. "Our first year was extremely successful and we look forward to engaging even more professors and students with these powerful learning tools. The vision is to make this a yearly event."
Professors and administrative leaders from Daytona State College and Bethune-Cookman University also attended.
By Trish Wieland