StetsonU to graduate 720 students May 8 and 9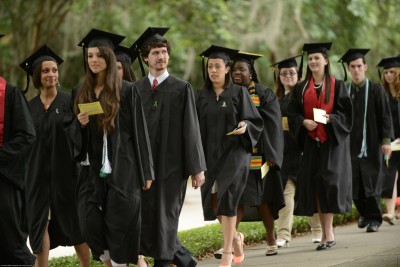 A total of 720 students will graduate at Stetson University's 2015 Commencement Ceremonies this weekend, May 8 and 9. On Friday night, May 8, Stetson will confer master's degrees on 166 graduate students; and at two commencement ceremonies on Saturday, May 9, 554 students will receive their undergraduate degrees. All three commencement ceremonies will be held at the Edmunds Center, located at 143 E. Pennsylvania Ave., on Stetson's DeLand campus. Stetson will also present several awards during the commencement ceremonies to outstanding students and exemplary faculty.
Wendy B. Libby, Ph.D., president of Stetson, will give the "charge" at all three ceremonies – a tradition where the president places a duty and responsibility upon the graduates. Spring Commencement includes all graduates who completed degree requirements in July 2014, December 2014 and May 2015.
The first commencement ceremony will be Friday evening, May 8, at 7 p.m., when 166 graduate students receive master's degrees from the College of Arts and Sciences and the School of Business Administration. Doors to the Edmunds Center will open at 6 p.m.
Keith Henry, candidate for the Executive Master of Business Administration degree, has been chosen as student speaker representing Stetson's School of Business Administration. From Georgetown, Guyana, Henry holds a Bachelor of Science in Marketing and an Associate of Science degree in Business Administration from St. John's University (New York). He is currently employed at the Walt Disney Company as a senior analyst specializing in Online Marketing. During his time at Stetson, Keith was the recipient of the Dean's Service Award for volunteering his professional services to the Second Harvest Food Bank of Central Florida. His efforts were instrumental in this organization being awarded a $60,000 Walmart grant. Henry was also part of a team awarded the "Best Capstone Project" in his cohort in the EMBA program. According to Henry, "speaking at commencement is an honor and one that I will cherish forever. I strive to be a good example to my daughters and in some way, I hope this inspires them to never stop dreaming."
Jennifer Lynn Stokes, from Brevard County, Fla., is a District Peer Mentor Teacher for Brevard Public Schools (BPS). Stokes was chosen as student speaker to represent the College of Arts and Sciences. She works to enhance the practice of new teachers through employing the methods of mentorship, modeling and support designed to retain quality educators. Prior to her work at the district level, Stokes represented over 2,300 members as 
a vice president of the Brevard Federation of Teachers (2012-2014) and was widely viewed as a leader on prioritizing educator needs while advocating the best interests of students. Stokes graduated from the University of Central Florida in 2006 with a Bachelor's in Elementary Education before enrolling at Stetson. She taught in Ukraine in the summer of 2013 and worked with children with special needs, focusing on improving their communication skills and promoting socialization and acceptance with their peers. Following graduation, she plans to pursue a doctorate in education at UCF. "Speaking at Commencement is an honor,"
said Stokes. "It is a dream come true for me, and a testament to the love and support of my family, friends, peers, and professors that have surrounded and nurtured me throughout my journey at Stetson."
The first ceremony on Saturday, May 9, will begin at 10 a.m., when 362 students in the College of Arts and Sciences receive bachelor's degrees. Doors to Edmunds Center will open at 9 a.m.
Representing the College of Arts and Sciences as one of two student speakers, Emilie Laine Eaton, from Jacksonville, Fla., is graduating with a religious studies major. She has been an active member of her sorority, Zeta Tau Alpha, holding the position of intramural chairman. She served as a member of the worship band and the serving team for Fellowship of Christian Athletes. Her love for soccer led her to become a member of the Stetson Women's Club Soccer team. She has served as resident assistant in Chaudoin Hall. She also was honored to be a teacher assistant in the Religious Studies Department. She was awarded the Religious Studies Outstanding Senior and was inducted into Phi Eta Sigma, Theta Alpha Kappa, and Omicron Delta Kappa Honor societies. Only 19 years old, Eaton plans to spend the next year traveling and serving, starting this summer as a counselor and soccer trainer at the Kanakuk camp in Branson, Mo. "I wish to honor my family, friends, and professors through my words today," Eaton said. She takes away from Stetson the desire to dare to be significant and the wisdom that "Life is what you make of it."
International student Zaygamali Hemani is the second student speaker chosen to represent the College of Arts and Sciences. Hemani comes from four different countries. He calls Dubai home and was born in Tanzania. He transferred from Seminole State College in Lake Mary before attending Stetson and says that this is the best decision he has ever made. While at Stetson, Hemani served as a FOCUS leader, president of the Stetson Muslim Student Association, member of the Multicultural Student Council, a Study Abroad mentor at WORLD and is also a member of numerous honor societies on campus including Omicron Delta Epsilon and Omicron Delta Kappa. An economics major, Hemani plans to attend law school after he graduates. He has an incredible passion for social justice and hopes to make an impact in the world one day. Being selected as a senior speaker is "the greatest and most important honor I have ever received," he said. "It just shows what an incredible support system my parents, extended family and friends have been throughout my time at Stetson."
The second Commencement ceremony on Saturday, at which a total of 192 undergraduate students will receive bachelor's degrees in the School of Business Administration and the School of Music, begins at 2 p.m. Doors to Edmunds will open at 1 p.m.
Jordan Danielle Schulz, a Summa Cum Laude graduate of the University Honors Program with a major in finance and a minor in Spanish, has been selected as student speaker representing the School of Business Administration. Schulz is a member of Alpha Kappa Psi Business Fraternity, Phi Eta Sigma American Honor Society, Beta Gamma Sigma Honor Society of Business Excellence and Omicron Delta Kappa National Leadership Honor Society. She is active in the Roland George Investment Program and participated in its first public presentation where students shared investment insights with the campus and community. She founded the Stetson Coalition for Sustainable Student Health, was a student ambassador, collaborated on research papers with professors and served as a tutor for the Decision and Information Sciences Department. After graduation, she will be working in Orlando with Siemens, where she hopes to pursue a career in corporate finance and to do further study in behavioral finance. "I could not have done this without all of the individuals who have supported me along the way including fantastic professors and the Career and Professional Development office," Schulz said. "Stetson has provided me with the foundation I need to not only be successful in my own life, but help others achieve their goals."
Music major from Miami, Fla., Brian Hector Rodriguez has been selected as student speaker representing the School of Music. An award-winning vocalist, he is a three-time Southeastern Region winner and finalist in the National Association of Teachers of Singing Auditions, winner of Stetson's Giffin Vocal Competition, and finalist in the Concert Artist Series of Sarasota Competition. Rodriguez holds professional memberships with Omicron Delta Kappa and Phi Eta Sigma Honor Societies, and Alpha Kappa Psi and Phi Mu Alpha Sinfonia Fraternities. He is an active member of Stetson University's Concert Choir and has been a featured soloist with Stetson's Choral Union, Daytona Beach's Bel Canto Singers and the Chorus of North Stuart Baptist Church. Intent on pursuing a career in the cruise industry, Brian has interned in the entertainment departments of Norwegian and Royal Caribbean Cruise Lines where he honed administrative skills focusing on branding, artist procurement and musical productions. In addition to his music degree, where he studied under Craig Maddox, D.M., he pursued business as an outside field. He will pursue an M.B.A. degree at Stetson in the fall. Rodriguez looks at being selected to speak at Commencement as "among the greatest honors I have received over the past four years. I am proud to serve as the voice of the incredibly talented Class of 2015, his friends and his family."
During commencement the William Hugh McEniry Award for Excellence in Teaching, considered Stetson's most prestigious award for faculty, will be presented by Elizabeth Paul, Ph.D., executive vice president and provost, Academic Affairs, and by last year's award recipient, Eric Kurlander, Ph.D., professor and chair of history.
Prior to the commencement ceremony on Friday, May 8, the ROTC Commissioning ceremony will be held at 10 a.m. in Lee Chapel at Elizabeth Hall, 421 N. Woodland Blvd., DeLand. The Army ROTC program provides students the opportunity to acquire skills and knowledge necessary for commissioning as a second lieutenant. This year four students will be commissioned at this ceremony. Brigadier General Terence M. Henry (Retired), United States Army, will be guest speaker at the Commissioning Ceremony Friday. The public is invited to attend.