Things (You Didn't Know) to Do in DeLand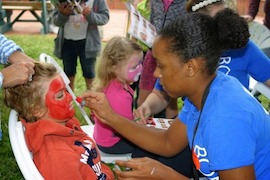 Whether you're starting your first year at Stetson University, or you will soon graduate, we want you to experience everything our campus and beautiful city of DeLand have to offer. Voted the Best MainStreet in Florida five times, Downtown DeLand, pictured above, has exciting and inexpensive events, activities, festivals, and more, all within a ten-minute walk from your residence hall.
Interested in the local art scene? From the nearby museums such as the Museum of Art and the African American Museum of the Arts, to Stetson's own Hand Art Center, there are endless opportunities to engage your inner artist throughout the year. Plus, free monthly art walks and annual festivals bring new light to the town every few weeks.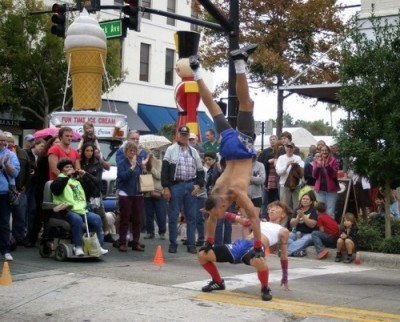 Attend the DeLand Fall Festival of the Arts on Nov. 21-22, 2015, and the DeLand Outdoor Art Festival on April 2-3, 2016. Featuring hundreds of artists from across the country, as well as live concerts, crafts, street performances, and prize drawings, both of these festivals are weekends you won't want to miss. Still need more? Fourth Fridays is a monthly art walk featuring local artists' exhibits and activities inside Downtown DeLand shops.
Within the artsy town of DeLand, there is an abundance of music and theater to experience as well. Visit the historic Athens Theatre one block west of Woodland Boulevard, for new plays every month at low prices. Or if you prefer the music scene, attend the Thin Man Watts Jazz Festival this year, Oct. 17, throughout downtown. Hosted by the African American Museum of the Arts, the Jazz Fest brings music and culture to over 500 attendees every year. Additionally, there are hundreds of on-campus concerts and plays to attend, thanks to Stetson's own School of Music and Second Stage Theatre at Stetson University.
If you're more into adventure than the arts, DeLand still has a lot to offer. The well-known Skydive DeLand lets first-time jumpers ride tandem with a professional diver, falling from 14,000 feet at 120 mph! Bring a group of friends for reduced prices. And if you love skate-boarding across campus to get to classes, practice your skills at the DeLand Skate Park, located alongside Earl Brown Park. You can even join our own Stetson Outdoor Adventure Recreation (SOAR), which offers group trips to rock-climbing gyms, white-water rafting, surf lessons at Daytona Beach, and more. Make it a day of adventure with your new college friends.
Finally, one of the unique features of DeLand is that there's plenty of nature and wildlife to experience around town as well. Jog or bike through dozens of nearby state parks, canoe or swim in beautiful springs, all within a few miles of the Stetson campus. Or if animals peak your interest, visit the Reptile Discovery Center to interact with cobras, rattlesnakes, and even see a live venom extraction show six times a week. But if you prefer a softer species, stop by the local Alpacas of Willow Hill Ranch for free.
So whether you chose to attend Stetson because you were intrigued by its small town atmosphere, or you weren't quite sure what there is to do outside of classes, DeLand has a lot in store for you. Check out MainStreet DeLand Association or Discover DeLand for more local events and activities throughout the year, and keep Stetson's Calendar of Events close at hand for all kinds of free entertainment, right on your college campus.
by Kerstin Cook