Annual Yule Log Lighting to open holiday season at Stetson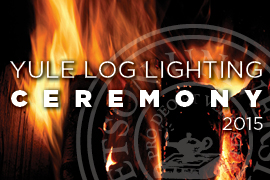 Stetson University invites the community to join in its annual Yule Log Lighting ceremony Tues., Dec. 1, 6 p.m., at Hulley Tower, 513 N. Woodland Blvd., DeLand, between DeLand Hall and Chaudoin Hall. The event is free and open to the public.
This annual ritual traditionally opens the holiday season at Stetson University. It began at Stetson in 1938 with the lighting of candles in the women's residence halls. According to tradition, the Yule Log ceremony, added 10 years later, brings good luck and happiness to those who take part. 
"This event represents the rich combination of Christian and Jewish Holiday traditions," said Stetson University Chaplain Michael Fronk. "Celebrating the lighting of the Yule Log and the menorah is a time to take a break from the stress of studying for finals. It's a time for reflection with classmates and friends as we enter the special holiday season."
The program will include the reading of The Yule Log Tradition, the reading of The Tradition of Hanukkah, caroling and special music led by Stetson Director of Choral Activities Tim Peter, a reading of "It Was the Week before Exams," by Vice Provost, Dr. Lua Hancock, and a special message by Chaplain Fronk.
After the ceremony everyone is invited to join in casting sprigs on the fire, representing the year past, and in lighting candles from the Yule Log flame. Participants will then move to the Carlton Union Building for refreshments.
Parking is available behind Allen Hall and Flagler Hall, both of which are located near the intersection of N. Woodland Blvd. and W. Minnesota Ave. 
For additional information, contact Stetson University's Chaplain's Office at 386-822-7523.