Stetson University in the News, Jan. 8-14, 2016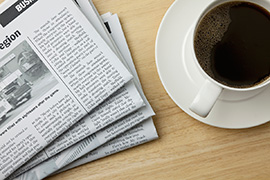 Top Stories:
•Charles Rose, Director, Center for Excellence in Advocacy; Professor of Excellence in Trial Advocacy, shared his thoughts on the FBI's decision to keep evidence from the San Bernardino shooting sealed, as reported by MyInforms.com and The Press Enterprise on Jan. 8.
•Alan Green, Ph. D., Assistant Professor and Chair of Economics Director of Africana Studies, and Christopher de Bodisco, Ph. D., Assistant Professor of Economics, were mentioned in an article posted on The Economist and Latest Nigerian News on Jan. 9 and 7, respectively.
•Law Professor Ciara Torres-Spelliscy wrote the Jan. 7, 2016, Bill Moyers article, "2016 will test the power of Super PACs."
•Law Professor Paul Boudreaux wrote the Jan. 10 opinion article, "Paul Boudreaux: Framers warned us about Trump and Clinton," for the Sarasota Herald-Tribune.
•Law Professor Ellen Podgor is quoted in the Jan. 12 Bloomberg BNA article, "Former Brandeis President: Law Students Are Right to Worry."
•Law Associate Dean Susan Rozelle spoke with the Jacksonville Times-Union in the article, "Florida's death penalty procedures declared unconstitutional by U.S. Supreme Court. Dean Rozelle did an interview with Bay News 9 in the studio that aired on Jan. 13 about the Supreme Court decision.
•Law Professor Charles Rose spoke with the Sarasota Herald-Tribune for the article, "Supreme Court says Florida death penalty system is unconstitutional."
Other News:
• On Jan. 7, the Stetson University Symphonic Band was mentioned in an article posted in the SB&O – School Band and Orchestra Online.
• News that Stetson University College of Law will host open houses in January and February for future students to learn part-time law program ran nationally on several news outlets.
• News of Stetson University's National Conference on Law and Higher Education ran in news outlets across the U.S.
• Stetson's paid ad ran in the West Volusia Beacon, Jan. 14-17, 2016, promoting the upcoming concert by Ragtime and Boogie-Woogie pianist Bob Milne.
o Also, in the same issue of the Beacon, Stetson's schedule for celebrating MLK Day received coverage.
o And, also, published in this same issue of the Beacon, was a review on Dan Gunderson's upcoming art exhibition at the Hand Art Center, written by Tonya Curran, director of Stetson's Hand Art Center. Gunderson, professor of art, is celebrating his 40th anniversary at Stetson University.
• According to the Jan. 14 Creative Loafing, Associate Dean Michael Allen will discuss "Current Issues in Constitutional Law in March."
• Stetson's Tampa Law Center is mentioned in stories in the Tampa Bay Business Journal and Lakeland Ledger, "Lawmakers look at moving Lakeland appeals court."
Alumni in the News:
•Richmond Times-Dispatch has reported that Virgina Commonwealth University has named Stetson alumnus Andrew P. Daire dean of the School of Education on Jan. 12
•Law alumnus Brian Tannebaum is profiled as Attorney of the Month in Attorney at Law.
•According to the Jan. 13 Florida Bar News, Law alumna Judge Catherine Peak McEwen received the District federal Judge Service Award—the award will be presented Jan. 28 at the Florida Supreme Court during the presentation of the Florida Bar President's Pro Bono Service Awards.
•Law alumnus Tony Thomas has been selected as general counsel at Valdosta State University.
•Law alumnus Adrian Rust has joined the Burr & Forman law firm as a partner, according to the Jan. 11 CityBizList.
•Law alumni Brian Palumbo and Elizabeth Bertrand opened their law firm's second location, Palumbo & Bertrand, P.A., according to the Olean Times-Herald.
•Law alumnus and Stuart attorney Michael McNicholas is running for circuit judge according to the Jan. 12 TCPalm.