Hatters Historic Run Ends in A-Sun Championship Game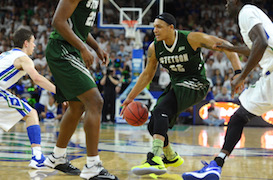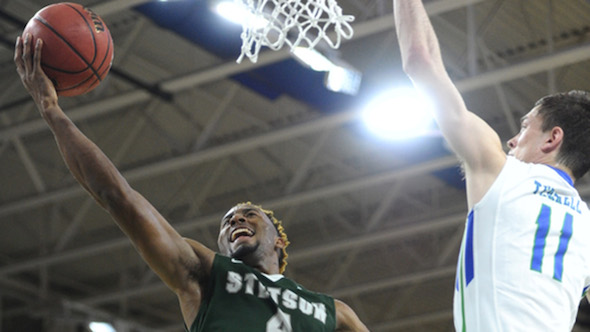 The Stetson Hatters magical, historic run through the Atlantic Sun Conference tournament was extended for an extra five minutes Sunday, March 6, but Florida Gulf Coast eventually squeaked out an 80-78 overtime victory to capture the 2016 A-Sun title and the league's NCAA Tournament berth.
After earning two decisive road victories to make their first appearance in the Atlantic Sun Championship game in 22 years, the Hatters finished their season with a record of 12-22.
Freshman Derick Newton led five Hatters in double figures with 22 points. Divine Myles and Grant Lozoya scored 11 points apiece, while Angel Rivera and Luke Doyle each chipped in 10.
Doyle broke the school single-season record for most 3-point field goals with his 71st trifecta in the first half.
For 45 minutes, the two teams battled back-and-forth in a drama-filled championship contest. The game featured an amazing 16 ties and eight lead changes overall, with both teams having a chance to win at the end of regulation.
The Hatters had to rally late in the second half just to force overtime.  FGCU (20-13) led by five, 65-60, when Lozoya drained a 3-pointer from the right wing with 2:16 to play.
The Eagles went back up by four, but Leo Goodman buried a 3 of his own to cut the deficit to 67-66 with 1:52 on the clock.
On the next possession, Newton hit two free throws to put Stetson ahead 68-67.
Antravious Simmons gave FGCU a one-point lead with a basket at the 1:23 mark.
Newton hit another free throw with 25 seconds left to to the game 69-69.
Neither team got a shot off in their final possession of regulation, sending the game to overtime.
In the extra period, Stetson trailed by three, 79-76, with under 16 seconds to play when Myles drove to the basket for a lay-up to cut the lead to one. Zach Johnson was quickly fouled and hit just one of two free throws for the Eagles, but his block on the defensive end in the closing seconds prevented Stetson from tying the game one last time.
Stetson's historic championship run began on March 2 at NJIT, where the seventh-seeded Hatters knocked off the second-seeded Highlanders 82-67 in the quarterfinal round.
On March 4 in Nashville, Stetson walloped Lipscomb 96-75 to move on the A-Sun finals for the first time since 1994.
Sunday, the Hatters faced a rematch with the Eagles, a team they had defeated on Feb. 25 in DeLand to start the winning streak.
Stetson held the lead for 18:43 of game time, including a 35-30 halftime advantage.
With no seniors on the roster, the Hatters will return their entire squad in 2016-17.
Pegg and Newton were named to the all-tournament team.