Hatters Fall in the NCAA Tournament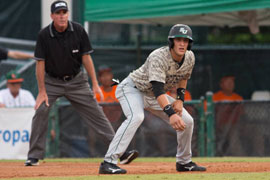 A hit here, a close play there. And the Stetson Hatters baseball season is now over.
After going into the the Coral Gables Regional with the momentum of an unlikely championship run to the Atlantic Sun title, the Hatters lost twice in hard-fought games to end their season with a 29-31 record — but with a measure of national respect.
Last Friday night, June 3, the Hatters battled the heavily favored, third-ranked University of Miami Hurricanes, only to lose, 4-2. With Miami holding to a 2-1 lead going to the eighth inning, the Hatters tied the score. However, it wasn't enough despite the Hatters getting more hits than the Hurricanes.
The next day, an 8-4 defeat to the Florida Atlantic Owls ended the season. The Hatters held a 4-3 lead with two out in the eighth inning but couldn't avoid elimination.
For the record, host Miami won the Coral Gables Regional and advanced, beating California State University – Long Beach, 9-8.
Not lost amid the disappointment was a magical conference tournament that put the Hatters in the national spotlight as one of 64 teams to make the NCAA Tournament. They had entered the ASUN Tournament as the sixth-place team.
"We got hot at the right time in conference…and that was just a great experience," said senior first baseman Will Mackenzie. "This team was such a strong family throughout the year, and for us to get hot like that, we earned it and we deserved it, and that was just an awesome experience."
Hatters Hall of Fame coach Pete Dunn was proud.
"I thought we came in and really competed well," said Dunn, who has led the team for past of four decades. "We didn't come in here as a four seed and expect to get beaten around. Our guys really competed well [Friday] night, and we just let it get away late in the game…same thing [Saturday]."
There is a silver lining. In addition to several standouts returning next year, the ASUN Championship will be held right at home for the Hatters, Melching Field.
By Michael Candelaria
Ricky Hazel contributed to this report.