Stetson University in the News May 27-June 2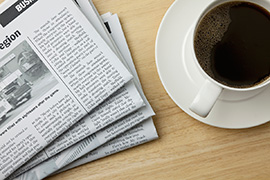 Top Stories
Roland George Investments Program's launch of Drones 9, a new index of nine companies that build components for drones, was covered May 31 in Houston Chronicle, Seattle Post Intelligencer, Capital Soup, StockNod.com, One News Page (UK), and hundreds of other news outlets.
Ciara Torres-Spelliscy, professor of law, is quoted in the May 27 article in the Atlantic, "The Price of Public Money."
Peter Lake, professor of law, is quoted in the May 27 Chronicle of Higher Education article, "'Fundamental Failure' on Sexual Assaults Brings Sweeping Change at Baylor." Lake's interview with Reuters for the news story, "States ratchet up transgender battle with lawsuit against U.S.," continues to be picked up around the country in the Rakyat Post and more than a dozen other media outlets.
Melinda Hall, Ph.D., assistant professor of philosophy, was quoted in AHC Media June 1 on the ethical implications of big data in the healthcare industry and decisions. Additional coverage: Medical Ethics Advisor.
Stetson baseball has received significant coverage for its trip to the Coral Gables Regional round of the NCAA Tournament including the Miami Herald, University Press, Baseball America, College Baseball Daily, and many other outlets.
Other News
Stetson University's long-time support of the arts and culture in DeLand was noted in a June 1 Daytona Beach News-Journal article on the 25-year anniversary of the Museum of Art's building, which sits on property that Stetson first leased and then sold to the Museum.
William Andrews, Ph.D., professor of international business, was quoted in a May 28 Daytona Beach News-Journal article about Details Flowers, an incubator business that became a class project for Andrews' graduate assistants.
On SQL Server Central, a June 1 blog post uses Stetson retention and graduation rates from the Banner system to demonstrate Power BI Higher Education Analytics solutions.
Stetson University School of Business Administration benefitted from the generosity of the Davis family, according to a Huffington Post article on May 28, which also mentions Davis Hall on the DeLand campus. Additional coverage: LatestNigerianNews.com
Stetson's football satellite camp was mentioned in a May 31 T&D article about the pros and cons of such camps.
In an article on TampaBay.com on May 26, the top high school graduates in Pinellas County talked about the schools they plan to attend in the fall, including East Lake High grad Mackenzie Taylor Nalven (GPA 4.8246) who plans to attend Stetson University.
Phillipe Nino, the Naples Daily News Player of the Year for 2016, has committed to play tennis for Stetson University, according to the Naples Daily News on May 28. Nino finished the year 20-1 in singles play.
News that Stetson presented its Lifetime Achievement Award for Excellence in Teaching Advocacy has run in more than 70 media outlets via PRWeb.
The news that Stetson is offering a special summer sea turtle course has been picked up by additional more than 40 media outlets via PRWeb.
The Hillsborough County Bar reported May 31 that there is a June 3 ABOTA seminar: Practicing with Ethics, Civility, and Professionalism.
Alumni News
Carlos Miguel Beruff was mentioned in a Miami Herald article regarding his campaign for U. S. Senate in Florida.
Caroline Schichtel, vice president of community care for Heath Funeral Chapel and Crematory, was quoted in The Ledger regarding a historical perspective of that company.
Jim Hathaway, mayor of New Smyrna Beach, announced his re-election bid according to the Daytona Beach News-Journal.
Melanie Matthews will be inducted into the Softball BC Hall of Fame in October, according to the Cloverdale Reporter. Additional coverage: Peace Arch News, Surrey Leader, BCLocalNews.com,
Bob McCullough was mentioned in a Canadian Baseball Network article about the 1984 Canadian Baseball Olympic team.
David Marco was mentioned in a Professional Pilot Magazine article about his work as a pilot and instructor.
Texas Rangers Blog mentioned former Hatter and Cleveland Indians pitcher Corey Kluber in a post about up-and-coming high school pitchers.
According to the May 26 Targeted News Service, Governor Rick Scott announced the appointment of  Law alumnus Thomas J. Brown to the Brevard County Court.
The May 26 Daytona Beach News-Journal reports that A. Kathleen McNeilly, a DeLand attorney, is a candidate in a judicial election.
The May 26 PRLog reports that Law alumnus Forrest J. Bass has graduated from the Florida Fellows Institute's trusts and estates program.
The May 27 WJCT features Law alumnus and Made in Space CEO Andrew Rush in the story, "Business Brief: Company Behind Parts 'Made In Space' Likely To Expand In Jacksonville."
The May 26 Sentinel features the work of LL.M. in Elder Law alumna Jessica Greene.
The May 31 Tampa Bay Newswire reports that Law alumnus Adam Birch joined the  Johnson, Pope, Bokor, Ruppel & Burns, LLP Clearwater office.