Hatters' Dunn Looking Forward to Retirement in 2017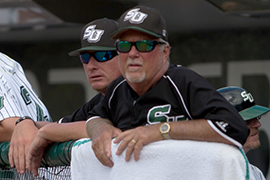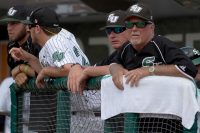 Just weeks after leading his 37th Stetson baseball team to another Atlantic Sun Conference title and berth in the NCAA Tournament, Stetson head coach Pete Dunn was back on the field this week, working the first of four summer baseball camps he will hold at Melching Field.
Thoughts of his coming retirement from Stetson following the 2017 season were not at the forefront of his mind while trying to scarf down a quick lunch in between questions from parents dropping off their kids for camp.
But, he knows 2017 will be his last season.
"I have mixed emotions," Dunn said. "As long as I can remember, back to when I was a little kid, I have been playing baseball or coaching. It is going to be tough to walk away from it. Obviously I am going to stay very interested."
That is only natural considering that Dunn has been a part of the Stetson baseball program for 44 years. Starting as a player in 1969, Dunn returned to Stetson as a student assistant coach in 1971 and then, after two years as a graduate assistant at Georgia Southern and three years as a high school coach, he returned to his alma mater in 1977 as an assistant.
Three years later, he became the Hatters' head coach. He has held that position long enough to see one of his former players work his way from volunteer assistant coach all the way to director of athletics. The relationship Dunn has with Jeff Altier is a special one, which is the reason Dunn was able to choose his own timeline for departure.
"When I signed my last contract, I sat down with Jeff and he said, 'You tell me, what do you want?'" Dunn said. "The thing he said is that he wanted whatever we did to take me into retirement. I sat down with my family and we settled on a four-year deal."
Dunn's career at Stetson has been a great example of what Stetson Athletics is all about.
"Coach Dunn has been able to bring meaning to the Stetson Athletics vision statement over decades of coaching," Altier said. "Developing a culture of champions athletically, academically and within the community is not an easy task and requires a coach to demand performance each and every day in every area.
"The baseball program has been a source of pride for Stetson University for many years. We are not going to be able to replace Coach Dunn but through a national search we will find a candidate who will meet the high standards established by Pete."
Altier also said he is happy about having an entire season to honor Dunn.
"It is going to be exciting to be able to recognize and honor Coach Dunn for all that he has done and all that he has meant to Stetson University for so many years," Altier said. "He has dedicated his life to Stetson baseball, and there are a lot of people who owe him for getting them started on the road to success, whether on the field or in life, through the culture of champions he has established.
"The fact that we will be able to cap off his final year by hosting the ASUN Championship Tournament once again was important for me, and having the entire conference here for a final home sendoff will be truly special."
Even though his official retirement is still a year away, Dunn said he has no definite plans for how he will spend his time.
"My kids are grown, and I don't anticipate volunteering to coach any Little League teams," Dunn said. "I love to fish and I look forward to that. I don't play a lot of golf any more. A lot of my friends play a lot of golf, but I am not any good at it, so it is frustrating. All I know right now is that I am not going to coach baseball. What I do after I retire, I am not sure yet."
Another thing he knows he won't be doing is helping his wife, Debbie, with her real estate business.
"I think Debbie will have a bigger adjustment," Dunn said. "I think that is probably why she agreed to let me get a new boat last year, so that when I do retire I will be out in the boat and out of her hair. Somebody suggested that I get a real estate license, but I would have to find somewhere else to work because there is no way she would let me work with her."
As for his final season at Stetson, the only thing he is sure of is that he doesn't want his retirement to serve as a distraction to his team.
"The big thing is it is not about me," Dunn concluded. "It is about them and winning another conference championship. They can't let it be a distraction. To the players, it has to be just another year to go play and win a championship. It is not going to be about me."
By Ricky Hazel
This article originally appeared on GoHatters.com. Visit GoHatters.com for more information on Stetson baseball.