Stetson's New CFP Track is First in Florida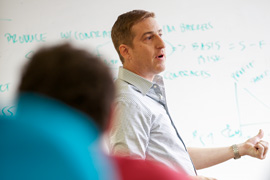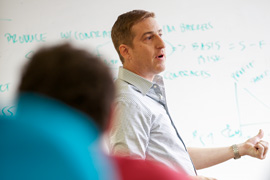 This fall, Stetson University School of Business Administration will be offering a new concentration — the first of its kind in the State of Florida — that allows undergraduate finance majors to meet all the requirements necessary to sit for the Certified Financial Planner (CFP) designation exam upon graduation.
The demand for financial planning expertise is increasing as Baby Boomers enter retirement and the CFP certification is seen as the most desired designation in this field. Those with this designation not only generate 40 percent more income for their clients but also earn 26 percent more than other financial planners.
A Stetson University survey of current finance majors and alumni reinforced the need for such a program when more than 65 percent stated they were likely to take the financial services track tied to the CFP designation.
"A lot of people working as financial planners don't have the CFP designation — the gold standard in the industry — to ensure they're qualified to provide good advice," explained Christopher Tobler, Ph.D., associate professor and chair of the Department of Finance at Stetson University. "The CFP requirements are rigorous, to say the least, and candidates must demonstrate a mastery of approved education, examination, experience and ethics."
Almost 900,000 Floridians work in the large market, finance, insurance and professional services firms, yet only about 5,000 hold their CFP license.
"This program is a huge opportunity for our business students hoping to successfully enter the finance industry," Tobler said.
The need for personal financial advisors is expected to grow 30 percent through 2024, much faster than the average for all occupations, according to the Bureau of Labor and Statistics.
Finance majors with this concentration will learn the specific skills necessary for a career as a financial planner, broker or insurance representative, and graduate fully prepared to sit for the CFP exam.
Stetson University School of Business Administration is in the process of obtaining official certification from the CFP Board. This certification will significantly enhance the value of the CFP concentration, simplifying the process for graduates who choose to purse the formal certification.
For more information, visit Stetson University online.
by Marie Dinklage