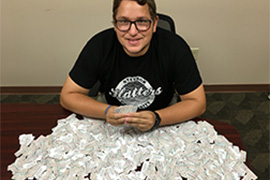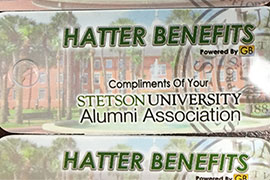 When graduate student Alex Ferko goes to the beach, he checks the Hatter Benefits website to decide where to eat lunch.
"You get discounts," Ferko said about the little card that can save money for Stetson University students, faculty and staff.
Ferko, who's working on a master's degree in Business Administration, took over as head of the Hatter Benefits program this year and wants to "aggressively distribute" the free key-tag size cards so the Stetson community can get discounts at area restaurants, stores and other businesses.

The card normally costs $20, but the Stetson Alumni Association and Student Government Association pitched in to buy 3,500 cards to distribute on campus.
The program started two years ago as a fundraising project for the American Marketing Association Club at Stetson. The club partnered with Gold Benefits, an Orlando company that markets discount cards to churches, clubs and other organizations as a way to raise money.
Assistant Professor of Marketing B. Tod Cox wanted to give his students the real-world experience of making sales calls when they took his professional sales class. Each semester, the students make 36 sales calls to DeLand merchants, trying to entice them to join the program.
Merchants pays $100 to $150 a year to join and offers the discounts – generally 10 to 20 percent off – to customers who show the Hatter Benefits cards. For example, patrons at Berryville Frozen Yogurt save 15 percent. At Sportsanity college apparel and merchandise, customers get 50 percent off their second item.
Currently, about 10 businesses in downtown DeLand offer discounts, Cox said, although the list is growing. Also, the website, GBHatterBenefits.com, lists hundreds of businesses offering discount around Volusia County and Central Florida.
"There's all kinds of crazy discounts – from food to tax services," Cox said. "It's still very new. Because it's student-led, a lot of folks don't know it exits."
DeLand Cyclery in downtown DeLand offers $10 off of a $45 multi-speed tune-up, not including parts. Owner Ted Beiler said he joined the program because his father, Theodore W. Beiler, was a chemistry professor and chairman of the Chemistry Department during his 37-year career at Stetson.
"I've always felt a little part of the Stetson community," he said. "I'm three blocks from campus, so I get Stetson business."
So far, the Stetson marketing club has raised "a couple thousand dollars" through the program, Cox said. That money is used to help pay travel expenses for students who attend the American Marketing Association International Intercollegiate Conference each year.
Ferko went to the conference last year in New Orleans and the program helped pay for his airfare and hotel. Although he's not in the professional sales class this semester, he still goes out on sales calls locally to build the program.
Ferko was enrolled in Cox's first class of "Professional Selling: A Relationship Management Process" when the professor announced that students would be required to go out into the community and make sales calls.
"The students were scared at first," Ferko recalled. "But once you go and do it a few times, you realize it's just people talking to people. … It's a learning experience."
Stetson students, faculty and staff who would like a free Hatter Benefits card can get one in the Meadows Alumni House or by contacting Ferko at [email protected]
-Cory Lancaster