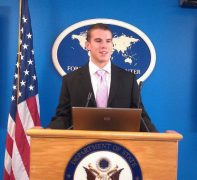 For Stetson alumnus Spence Purnell '13, the recipe for success is an unfaltering work ethic, support from his professors and a little fearlessness.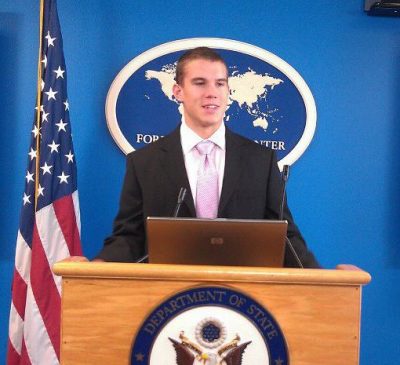 Recently, Purnell garnered the prestigious Jeb Bush Award at the annual Gubernatorial Fellows reception held at the governor's mansion for his project proposal, "The State's First Comprehensive Inter-Agency Data Sharing Platform: An Initiative to Leverage State Data Into Innovation."
The Jeb Bush Award, named after the former governor and founder of the Gubernatorial Fellows Program, provides a $5,000 scholarship to innovative Fellows who identify critical state concerns and address them with outstanding policy proposals.
Purnell got the idea for his proposal after working with the Florida Department of Highway Safety and Motor Vehicles on a research project. When traffic data was needed from the state's Department of Transportation, three weeks were needed to obtain it, despite the agency only being five minutes away.
This frustrating experience led to a realization that would become the inspiration for his project.
"State government needs an internally managed interagency database in order to produce more meaningful reporting and eliminate public service inefficiency," said Purnell about his idea.
Purnell set out to revolutionize the system by using Unique ID Tagging, whereby an individual is assigned an ID code that is consistent across state agencies. The current system operates on each state agency independently collecting data without sharing it. By breaking these barriers and making information accessible to each agency, the results would benefit both the corporate world and the average citizen.
"In my proposal, agencies would be required to submit data into a central database," Purnell explains. "With the help of algorithms, every Florida citizen would be given a unique ID that would definitively match up all the data state government has on a given individual. It's not a call for more data to be collected, but simply a reorganization of data already being collected into a more efficient centralized system, which will ultimately result in better public service delivery and less tax dollars wasted."
According to Purnell, successful sharing agreements between companies have already saved taxpayers approximately $650,000.
"My proposal would make partnerships like these permanent and more meaningful," he says. "State government has the information it needs; it just needs to modernize into the digital age and give the people of the state of Florida a better government."
Purnell credits his ingenuity to the years of fostering he received from his Stetson professors.
"Dr. David Hill taught me how to use numbers and statistical modeling to bolster argumentation, and Dr. Wayne Bailey inspired me to care about civil rights, the human condition and significance of laws," he cites. "They opened my mind to vast swaths of historical knowledge while simultaneously encouraging me to go out into the world and use it to make government better. The combination of the two inspirations led me down the career path I'm on."
Currently, Purnell is earning a master's degree in public administration at Florida State University, with a specialization in policy evaluation and analysis. At Florida State, he conducts quantitatively based research on a wide variety of laws, focusing on poverty and economic development. He is expected to graduate next year.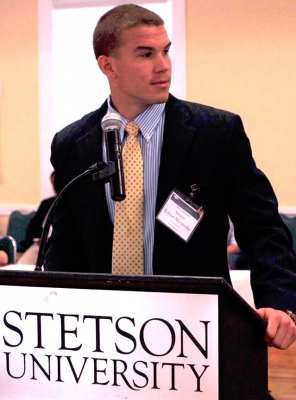 During the early stages of his education, Purnell made the nerve-wracking decision to change majors, moving away from business. His motivation, however, didn't come from the realization that a business career wasn't his true passion. He was merely seeking to test himself.
"I didn't care about anything political throughout high school and even late into my freshman year," Purnell says. "I actually started as a business major and converted to political science because I heard it was one of the hardest majors on campus. I thrive on competition, so I wanted to challenge myself."
Quickly, Purnell switched again. "After I took my first class, I knew I loved it because I always liked to debate. Political science finally gave me an outlet to professionalize that passion. The Model Senate at Stetson gives students an opportunity to role play politicians and thus reconstruct their arguments. I loved that experience and gobbled it up. I did it every year. On top of that, I liked reading and working with numbers, so it was a natural fit. I never looked back."
Purnell's advice to current students is straightforward: "Work harder than your previous conception of hard work. Personal development requires one be honest about where they are and where they want to go, and then truly accepting the work it takes to get there. The one variable that is always in our control is work ethic. No one can take that from you, and no one can give it to you."
Purnell describes the feeling of representing Stetson as an award recipient as humbling.
"There are some really smart people out there, way smarter than me, so to be recognized among them was surreal," he says. "I came to Stetson as an athlete [in basketball] and never considered myself as intelligent. My professors and peers encouraged me to take my academics seriously and to put my mind on display. It feels amazing representing Stetson. There are so many brilliant people I've met at Stetson, and I know they are making a difference in the world."
By Nicole Melchionda