Corey Kluber Makes History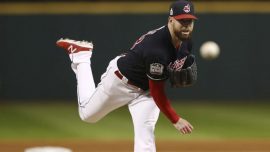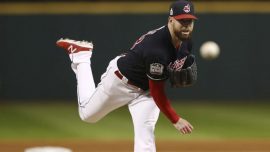 Entering Game 1 of the 2016 World Series Tuesday night, much was anticipated of Corey Kluber.
His Cleveland Indians were seeking their first World Series title since 1948 against a team, the Chicago Cubs, that hadn't won a Series since 1908 – but had just completed a league-best 103-win season. Kluber was an All-Star during the regular season, even better in the playoffs and the Indians' biggest hope of winning.
As he tossed his first pitch Tuesday night, Oct. 25, the lights of Major League Baseball were their brightest and cameras at the packed Progressive Field in Cleveland flashed incessantly. A global audience watched on TV.
Then Kluber went out and not only exceeded expectations, he made history, leading his team to a 6-0 win.
Kluber, a former Stetson University star who left campus for professional baseball in 2007, set a World Series record with eight strikeouts in his first three innings. That's eight in the first nine outs of the game. The previous mark of seven strikeouts was shared by Bob Gibson (1968), Orlando Hernandez (1999, 2000) and Randy Johnson (2001).
Also, his nine total strikeouts set a World Series record for an Indians pitcher, and Kluber became the sixth pitcher in baseball history to throw six shutout innings and register at least nine strikeouts in his first World Series start. That feat was first accomplished in 1903 and repeated in 1966.
Kluber's performance was masterful by any measure.
"He's probably the most composed guy I've seen," Indians closer Cody Allen told MLB.com following Game 1. "And he's been like that forever. It's not like this is something that he just started doing. He's just very poised, never gets rattled, just focuses on the task at hand."
Kluber's steely disposition complemented an arsenal of sinkers, cutters and curveballs. Against the left-handed batters, he concentrated on cutters in on the hands and sinkers breaking back over the inside corner. Against righties he buried his curveball low and away while mixing in four-seamers to offset his sinker, as described by MLB.com.
Following the game, Kluber deflected praise, pointing to his catcher, Roberto Perez: "He did an unbelievable job," Kluber told MLB.com. "It's almost like he knew what they [the Cubs] were looking for. He had them off-balance for the majority of the night." (Perez also hit two homeruns.)
In four postseason starts in 2016, Kluber has allowed less than one run per nine innings with 29 strikeouts in 24 1/3 innings. His start for Game 4 is scheduled for Oct. 29.
Stay tuned.
-Michael Candelaria