Hundreds honor retired Stetson Professor T. Wayne Bailey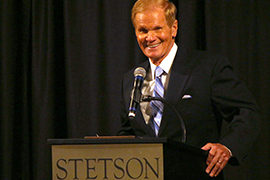 Forty-four years ago, Stetson Professor T. Wayne Bailey received a call from a local candidate for Congress, asking if he had a student who could help on his campaign.
Bailey recommended Jack Latvala, now incoming appropriations chairman for the Florida Senate. Two of the last four state Senate presidents are former students of Bailey's, and so is the incoming president of the Senate.

"Wayne Bailey is — no question — the person responsible for my political career, for good or bad, that's who you blame," said Latvala '73, a Clearwater Republican, at a dinner to honor Bailey on Saturday night, Nov. 5.
Bailey retired from Stetson last May after 53 years. He started the Political Science Department at Stetson, served as a delegate to many Democratic National Conventions, and played a key role in getting the Florida Clean Indoor Air Act passed to ban smoking in public places.
His dinner attracted a crowd of politicians, former politicians, educators and others to the Stetson Room of the Carlton Union Building, including U.S. Sen. Bill Nelson, U.S. Rep. John Mica, former Congresswoman Suzanne Kosmas, former Florida House Speaker J. Hyatt Brown and former local Congressional candidate, Dr. P.T. "Bud" Fleuchaus.
"This may be the largest crowd of dignitaries I have ever seen in this room," said Stetson University President Wendy B. Libby, Ph.D., "although I know that there have been many crowds like this before, none quite as august as this in honor of T. Wayne Bailey."
The dinner raised money for the Dr. T. Wayne Bailey Student Retention Scholarship Fund, which will help students in the College of Arts and Sciences stay in school if they're struggling to keep up with tuition increases.
DeLand Mayor Bob Apgar read a proclamation from the city, marking Saturday as the Dr. T. Wayne Bailey Student Retention Scholarship Day, and giving him a key to the city for "all the hearts and minds" that he opened over the years.

U.S. Rep. Mica presented him with a Tribute to T. Wayne Bailey, which Mica entered into the official record of the U.S. House of Representatives last June. Mica, a Winter Park Republican, also presented him with a flag that flew over the U.S. Capitol.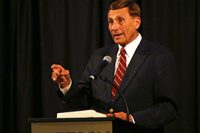 "This gentleman, this outstanding educator, impacted the lives of those who have served and serve our nation at the local level, the state level and the national level," Mica told the crowd of more than two hundred people.
U.S. Sen. Nelson said the proof of Bailey's impact can be found in the words of his students.
"One said, a Florida original. Another said, a champion for generations of students. Another said, Wayne believed in them when they didn't believe in themselves," said Nelson, a Democrat from Orlando.
Nelson said Bailey witnessed enormous changes in his time at Stetson. Bailey arrived at the college in 1963, when the state had a couple million residents. Now, 20 million people live in Florida, which surpassed the population of New York two years ago.
"We find ourselves today a microcosm of the entire country because the country has moved to Florida," he said.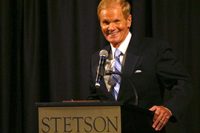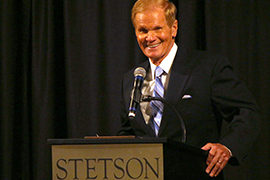 "In these enormous changes he's seen, he's also seen something that he doesn't like. He saw an era of government where we were ladies and gentlemen, where there was civility, where there was respect. And it's interesting as our politics have changed, Wayne has not changed. He is still the great gentleman," Nelson said, adding that Bailey stands in stark contrast to "the ugliness of the (presidential) campaign we're seeing."
Over dinner, politicians, former students and colleagues honored Bailey with stories and words of praise. They also recorded their memories on a video documenting the oral history of Bailey's time at Stetson, called Quietly Lighting Candles: The Legacy of Dr. Wayne Bailey.
Bailey graduated with a Bachelor's of Arts degree with honors in political science from the University of Florida in 1954. He received a Master's of Arts in political science and history from the Peabody College of Vanderbilt University in 1955, and his Ph.D. in political science from UF in 1963. He was active in local governments, bringing about reforms and upgrading their charters. He co-founded Stetson's Model United States Senate and directed Stetson's Washington Semester at American University.
Former Stetson professor, Gary Maris, Ph.D., worked with Bailey in the Political Science Department for many years and said, by his estimate, Bailey taught "a little over 11,000 students" during his career. His students went on to successful careers as politicians, college professors, world-renowned scholars, government administrators, activists and others.
"Wayne's really telling mark is that he's concerned about all students. Every single student is important to Wayne," said Maris, a former dean of the College of Arts and Sciences. "There was no student he would ever turn away. If they had a concern academically, career-wise, needed help finding a job … he was there for his students anytime they needed him."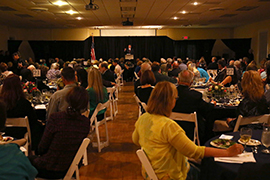 Anne Hallum, Ph.D., another former Stetson political science professor, was hired by Bailey and remembered when former President Jimmy Carter visited the campus in 1992. "One of the first things he said was: 'Where's Wayne Bailey?' " she recalled.
Her friendship with Bailey opened the door for her to meet politicians ranging from former Florida Gov. Lawton Chiles to former U.S. Sen. Bob Graham and former Vice President Al Gore.
"Wayne Bailey is, I think, the most giving man that I have ever known," she said. "I have seen this man in the hospital on his back but taking phone calls and talking about who he can help, and what can I do for you and let's tackle this problem, and never, never about himself. It was truly remarkable … His greatest joy has always been to help others, including me."
Robbie Jones graduated from Stetson in 2014 and now attends William & Mary Law School, where he finished his first year at the top of his class. He recalled meeting Bailey when he was a high school senior and tagged along with his mother, who was speaking to Bailey's class. Bailey took him aside after the class.
"He sat with me and he told me if you come here to Stetson, I will be with you every step of the way," Jones said. "I never forgot that and I think I decided at that moment I was going to become a Hatter. … What I saw over the next four years here was Dr. Bailey make that promise to student after student, and not just make that promise, but keep that promise."
Students would line up outside his office door in the Lynn Business Center, where he would work late into the night, and wait hours for their turn to speak with him, Jones said.
Often, state legislators and political candidates would be in line, too, said Clay Henderson, one of Bailey's protégés, a former Volusia County Council chairman and now executive director of Stetson's Institute for Water and Environmental Resilience.
"We are on the cusp of the most polarizing election in all of our lifetimes," Henderson said about the presidential election, just days away. "This may be the only bipartisan event in the United States of America tonight."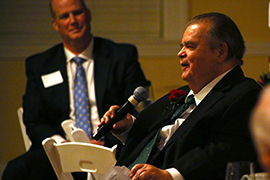 Bailey thanked the crowd for their kind words and praise, which he said brought him close to tears.
"Let me say once again, what an honor it is to share all of the memories and all of the hopes that have been stressed tonight," he said. "I have experienced nothing in my life that comes close to that and I want you to know that sincerely."
To donate to the Dr. T. Wayne Bailey Student Retention Scholarship Fund, send checks to Stetson University, 421 N. Woodland Blvd., Unit 8279, DeLand, FL 32723 and write "Dr. Bailey Scholarship Fund" in the memo line. For more information, call Adrienne Boyle, development officer with the College of Arts and Sciences, at 386-822-7993 or email [email protected].
-Cory Lancaster