5 Minutes with … Karen Cole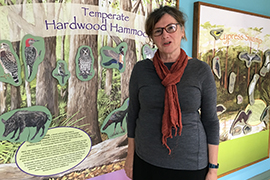 Tell us about your job at Stetson.
For the past eight years, I have overseen a green and lively corner of campus. Founded in 1958, the Gillespie Museum has a number of distinctions. It is among the oldest natural science museums in the U.S. — 80% of science and technology centers are under 20 years old.
The Museum houses and displays one of the most significant mineral collections in the southeastern United States. The next closest to the north is Tellus, near Atlanta, and to the west, Houston's Cullen Hall of Minerals. The Gillespie has developed as Stetson's "earth science museum in a natural setting," or as I like to say now, a museum with and without walls.
In addition to its first mission, identified by our benefactors, Nellie and Thomas Gillespie — to educate school children about geology and mineralogy — the grounds and the adjacent Rinker Environmental Learning Center feature a well-established Native Florida Plant Landscape and urban wildlife habitat, now in its 20th year; the Hatter Harvest Garden; a Native Plant Screenhouse; Stetson Beekeeping; and more recently new projects like the Florida Wildflower Demonstration Garden, a Seed Library, a Native Orchid garden, and Florida Botanical Explorers site. The ongoing restoration south of the Rinker Environmental Learning Center, the Volusia Sandhill Teaching Landscape, has increased our potential as an outdoor classroom and research site for the campus and community.
What do you like most about your work?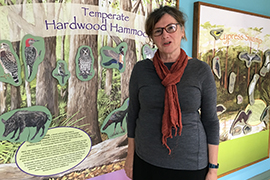 My work is equal parts teaching and learning. I came to my position at the Gillespie with a scholarly interest in how we write about the landscape and a commitment to improving our relationship to the natural world. In my first months, studying with our curator emeritus, Bruce Bradford, I caught up with some of the fundamentals of mineralogy and geology. That study, of course, never ends. In the past few weeks, for instance, I've learned about the environmental impact of African dust from our colleague in chemistry, Song Gao, at his recent Science Café presentation.  And in developing our current exhibit, Storied Stone, our newest staff member, anthropologist and archaeologist Wendy Tanner, has taught all of us about the cultural resonance of seven well-known rocks and minerals.
Because the Gillespie is a tiny museum (so designated by our affiliate, the Association of Science and Technology Centers), our programming and exhibits depend on the generous collaboration of Stetson faculty and undergraduates. My life's work has been undergraduate education. Our student staff is involved in every facet — as guides, educators, researchers, shop keepers, publicists, graphic designers and collections managers. Many of them continue as educators, museum professionals and ecologists after leaving; and all of them take away new skills to apply in their lives.
What do you enjoy doing in your free time?
I hike, garden, bake, read, binge-watch good series and great films, and visit natural history museums and botanical gardens — best when I can do so with grandsons, and great nieces and nephews, scattered through Louisiana and the Carolinas.
Bio
Education: B.A. in English and Mathematics, University of Louisiana, Monroe; M.A. and Ph.D., American Literature from the University of Illinois at Urbana-Champaign.
Hometown: West Monroe, Louisiana
Family: Married to Grady Ballenger, a professor of English at Stetson. Son, Nicholas Ballenger, and his partner, Layna Moysich, live in Seattle with a 5-year-old son, Sebastian. Son, Jon Ballenger. works as evening supervisor of Stetson's duPont-Ball Library while pursuing an M.S. in Information Science from Florida State University, and is married to Kaitlyn Ballenger, a novelist. They have an almost 2-year-old son, Jackson.