5 Minutes with … David Rigsby, Manager of Grounds

When Wendy B. Libby took over as president in 2009, she set out to take Stetson University to a new level of excellence and have the landscape match the quality of Stetson's academic reputation.
Over the spring and summer of 2010, President Libby and top administrators pulled together a team to start work, improving the grounds, retrofitting the lighting with more energy-efficient lighting and making a host of other changes. The university renovated buildings, expanded student enrollment, hired more faculty, added sports teams and overhauled academic programs.
The team that met on improving the grounds included President Libby, Ph.D.; George Herbst, then-vice president of Finance; Al Allen, associate vice president of Facilities Management; Carol Johnson, registered landscape architect of Carol R. Johnson and Associates; Tim Eden, general contractor from B.A.C.E. Construction; Tad Kasbeer, professional engineer from Boyer Singleton; and David Rigsby, Manager for Streets and Grounds and Senior Assistant for Special Projects at Stetson University. 
Over that summer, the improvements began.
"The campus had really lost a sense of arrival and a sense of space and how they all connect and work together," Rigsby recalled of the 155 acres of grounds. "Dr. Libby's vision, along with her Cabinet, was a new snapshot, and what that meant for the college campus, it totally changed. It totally changed the atmosphere here."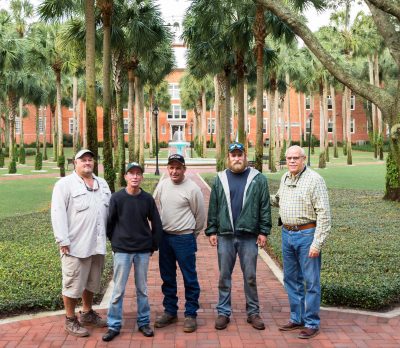 These days, keeping up the grounds at Stetson is no small feat and is almost a seven-day-a-week operation. Rigsby wanted to give special recognition to the Streets and Grounds crew that is comprised of 20 professional grounds staff members and 12 students, who work with the department's Recycling crew. He calls them all "the unsung heroes." 
Rigsby said, "They're so proud of what they do and they work tirelessly in all types of inclement weather every single day.  And for that, the University is thankful for the appearance of the campus – they're the ones who make it happen."
Rigsby sat down with Stetson Today for a few questions: Tell us about your job at Stetson.
I have the best office on campus that spreads out over approximately 155 acres of beautiful, lush landscaping.  And we're blessed to have the leadership and vision of President Libby who is willing to make the commitment to support us.
How long have you worked here?
I started in October 1978. At the time, I was Superintendent of Parks for the City of DeLand when former Stetson President Dr. Pope Duncan called me with a job offer.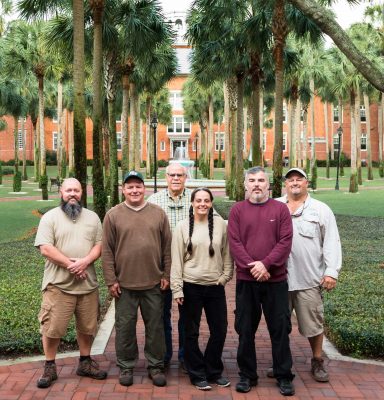 When I first came to campus, we had very little in the way of equipment. We had two small riding mowers and five walk-behind mowers, along with a staff of five and a lean-to behind the President's House as our work shed. Over the years, we have planted hundreds of trees and thousands of plants.
We have come a long way from our early days and the campus experience now shares some incredible spaces, including the President's House, the Palm Court and the Stetson Green.  These all form a series of connected spaces throughout campus that create a sense of arrival and a true sense of space.
Do you have a favorite place on campus?
The pedestrian spine that goes from the Carlton Union Building all the way to the Lynn Business Center is a beautiful experience of connecting campus outdoor rooms. The space is a sequence of connections that displays a new-found experience on campus.
During your time at Stetson, you were Chairman of the DeLand Planning Board, a DeLand City Commissioner, Mayor and President of the Florida League of Cities. You were active in the community, in reviving downtown and preserving its historic neighborhoods. How were you able to foster the relationship between Stetson and the city?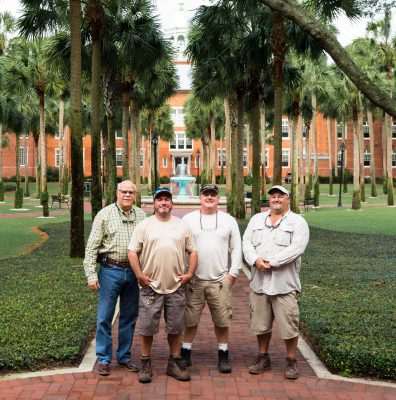 In my tenure in city government, we started from a downtown that had a large percentage of vacancies and a community that was not cohesive.  We had a series of wonderful commissions and city staff and that began to make a difference with a focus on leadership and vision for the future. DeLand established the first MainStreet Program in Florida that supported economic development downtown and promoted our historic heritage. This effort helped pull the community back together. We went on to become the number-one MainStreet Program in Florida and one of the top five in the nation. 
Joint efforts between the university and the City, with the help of Sidney Johnston who was a consultant at the time, resulted in the preservation of homes in the northwest neighborhoods by identifying that as a Historic District. At that time, many buildings on Stetson's historic campus and in the downtown were also identified as being in a Historic District.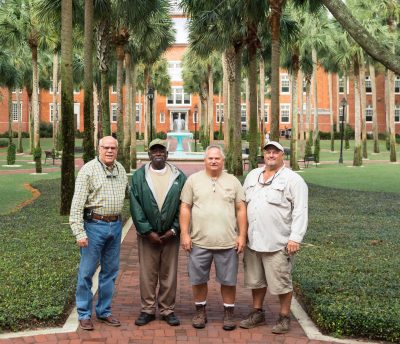 This all contributed to the close connection between the university and the downtown that remains strong today.
Bio: David Rigsby
Education: Bachelor's degree in landscape architecture with special studies in urban design from the University of Florida.
Hometown: Fort Lauderdale
Family: He and his wife, Kate, have six grown children, Jennifer, Jessica, Josh, Will, John-David and Dorie.