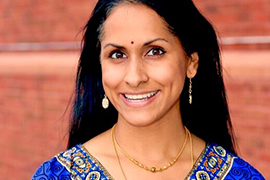 Rajni Shankar-Brown's father was awarded a scholarship to come to America from India to study mechanical engineering.
When he arrived at Howard University in Washington, D.C., he learned the scholarship covered tuition, but not room and board. His family wasn't financially well off in India. As the oldest son, he was supposed to support his parents and siblings, not ask them for money, so he became homeless. When his pre-arranged bride arrived a year later, she became homeless, too.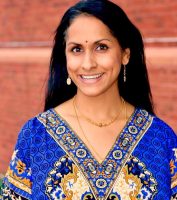 "They were both working extremely hard. My mom set aside her own dreams to support my dad going through college. They lived in many taxing situations, including under a bridge," said Shankar-Brown, Ph.D., a Stetson University associate professor of education and the Jessie Ball duPont Chair of Social Justice Education. "In D.C., winters can be harsh. They were grateful for shelters and for caring members of the community."
Her parents saved enough for a car and lived out of that – until they could afford an apartment and then a house, where Shankar-Brown and her two siblings were raised.
"There's all these myths and stereotypes about what somebody who's homeless is and looks like, and my life's work has distinctly shown that there's no single story," she said.
An internationally known expert on poverty and homelessness, Shankar-Brown grew up volunteering in homeless shelters in Northern Virginia and Washington, D.C., a value instilled by her parents who wanted to give back. She noticed the kids in shelters didn't have a place to play and study, away from the "chaos," for example, of a man going through drug withdrawals or a family in tears after fleeing domestic violence, so she organized community projects to add ones.
"My parents raised us with this very strong consciousness of the immense disparities that exist in our world and how so many people, including children, struggle to survive. They were thankful for the help they were given, and so am I," she said.
Shankar-Brown has turned that consciousness into a force for change. She teaches her Stetson students about the need for social justice in education and the vast inequities borne by students of color and in poverty. She brings children from a high-poverty elementary school in DeLand to Stetson each year, encouraging them to excel in school, be positive change agents and build a better world.
She develops workshops for educational leaders and teachers, and started a Poverty and Homelessness Conference to raise awareness, especially because families with children are the fastest growing segment among the homeless. She also reaches out to schools in India and Colombia, trying to help them find funding for things like technology, and using Skype to take her students inside classrooms often very different than the ones they experienced in America.
"I call this my life's work because it is," she said. "As much as it's professional, it's also deeply personal. In terms of inclusion and justice, I grew up experiencing first-hand a lot of very painful kinds of things in my life – racism – seeing it happen to my mom and my dad in awfully real ways, and my siblings and I experiencing the emotional impact and consequences of racism."
Racial epithets were sprayed-painted on the family's home, she said. She watched as people talked painstakingly slowly to her mother, assuming she couldn't understand English, and her father was harassed at work for his accent. She experienced discrimination as a Hindu child in public schools, which didn't embrace religious diversity.
A Sudden Realization
These experiences led her to teaching and wanting to promote inclusive learning. She took her first public-school teaching job in 2003 – at a high-poverty, segregated middle school in Charlotte, North Carolina. She walked into a single-wide trailer with more than 30 eighth-graders in the class, predominantly black and brown students.
"We were squished together in this confined, dilapidated space with inadequate resources, certainly not conducive to teaching and learning. You talk about disparity from schools serving economically advantaged populations, many of which I'd experienced during field experiences and internships," she recalled. "I had eighth-graders who could not functionally read. This blew my mind. Massive layers of inequality."
A student, for example, might be able to read a board book and identify the word, dog, if the word was paired with a picture. For Shankar-Brown, these kids already had been pushed out of the school system through "systemic oppression," such as social promotion.
"When asked what they wanted to be or what were their plans? Many would say, 'I'm dropping out of school as soon as I can,'" she said.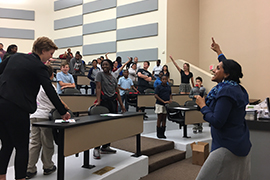 One day, standing in the trailer, she was struck by a realization. At the time, she was pursuing a master's degree in teaching from the University of North Carolina at Charlotte. If she went for her doctorate, she could prepare educational leaders and teachers to be more responsive to these children and they could help far more kids than she could on her own.
While pursuing her doctorate, she started bringing students from high-poverty schools to visit the campus, designing curriculum that engaged them in learning and encouraged them to do well in school. She helped create Middle Grades University, a program that followed them through high school and awarded a scholarship for a full ride at UNC-Charlotte to one student each year.
She created a similar program at Stetson after she was hired in 2013. Called "Dream Big," it currently brings fourth- and fifth-graders from Starke Elementary School, a public school serving predominantly black and brown students living in poverty, to campus to expose them to a world they rarely experience. She's working with Stetson's Center for Community Engagement to develop Junior Hatters and Hatters University, which will support and follow the kids through middle and high school with long-term mentoring. She hopes to find donors to provide a full scholarship to Stetson for at least one student in each graduating class and many partial scholarships.
"Poverty is a big thread through all of my social justice work," she said. "Although we live in one of the wealthiest nations in the world, we have exceedingly high numbers of families and children living in poverty and homelessness. And then you pair that with the deep racism that exists and operates, both unintentionally and intentionally, it's tremendously distressing. Our children deserve so much better."
"The Opportunity Gap"
Inside Starke Elementary, media specialist Sarah Sieg said it was "an eye-opener" when she started at the school. "My kids told me when I came to Starke, they said, 'Mrs. Sieg, we don't read.'"
Sieg knew for them to do well in school, she needed to "spark the joy of reading." The school started a reading fair, and Sieg and Shankar-Brown now give books to the kids through Dolly Parton's Imagination Library.
Sieg and Shankar-Brown met when Sieg taught at another high-poverty school, Citrus Grove Elementary in DeLand, and Shankar-Brown's son was a student there. (Shankar-Brown said she and her husband have kept their son, now 13, and daughter, 6, in high-poverty schools, even though those schools often focus too much on standardized testing).
"Rajni has been with me all along," Sieg added. "It's just a passion about literacy and being cognizant what these children come with and what their needs are. We share that. She has the expertise and I'm down in the trenches."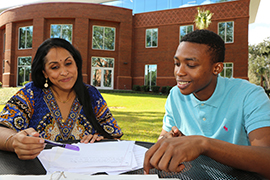 Twenty years ago, educators looked at test scores and talked about "the achievement gap" between white and minority students. Today, they call it an "opportunity gap," the end result of children who don't experience the arts, who don't enjoy the same extracurricular activities and who often receive harsher punishment at school for misbehavior, said Chris Colwell, chair of Stetson's Education Department and a 34-year veteran of K-12 schools.
"When I first began teaching in the '70s and became a school principal in the '80s, I can honestly say the way I looked at it — the way my colleagues looked at it — was an academic gap, an achievement gap, instead of an equity and an access perspective," he said.
"Rajni, who is a distinguished scholar in this area, would say there's a great deal of work to do and there's a tendency to fall back on this as an academic issue, and it is, but there are fundamental issues at the root of that and these issues can be addressed," said Colwell, who led the committee that hired Shankar-Brown after a national search.
"Into Their Hearts"
Shankar-Brown envisions creating an interdisciplinary Center for Equity and Social Change at Stetson that would address these issues and support children, schools and communities in poverty. The center would promote what she calls "culturally responsive curriculum" and "transformative instruction" through research, and bring in educators nationally and internationally for professional development and projects. Already, she was one of the lead developers of the master's degree of education: educating for social justice program and is now creating an interdisciplinary master's of art program in equity and social justice.
"Education is not just about the three R's. It's about building citizens who are actively engaged and trying to build a better world for everyone, not just privileged groups. It's complicated work. It's exhausting physically and emotionally, but it is so needed," said Shankar-Brown, a board member for the National Coalition for the Homeless.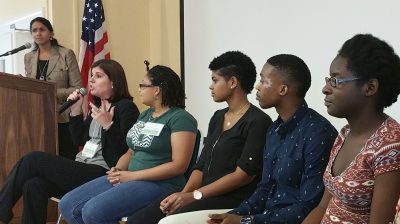 "I always tell my students: I describe it as a Monopolgy game and I say it's like half the money has been passed out, along with half of the properties. And then we put everyone on Start and say, 'Let's play. It's a fair game in life.' But it's not; that is far from the truth," she explained.
To her, social justice education means helping educators see the ways in which public school systems may limit opportunities for millions of children. "A significant part of addressing inequity begins with preparing and educating teachers – most of whom are white, middle class, mono-lingual English speakers and come from more privileged backgrounds – for equity and inclusion," she added.
She started the annual Poverty and Homelessness Conference to help educators understand the challenges faced by "historically and socially marginalized students." After the first conference in 2014, she and her team, including Pam Woods, homeless liaison for Volusia County Schools, realized the participants needed not only theoretical discussions and workshops, but also they needed to hear from children living in poverty. Then, they'd become allies for change.
"We've got to get into their hearts," Shankar-Brown recalled thinking, and she assembled a panel of students who'd grown up in poverty, including Stetson students Tiffaney Langhorn, Chan'tia Vasquez, Chyina Powell, Gabriela Barros and Alex Greene, one of her many protégés.
She said the students — generous spirits with amazing resiliency — shared the sometimes ugly realities of their lives and became vulnerable in a room full of strangers. She admired their courage and decided to share a painful story of her own — she was hit by a drunk driver during her senior year at George Mason University in Northern Virginia.
On an icy day in January 2000, a car drove into her lane and headed straight for her. She saw "little, tiny moments" of her life flash before her eyes – her brother, sister and her on a tire swing; her mother handing her a birthday cake. She awoke in the hospital. Rescue crews had cut her out of the car, which didn't have an airbag. The steering wheel had slammed into her chest, breaking her ribs and leaving her black and blue. She had months of rehabilitation. The trauma caused weight gain and panic attacks, among other issues. Her graduation was delayed a semester, and she still lives with severe pain in her back and legs.
"The accident reinforced the fragility of life and it can be taken away at any moment," she recalled. "So while I'm breathing and living and while I can walk and move, I'm going to live each day intentionally, to do everything in my power to live my life uplifting others."
She made another decision, too. Her parents taught her to value diversity in people, but when it came to marriage, they held traditional views for her, wanting to preserve their culture. She didn't want to disappoint them and reveal she and a young man in college "were madly in love" because he's white with auburn hair and freckles (Benjamin Ross Brown is now an Instructional Designer at Stetson).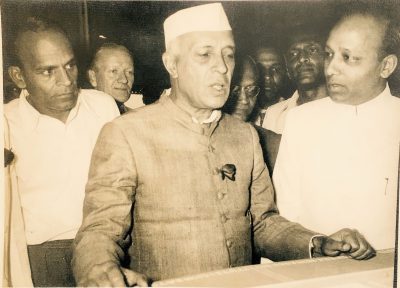 "After that accident is when I got the courage to step up and say I'm marrying Ben," she said, adding her parents came around once they saw his devotion to her family's values and traditions.
Shankar-Brown has spent much of her life, navigating the two worlds of Indian and American cultures. Each one has enriched the other.
"My grandfather was a journalist and he worked alongside Mahatma Gandhi and Jawaharlal Nehru. I have photographs of my grandfather, Thatha G., with justice activists, such as Nehru and Gandhi, and now I share these treasures with my kids," she said.
"Activism and service are in my blood. Stetson's commitment to social responsibility is largely why I am here. My family history, my students, my children, all inspire my daily march for equality and human rights. There is joy in uplifting others, and you don't turn a blind eye to injustice."
-Cory Lancaster