Designing Musical Instruments of the Future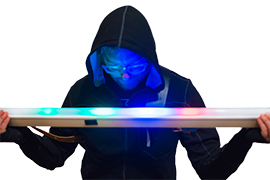 Update: Stetson alum Chet Udell was named a finalist in the Guthman Musical Instrument Competition in Atlanta on Thursday, March 9, and received a People's Choice Award for Best Performance for his Optron. Click here for a list of winners.
Each year, the Guthman Competition selects about 20 semifinalists from around the world for the best design of the musical instruments of the future.
This year, 18 semifinalists will travel from as far away as Japan, India and Denmark to show their sometimes strange inventions to a panel of judges at Georgia Tech's Guthman Musical Instrument Competition in Atlanta on Wednesday and Thursday, March 8-9.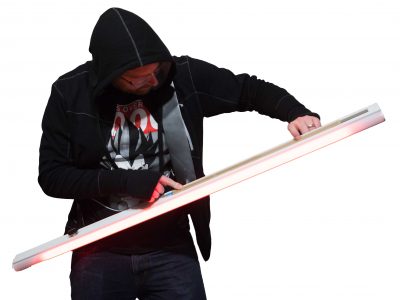 Two of the semifinalists have ties to Stetson University. Alum Chet Udell, who earned a Bachelor of Music in 2005, is making his second trip to the competition, this time with his Optron, an electronic instrument with colorful lights that's played like a guitar.
Stetson senior Victoria Grupp, a Digital Arts major, will present her wearable digital musical instrument, a vest called "Track It :: Zip It," which plays programmable music with the touch of a hand and was designed especially for use by a drummer.
Nathan Wolek, Ph.D., Chair of Stetson's Department of Creative Arts and associate professor of digital arts and music technology, said having two semifinalists from Stetson is "remarkable." And in Grupp's case, it's rare for someone as young as an undergraduate student to be selected, he added.
"For me, I'm ecstatic to have someone going," he said. "I think that's just excellent recognition for our program and what our students are capable of. And it's excellent to have an alum going.
"This is a big, international competition that has been very important to people in my research field since its inception. It's a big deal," he explained.
'A Tremendous Honor'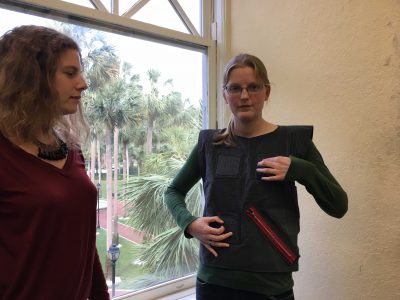 On Friday afternoon, March 3, as Stetson students were leaving for spring break, Grupp was rehearsing her presentation and getting feedback from Wolek and Amandine Pras, a visiting assistant professor of digital arts. Grupp will make her presentation to the judges on Wednesday, March 8, accompanied by Stetson music student Blake Rook. He will play the wearable digital musical instrument for the judges while simultaneously playing the drums.
The vest contains sensors in a number of places, including in the zipper. With a slight touch of the hand, a person can produce a wide range of electronic sounds. Grupp worked with Professor Pras to design the wearable instrument after a drummer and electronic artist from New York City told Professor Pras that he struggled to play the drums while also pressing buttons on a device that generated electronic sounds during his solo performances. The vest can generate the same programmable sounds through a computer much more easily.
Grupp, 21, a flutist from Apopka, said she was so surprised to be selected as a semifinalist in the global competition.
"Most of the people (in the competition) have their Ph.D.'s or are working on their Ph.D.," she said Friday afternoon before her rehearsal in Sampson Hall. "It's a tremendous honor.
"I'm going in with the intent of showing myself to the world. … Maybe something will come from this. But I'm more interested in the connections I'll make."
Grupp received a Stetson Undergraduate Research Experience (SURE) grant to help design the vest. And she spent two months last summer in Montreal with Professor Pras at the Input Devices Music Interaction Laboratory (IDMIL) at McGill University, working with researchers there. She hopes to work one day for a company that designs musical instruments.
After making her presentation to the judges Wednesday, she and other semifinalists will learn Thursday if they are selected as finalists. The finalists will perform again Thursday evening before the judges announce the winners. The contest awards $10,000 in prizes, including a $5,000 first prize.
Competing for the second time is Stetson alum Chet Udell. He was selected as a semifinalist and made the cut to the top eight in 2014 for his eMotion, a patented wireless sensor system that attaches to a musical instrument or just about any object, creating audio and visual effects by the person's movements. One performer, for example, used the sensor system in a hat and could make music simply by turning his head.
An Instrument of the 21st Century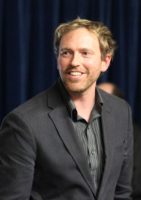 This time, Udell will demonstrate his Optron, an electronic instrument that's played like a guitar and contains colorful lights. Udell said the design is inspired by a Japanese artist who created the first Optron in 1998 by amplifying the sound of a florescent lamp. Udell wanted to make his own version of the device, and added colorful lights triggered by sensors and other sensors that mimic the anatomy of a guitar, he said.
Unlike a guitar, the Optron does not have frets. Instead, a linear sensor and pressure pad generate music, based on where he positions his fingers and the amount of pressure applied. An infrared sensor detects movements of his other hand as he makes strumming gestures. A Computer Vision program acts like a webcam, reading the various colorful lights and generating more sounds. And finally, a 9-axis orientation sensor adds more sounds as he tilts and waves around the instrument like a light saber.
At the competition, he will play one of his own musical compositions on the instrument for the judges.
"It's not my first rodeo," he said recently from Oregon where he now lives. "I may have that to my advantage. Having already done it once, my nerves may not be so much on edge.
"There's a lot of really cool instruments. I feel exceptionally lucky to have been selected again. You just never know. … I definitely think the Optron has what it takes to get into the top eight," he added.
He patented his first entry, eMotion in 2014, but this time he'll do things differently, he said. Instead of trying to sell the Optron, he plans to publicly release the source code for free on GitHub.com. Then, people can make their own.
"My vision is this will be one of the common instruments of the 21st century. I want everyone to play an Optron," he said.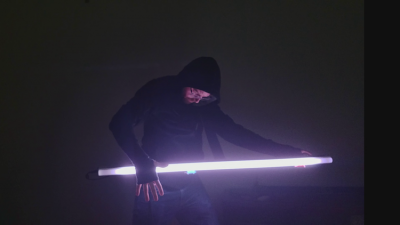 Udell grew up in a small town in the Florida Panhandle, called Wewahitchka, east of Panama City, and played the trombone in his high school band. He came to Stetson as a music major and changed his emphasis to a music track in Digital Arts after taking one course.
He became more and more interested in music technology and electronic music. After graduating from Stetson, he received his master's degree and then his Ph.D. from the University of Florida in Music Composition with an emphasis in Electrical Engineering.
He moved to the West Coast and taught music engineering and the history of electronic music at the University of Oregon. Now, he's an assistant professor of biological & ecological engineering at Oregon State University, using his expertise in engineering and sensors to help research climate change and environmental issues as director of the university's environmental sensing lab.
Udell said it's "incredibly remarkable" that two people from Stetson will compete in the semifinals, especially because the number of people who are capable of designing new technology, composing music and performing well is "a pretty small family."
He credited several Stetson professors, including Wolek, Digital Arts Associate Professor Matthew Roberts and Manuel de Murga, Director of Composition in the School of Music, for "fostering out-of-the-box thinking" and encouraging students to not simply follow the framework of an assignment, but to find a way to be creative and unique.
"I thought that was really cool … put your own twist on it," he said. "Applying that principle in everything I do has, I think, it's led to a lot of success as far as creativity and performance and engineering."
-Cory Lancaster