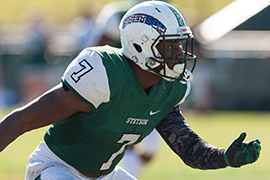 Update, May 1: Donald Payne signed with NFL's Baltimore Ravens last weekend as a free agent. 
The NFL Draft continues through Saturday, April 29, and former Stetson football stars Donald Payne and Davion Belk will be waiting to find out if they join the 7 percent of college players who make it to the NFL.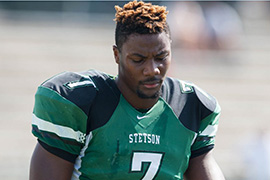 Payne and Belk would become the first-ever Hatters to be selected in the NFL Draft.
Payne, a safety, No. 7 in green and white during the past four seasons, graduated in December with a bachelor's degree in Finance. Belk, a four-year team captain and standout at defensive lineman who wore No. 56, graduated in December with a degree in business.
Both have been training and preparing for this week's big event. Now, like everyone else, they must watch, wait and wonder.
"This offseason," Payne said before the draft began, "has definitely been different for me. I've met so many new people and had so many new experiences throughout this process. Everybody is striving for the same goal and you want the best for everyone, but at the same time, as a competitor I want to succeed."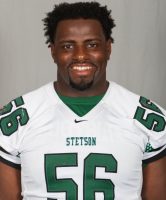 Added Belk on Friday, just hours before rounds 2 and 3: "The whole process is kind of rough because there's so much uncertainty with everything – from where you're going to be to how you're going to be making money. This is not like graduating and then knowing where you'll be living."
The selection process concludes Saturday, April 29, with rounds 4-7. In all, the NFL Draft consists of seven rounds for the NFL's 32 teams.
Payne and Belk hired an agent to help navigate the process of getting interviewed by NFL teams, attend training sessions and generally position themselves for the draft. Payne is projected to be a late selection. In many rankings, he is the 23rd best safety. Belk also showed well in evaluations, receiving praise from NFL coaches.
Versatility, Payne believes, is his leading asset, with some teams even talking to him about playing linebacker.
On NFL.com, draft analyst Chad Reuter listed Payne among the Top 10 players in the Football Championship Subdivision (FCS) "that will make an impact in the NFL." Stetson plays in the Pioneer Football League.
"In a world where safeties are being asked to play more around the line of scrimmage, guys like Payne are coveted," Reuter wrote. "He'll attack the quarterback when used in the nickel position, and is adept at making plays in coverage, as well. Showing coaches he is willing to consistently take on and shed blocks around the line, as well as fulfill his man coverage abilities, will earn him playing time by the end of his rookie season."
Scouts have told Belk, who measures 6-1, 284, that they "love his film" in games, but there are concerns about his height. "If only I had a magic potion that you could take to get taller, but that's not something I can do," he said. "So, you just do what you can do and just keep getting better at your craft."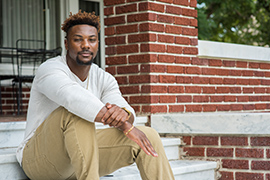 Payne hopes to get drafted by his favorite team, the Atlanta Falcons. Two weeks after his Pro Day evaluation March 22, Payne was contacted by the Falcons. Other teams showing interest included the Pittsburgh Steelers, New York Giants, Tennessee Titans, Kansas City Chiefs and Tampa Bay Buccaneers, along with Canadian Football League teams.
With Chicago being Belk's hometown, the Bears are his favorite team. But he'll gladly welcome any taker. "There are some other teams that I really like," said Belk, who was a semifinalist for the National Football Foundation Scholar-Athlete of the Year award, among other academic recognition.
If the two Hatters aren't selected in the NFL Draft, teams still can sign them as undrafted free agents. The CFL is an option, too. Each knows the draft can be unexpected and, regardless of which team might select them, they plan to give their all on the field.
Since their graduation and leading up to the draft, it had been a busy few months. In addition to splitting time between DeLand and living with his mother in Atlanta, Payne shared a house with four other draft prospects for eight weeks, working out at a training facility Monday through Friday, 9 a.m. to 3 p.m. The house was set up by his agent, and there was little downtime. The weeks leading up to his Pro Day, Payne said, were like "preparing for your biggest job interview."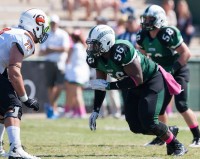 While Payne trained in Georgia, Belk commuted to Orlando from DeLand for specialized workouts.
For Payne, improving foot speed was a priority. Listed at 6 feet and 215 pounds, he indicated that "teams wanted to see how my speed matched up against SEC players, considering the level of talent in the Pioneer League."
Payne doesn't forget how he got to this position either. Regardless of the talent level, he knows that hard work is necessary to be considered for the NFL.
"I couldn't have made it to where I am without my coaches and teammates," he said. "You're never bigger than the program. That's one thing my coach always instilled in me. Complacency can kill an athlete and you've got to stay hungry and humble."
 –  James Jenkins with Mike Candelaria
NFL Draft
April 27, Round 1
April 28, Rounds 2-3
April 29, Rounds 4-7
The draft can be seen on ESPN, ESPN2 and the NFL Network.