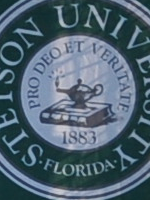 Chelsea Mariah Probus, a member of the Bonner Program since arriving as a freshman, leaves Stetson with multiple community accomplishments along with a bachelor's degree in religious studies.
Alexandra Panchita Sullivan found a home on campus at the Cross Cultural Center, lifting herself and others while obtaining a bachelor's in social science and religious studies.
Benjamin Wyatt Carter used a bit of serendipity to help find his significance at Stetson. He wound up with a master's in Educational Leadership after thinking he had earned one "free course" through a scholarship jointly offered through Volusia County Schools and Stetson.
David Mueller, meanwhile, personifies lifelong learning at Stetson. Married for 32 years and the father of seven children, he began pursuing an Executive MBA at age 54.
At Stetson University's 131st annual Undergraduate Commencement, set for 8 a.m. on Saturday, May 13 at Spec Martin Memorial Stadium in DeLand, Florida, Probus and Sullivan will deliver keynote speeches as new alumni with great distinction. Similarly, at the Graduate Commencement Ceremony May 12 at Lee Chapel on Stetson's historic campus in DeLand, Carter and Mueller lead the charge of new alumni receiving graduate degrees.
Probus volunteered with the Interfaith Soup Kitchen and The Beautiful Movement plus served as the site coordinator for the Center for Community Engagement. An avid outdoorsperson and rock climber who is certified in Wilderness First Aid, she spent a summer as an intern climbing guide with Acadia Mountain Guides Climbing School in Bar Harbor, Maine. And she's a member of the Access Fund, which protects climbing areas and public lands.
Also minoring in music, Probus performed as a violin player with the Stetson Symphonic Orchestra and the Stetson Chamber Orchestra, traveling with the Chamber Orchestra to Atlanta and the United Kingdom. A member of the Theta Alpha Kappa and Phi Beta Kappa honor societies, Probus will be pursuing a master's in religious studies at Duke University, where she'll be the Perilman Fellow at the Center for Jewish Studies.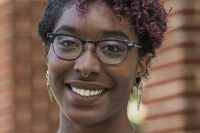 Sullivan, born in Matawan, New Jersey, and raised in Tampa, arrived at Stetson as a freshman eager to embrace campus life. At the Cross Cultural Center, she became involved with organizations under the umbrella of the Multicultural Student Council, most notably SONAR (Stetson's Organization for Native American Revitalization). Also, she was active in Stetson's Nerd Culture Society.
In the classroom, Sullivan was a hardworking student who as a junior joined the Stetson Bonner program, where she volunteered at the Boys & Girls Club in the nearby Spring Hill community. She excelled as a Bonner scholar, becoming a member of the Bonner Lead Team. Additionally, she was invited to the Theta Alpha Kappa honor society.
Her academic work culminated in research on the topic of Native American religious identity. She worked with Native American people throughout her time at Stetson, including as an intern for a nonprofit organization on a Native American reservation in Montana. Her work on "changing religious identity in a contemporary world" will be the main research focus as she continues her academic career.
Sullivan plans to pursue a master's degree in cultural anthropology at either New York University or Brandeis University, followed by Ph.D. study in the same field.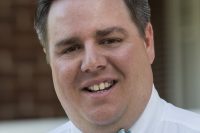 After earning a bachelor's in English (with a minor in history), Carter began teaching high school English in the Duval County Public School system (Jacksonville, Florida). He remained there for seven years before returning to his alma mater, DeLand High School, to teach Advanced Placement and International Baccalaureate English. The subsequent scholarship at Stetson then set him on a course for a master's degree and induction into the Kappa Delta Pi International Honors Society in Education.
A husband with two daughters, Carter hopes to obtain an administrative position where he can continue to make positive impacts on both educators and students. Also, he concedes, a doctorate degree might be in his not-too-distant future.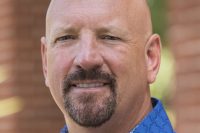 Mueller graduated from the State University of New York at Genesco in 1984 with the bachelor's degree in chemistry. For several years, he worked as a software engineer and in software sales and marketing before opening his first business in 1992, a full-line electronics store. With wireless phones emerging, his business quickly grew. Today, he owns and operates the largest chain of AT&T retail locations in upstate New York, with more than 30 sites representing $20 million in annual sales.
Through the years, Mueller continually broadened his horizons, becoming a commercial pilot and flight instructor in 1995 then a police officer in 2008 – all while expanding his retail business. Mueller also has maintained a multi-decade commitment to the Boys & Girls Clubs of America plus has supported food pantry organizations and rural revitalization projects in and surrounding the towns in which he's lived.
He calls receiving his EMBA at Stetson the fulfillment of a lifelong dream – and he still found time for additional coursework in project management and real estate.
-Michael Candelaria