11 Faculty Members Awarded Tenure, Promotion at Stetson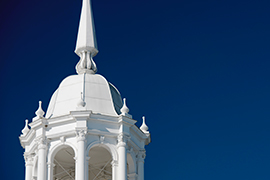 Eleven members of Stetson University's faculty have earned tenure and/or promotion. The new status for these faculty will be effective August 2017 with the start of the 2017-2018 academic year.
"I am extraordinarily proud of the accomplishments of these newly-promoted and tenured faculty," said Provost Noel Painter.  "Their unwavering commitment to teaching excellence, dedication to advancing the work of their discipline through scholarship and creative activity, and their leadership at the university are excellent examples of Stetson's mission in action — a wonderful education, a transformational experience, values-oriented learning, and preparation to lead lives of significance."
Wendy Anderson – Tenured as Professor of Environmental Science and Studies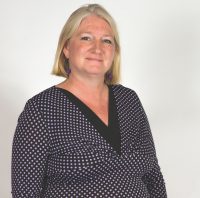 Wendy Anderson, Ph.D., joined the Stetson faculty as a Professor and Chair of Environmental Science and Studies in 2014 after serving for 16 years at another institution as a faculty member, department chair and campus sustainability director.  She teaches Introduction to Environmental Science, Sustainability Studies, Water and Society, and supervises numerous students in undergraduate research.  Dr. Anderson earned her B.S. and M.S. in Biology from Baylor University and her Ph.D. in Biology from Vanderbilt University, where she developed specialties in plant ecology and ecosystem ecology.  She studies various physical and biological movements of materials across ecosystem boundaries, particularly land-water interfaces.  Since 1995, she has focused her research questions on the marine impacts on terrestrial soils, plants, and animals on islands, working in systems from the Gulf of California, Mexico, to the San Juan Islands of Washington state, and more recently on spoil islands in the Indian River Lagoon in Florida.  In all of these places, she includes teams of student researchers who pursue their own related projects. These studies have led to numerous presentations and publications in Ecology, Ecology Letters, Oikos, Oecologia, Annual Review of Ecology and Systematics, Journal of Biogeography, and more. She also co-edited a book published by Oxford University Press in 2011, Seabird Islands: Ecology, Invasion and Restoration. In addition to her specific field research interests, her other scholarly interests include climate change, sustainability management in business, and nature writing.  When she is not teaching, writing, in the field, or working with students, she bicycles, kayaks, and spends time with her daughter and German Shorthair Pointer.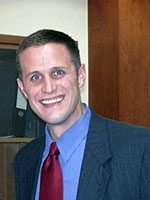 Jon Carrick – Tenured and Promoted to Associate Professor of Management
Jon Carrick, Ph.D., received his B.B.A and B.S. from Stetson University, Master of International Business from the University of Florida, and Ph.D. from the University of Glasgow. He has published and presented numerous papers on the early financial and operational strategies of globally competitive small to medium size enterprises (SMEs).  In addition, he has been an editorial board member for the Journal of Applied Business and Economics. He has a passion for international travel, and for the purposes of school, work, and pleasure has been to 68 countries.
Valrie Chambers – Tenured as Associate Professor of Accounting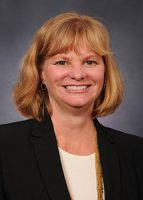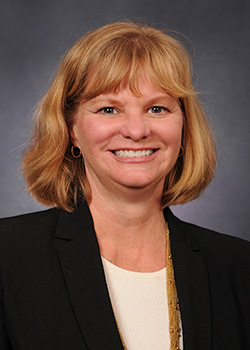 Valrie Chambers, Ph.D., is an Associate Professor of Accounting at Stetson University.  Prior to receiving a Ph.D. from the University of Houston, concentrating in taxation in 2000, she had over a decade of public accounting experience as owner/partner-in-charge of a CPA firm in Houston that had a concentration in accounting issues for small business owners.  Dr. Chambers has published articles in such journals as Journal of Accountancy, Journal of Legal Tax Research, Tax Notes and Tax Adviser, and made presentations to the IRS Research Conference, American Accounting Association and the Florida Institute of CPAs. Her work was cited in Goeller v. United States (–Fed.Cl. –, 2013 WL 1143321 (Fed.Cl.), 111 A.F.T.R.2d 2013-1255, 2013-1 USTC P 50,238). She has also done extensive volunteer work for the American Institute of CPAs and the IRS' Volunteer Income Tax Assistance in Corpus Christi, Texas, program. In 2012, she received the Texas Society of CPAs Outstanding Accounting Educator Award for middle-sized Texas universities.
Jason Evans – Tenured and Promoted to Associate Professor of Environmental Science and Studies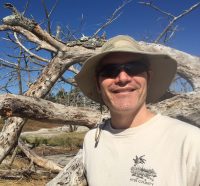 Jason Evans, Ph.D., is an Associate Professor of Environmental Science and Studies and a faculty affiliate within the Institute of Water and Environmental Resilience at Stetson University. His teaching and research interests include spatial modeling using geographic information systems (GIS), socio-ecological impacts of accelerating sea-level rise, and adaptive management of aquatic and terrestrial ecosystems in this time of global climate change. He has published over two dozen peer-reviewed articles and technical reports over the course of his academic career. He co-authored a 2016 article about sea-level rise impacts in the United States, published in the highly prestigious journal Nature Climate Change, received international media attention, including a live interview on the nationally broadcast radio show "Science Friday." Primarily through funding and collaborations with the National Oceanographic and Atmospheric Administration's Sea Grant College Program, Evans is actively engaged with the sea-level rise adaptation planning processes for numerous coastal communities in the southeastern United States. Some of these communities include Satellite Beach, Monroe County, and Village of Islamorada, FL; Tybee Island and St. Marys, GA; Nags Head and Hyde County, NC; and Beaufort, SC. Evans is Co-Editor-in-Chief of the Journal of Environmental Management and was the 2016 recipient of Stetson's Hand Award for Distinguished Faculty Achievement in Research, Creative, and Professional Activity. He holds his B.A. in Philosophy from New College of Florida and his M.S. and Ph.D. in Interdisciplinary Ecology from the University of Florida.
Alan Green – Tenured and Promoted to Associate Professor of Economics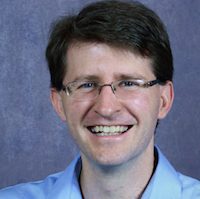 Alan Green, Ph.D., is the Chair of the Economics Department at Stetson University.  A research economist and teacher, his work focuses on international development, trade and poverty. His academic research on economic development has recently been published in the Journal of Development Studies and the Journal of Institutional Economics. As a teacher, Green focuses on engaging students with an interactive approach that encourages critical thinking. He conducts research on effective pedagogy and has recent publications in The Journal of Economic Education and the International Review of Economics Education.  Dr. Green currently has three working papers with Stetson students on persistence in STEM education, stages of economic growth and the impact of ideology on votes for redistribution.  He is continuing pedagogical research on the effectiveness of team-based learning and how simulations both in and out of class can promote higher level learning.  Dr. Green is committed to effective education in the classroom as well as practical applications of economics for effective policies in our communities.  He has written op-ed articles on health care markets and fiscal policy in recent months for The Tampa Bay Times.  In coming years, he plans to conduct research on energy markets and microcredit with colleagues in the economics department.
Kayta Kudryavtseva – Tenured and Promoted to Associate Professor of Art History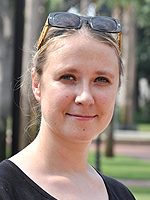 Katya Kudryavtseva, Ph.D., specializes in art of the twentieth century with a focus on the intersecting trajectories of art history, politics, art institutions and business and their role in the development of the canon of modern and contemporary art. Her book,"The Metamorphoses of Kazimir Malevich's Black Square," (NLO, Moscow, 2017), analyzes the artistic practice of a major figure of modernism, Russian painter Kazimir Malevich, through transformations of his seminal painting, the Black Square (from the easel painting to a revolutionary emblem, to a signature, and, finally, to a commodity). The book provides detailed analysis of both the artist's changing attitudes towards politics, revolution and authority, and the way Suprematism was reinvested with different meanings and adapted to ideological purposes first by the artist himself, his students, and subsequently by scholars, collectors, dealers and art institutions. Kudryavtseva holds a Bachelor of Arts from the Russian State University for the Humanities, and a Ph.D. in Art History from the University of Southern California.
Dejan Magoc – Tenured and Promoted to Associate Professor of Health Sciences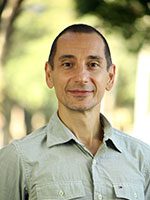 Dejan Magoc, Ph.D., joined Stetson in 2014 and teaches in the Department of Health Sciences. While at Stetson, he developed and taught a variety of courses, including Theories and Methods of Health Behavior Change, Introduction to Public Health, Research Methods in the Health Sciences, Senior Research Proposal/Project, and Cross-Cultural Aspects of Health Behavior. In his teaching, Dr. Magoc applies Team-Based Learning — an application-oriented teaching method that involves individual and group work and enhances active learning in classroom and helps students develop lifelong learning skills. In addition, he promotes the use of MindTap — a digital learning solution that helps transform students into critical thinkers. Dr. Magoc is a developer of a faculty-led study abroad program that takes place in Serbia during the summer months with a goal to provide students with an inspirational learning environment that is very often described as "life-changing."
In his research, Dr. Magoc focuses on physical activity and promotion of healthy behaviors. Of particular interest to him is determining the most important constructs from behavioral theories and applying them in helping individuals change their behaviors toward a healthier lifestyle. His approach uses an interdisciplinary framework that has a potential to benefit many fields including psychology, sociology, kinesiology, health promotion, and nursing and rehabilitation. Dr. Magoc has built and maintained a strong relationship with the YMCA of DeLand and Halifax Health as well as K-12 schools, which allowed him to use his disciplinary practice to engage Stetson students in collaborative, community-based experiences that allow them to gain new knowledge and abilities as well as draw strong connections between the university and the community while working on and promoting health behavior projects.
Dr. Magoc is a native of Serbia where he received his undergraduate degree from the University of Novi Sad – Faculty of Sport and Physical Education. He received his Master of Science in Kinesiology and his Ph.D. in Interdisciplinary Health Sciences from the University of Texas at El Paso. Before coming to Stetson University, he was an assistant professor in the Department of Health Studies at Eastern Illinois University.
Greg Sapp – Promoted to Professor of Religious Studies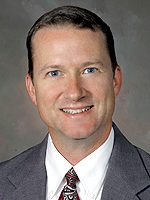 Greg Sapp, Ph.D., is Hal S. Marchman Chair of Civic and Social Responsibility and teaches in the Department of Religious Studies. He is interested in the history of Christian thought, philosophical theology, and religion and culture. He has recently co-authored the book, "Understanding Sport as a Religious Phenomenon: An Introduction." He is series co-editor of SpringerBriefs in Religion and Sport. As Marchman Chair, he directs the Certificate of Community Engagement and serves as the faculty advisor to the Bonner Program. Each summer, he co-facilitates the civil rights travel experience with Stetson's College of Law. He completed his undergraduate degree in Religion at Stetson, his Master of Divinity at Princeton Theological Seminary, and his Ph.D. at the University of Virginia.
Leander Seah – Tenured and Promoted to Associate Professor of History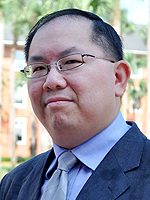 Leander Seah, Ph.D.,  is the founding director of the Asian Studies Program at Stetson University. He holds a Ph.D. in History from the University of Pennsylvania, an M.A. in History from the National University of Singapore, and a B.A. with Honours in History from the National University of Singapore. Since joining Stetson in 2011, he has taught courses on East Asia, Southeast Asia, and world history, and has also received two First Year Student Advocate Awards. As an ethnic Chinese native of Singapore, he is particularly interested in the issue of ethnic Chinese identity, which is the subject of a current book project, "Conceptualizing Chinese Identity: China, the Nanyang, and Trans-Regionalism." This monograph is related to his broader research interests, which include China-Southeast Asia connections, modern China, East Asian relations, migration and diasporas, modern Japan, trans-regionalism and transnationalism, and world and global history. He has published various peer-reviewed journal articles, and has presented his work at conferences in the U.S., Singapore, mainland China, Hong Kong, and Macau. His scholarly accolades include 18 fellowships, research grants, and awards from the Association for Asian Studies, the Lynde and Harry Bradley Foundation, the Center for Chinese Studies in Taiwan, the National Library Board of Singapore, the National University of Singapore, the University of Pennsylvania, and Stetson University.
Debra Touchton – Promoted to Professor of Education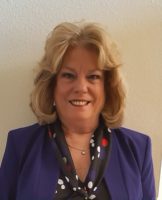 Debra J. Touchton, Ph.D., is the Program Director for the Ed. Leadership Graduate Program in the Department of Education. She joined Stetson in 2000 and was the first faculty in residence at the Stetson Center in Celebration. Working in education for forty-plus years, Dr. Touchton has educational and administrative experiences at the school, district, regional, and state levels. Her research interests are in the areas of leadership and organizational development, women in leadership, and the effects of poverty on teaching and learning. She earned a Ph.D. in Interdisciplinary Studies with a concentration in Organizational Development from the University of South Florida. She teaches graduate courses in communication, leadership, and systems planning.
She has been active in her state professional association, the Florida Association of Professors of Ed. Leadership (FAPEL) for 17 years, and served as president-elect, president and past-president, and continues to be an active member. During her time with FAPEL, she facilitated change in the state organization, participated in developing the vision and mission, and strategic planning. Dr. Touchton is also an active member of American Association of University Women (AAUW), and American Educational Research Association (AERA).
Dr. Touchton's passion is teaching and leadership development/advocacy for women and girls. She states, "I believe quality education is the true equalizer and levels the playing field for all, and that is why I have dedicated my life work to it."
Nathan Wolek – Promoted to Professor of Digital Arts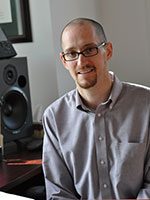 Nathan Wolek, Ph.D.,  is an audio artist and researcher whose work encompasses advanced signal processing techniques, multimedia performance, and electronic music history. Wolek completed his Ph.D. in Music Technology at Northwestern University, and is currently an Associate Professor of Digital Arts and Chair of the Creative Arts Department at Stetson. He is a contributor to Jamoma, an open-source software platform for interactive performance systems. His music features rapid edits, gradually changing textures, and environmental recordings of personal significance. Wolek has performed as a laptop instrumentalist and presented his creative work across the United States, in addition to engagements in Germany, Norway, Canada and Brazil. His research has been featured at the ICMC, SEAMUS, CMS, ATMI and SMPC conferences. In 2012, Wolek helped organize the first ever Symposium for Laptop Ensembles and Orchestras (SLEO) at Louisiana State University. The same year, Wolek was named a Fulbright Scholar to Norway and worked primarily at the Bergen Center for Electronic Arts on significant enhancements and extensions to Jamoma.