Encouraging Kids to Go to College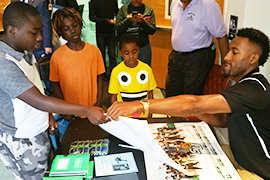 Mark Marcus knows first-hand that the path to college can involve many wrong turns if young people don't have a plan and encouragement along the way.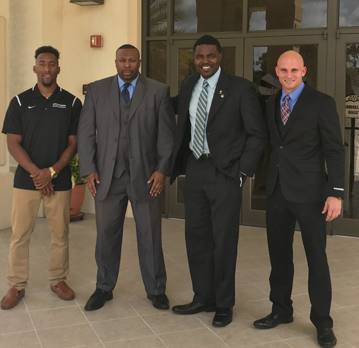 Marcus, '14, Accounting, enrolled in Stetson University ten years after graduating from high school and acknowledges he "didn't make the best decisions and I sometimes got in trouble. There were consequences to that and it set me back several years."
Now a player consultant for Stetson Athletics, Marcus also teaches business at Southern Technical College in Sanford and is a motivational speaker. He shared his story at an annual conference Saturday, June 24, of the "Boyz 2 Men: Young Male Development Program" at Mount Calvary Baptist Church in Palm Coast.
"The numbers don't speak in their favor for getting to college and getting that kind of career. My story says it can be done," he said.
Marcus was invited to speak at the conference for the past two years by Stetson alumni Jim Johnson, '68, Math, chairman of the Men's Ministry at the church. Johnson was one of the first African-American students to integrate Stetson in the 1960s, as well as Stetson's first African-American varsity student-athlete, playing baseball starting in 1964.
"My goal is to encourage the kids," said Johnson, now retired from IBM. "To me, we needed someone to talk about what it's like at college and why you want to go to college."
The conference for teenage boys also tackled issues ranging from bullying and proper etiquette to the importance of Christian faith, Johnson said.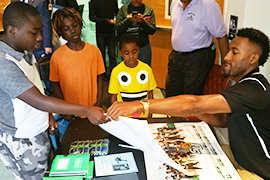 Last year, four Stetson football players and a soccer player spoke at the event, along with Marcus. This year, Marcus invited Hatter basketball star Divine Myles, who shared his inspirational story of being born premature, with fears that he might die or suffer long-term physical and mental disabilities.
Marcus speaks at various events on behalf of the university and attended the Leadership Stetson Class of 2017 for alumni, becoming a leadership ambassador. He is also chapter advisor for Pi Kappa Alpha on campus (Delta Upsilon Chapter) and chair of the fraternity's alumni board. He is Stetson's second African-American chapter advisor for a Greek organization on campus, after Stetson Professor Patrick Coggins, Ph.D.
"I believe Stetson sees the relatability I have as a successful young African American who went to Stetson, who doesn't have the squeaky clean background," Marcus said. "But I persevered and got it done and am getting it done. That is a story we need in our low-income areas, speaking to young men.
"My message to the Boyz 2 Men conference was Stetson not only wants you to get a great education, but we also would like you to consider us for the opportunity to give it to you."