Internationally Acclaimed Classical Pianist Sean Kennard Joins Stetson Faculty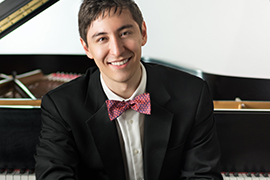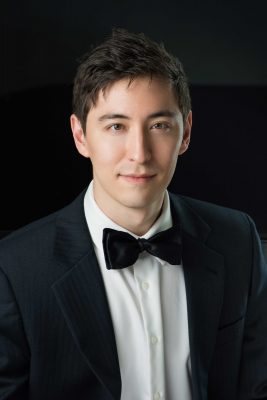 Many great classical pianists start playing by age 5, but Sean Kennard started a little late.
At age 10, he began piano lessons and trained with some of the top teachers in the country in his teens and early 20s. And that, he believes, gives him an edge in teaching.
"I started playing rather late," he said. "Although I've often wondered what could have been had I started earlier, I think being behind the curve initially has turned into a boon for my teaching. I have clear memories of common pianistic challenges I faced and the methods and practicing techniques I used to conquer them; this enables me to understand my students' problems and work with them on effective solutions.
"I've been told I'm a very good teacher. I have the ability to empathize with the student, helping them identify and work through whatever may be preventing them from achieving their musical goals," said Kennard, an internationally acclaimed classical pianist, who has won many piano competitions and played as a soloist with orchestras around the world.
Kennard was selected as Assistant Professor of Piano for the Stetson University School of Music, replacing Professor Michael Rickman, D.M.A. and Steinway Artist, who retired this month after 34 years.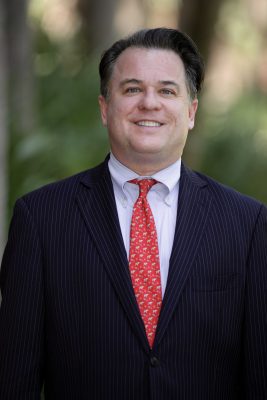 "The School of Music faculty search committee, chaired by Professor David Bjella, reviewed well over 150 qualified applicants for this very important position and brought several candidates to campus," said Thomas Masse, D.M.A., Dean of Stetson's School of Music. "As soon as we had a chance to meet Sean Kennard, watch him teach, hear him play, and see how he interacted with students and colleagues, it was clear to the entire School of Music community that Sean would be a wonderful match for Stetson and Stetson for Sean.
"He is a young artist of rare gifts and has the wisdom and maturity of a seasoned faculty member. I know I speak for everyone when I say we are very much looking forward to Mr. Kennard's appointment," Masse said. 
Added Kennard, 32, "I love teaching and will always consider it a vital aspect of my musical career. For me, doing so within the framework of an institution and contributing to a larger program is even better. I believe it will be a wonderful collaboration and anticipate many great years ahead."
Kennard also will oversee the Great Pianists at Stetson series and has already lined up artists for the upcoming academic year. "We're very fortunate to begin the 2017-18 series with an absolutely stunning Russian pianist, Vyacheslav Gryaznov, on Sept. 17 at 3 p.m.," Kennard said by phone this week from New Haven, Connecticut, where he has been working on a Doctorate of Musical Arts degree from Yale University for the last three years.

Kennard completed a two-year residential requirement of coursework and writing a thesis at Yale, and is in the first of three years of required professional experience. That includes performing and teaching, and leads toward a D.M.A. in 2020 once he submits a portfolio and completes a final oral exam and recital.
Kennard was born to an American father and a Japanese mother, grew up in Hawaii, and was already winning awards within two years of taking his first lesson. His first piano teacher recommended his parents buy him a Steinway Model B grand piano, on which he soon was practicing four hours a day.
He performed in Carnegie Hall and won the International Chopin Competition of the Pacific before he turned 12. A long list of prizes, awards and performances from Tokyo to Paris to Chile followed.
His family moved to Philadelphia when he was a teenager so he could attend the Curtis Institute of Music. He received a Bachelor of Music from there and a Master of Music from the Juilliard School.
At Juilliard, he met his future wife, Grace Song Kennard, a dance student, while they were traveling on an outreach trip for Christian students to Japan immediately following the Tohoku tsunami of 2011. She later danced for the Martha Graham Dance Company and Buglisi Dance Theatre in New York City. The couple will move to DeLand in late July with their new puppy, an Australian Shepherd, named Pacer.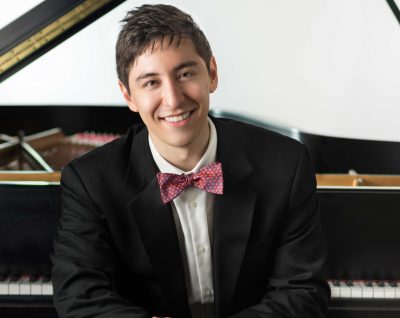 "His name is Pacer because I like to run and when he gets old enough, I'm hoping that he will be my running buddy," Sean said.
Kennard had never visited Stetson or DeLand before his interview in late January. He said he was attracted to the position because of "the vibrant environment that the faculty members create and their sense of camaraderie, which I know is not to be taken for granted.
"Being able to work in a positive setting like that of Stetson is very important to me," he explained.
He also fell in love with the DeLand campus.
"It's one of the most beautiful campuses I've seen," he added. "I love the pianos, especially the concert grands on stage in Lee Chapel, also the music building, the practicing facilities and the faculty studios. I'm especially looking forward to the teaching studio, including two beautiful Steinway Bs, that I'm inheriting from Michael Rickman."
Kennard and his wife had dinner with Rickman and his husband during their last visit to find a house in DeLand.
"There is a lot of responsibility that comes with this position and I'm going to put all my energy into continuing the legacy that Michael started as best as I can," Kennard said. "He's been very supportive of me, doing everything he can to help make the transition a smooth one."
– Cory Lancaster