Stetson wins 2017 Orseck Memorial Moot Court Competition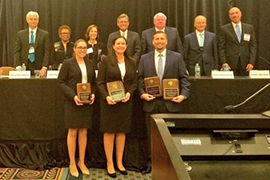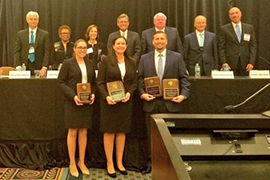 Stetson University College of Law's moot court team won the 2017 Robert Orseck Memorial Moot Court Competition on June 22 in Boca Raton, Florida.
Stetson Law students Kris Galloway, Christina Huckfeldt and Ali Preston argued before the justices of the Florida Supreme Court during the final round of the competition, held in conjunction with the annual Florida Bar Conference.
Galloway also won the Best Oralist Award in the final round.
"This is an incredible opportunity for our students to polish their advocacy skills before attorneys and members of the judiciary," said Stetson Professor of Legal Skills and Moot Court Director Brooke Bowman.
Moot Court alumna and Biodiversity Fellow Erin Okuno, J.D. '13, co-coached the winning team with Professor Bowman.
Stetson teams have advanced to the final round of the Orseck competition 14 times in the past 18 years.
---
Post date: June 25, 2017
Media contact: Brandi Palmer | [email protected]
727-562-7381 office | 727-430-1580 cell