Stetson Honored for Packing 300,000 Meals for Hungry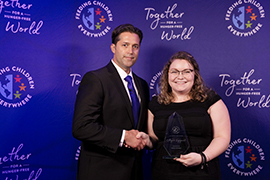 Amber Finnicum-Simmons started helping Stetson University pack meals for the hungry before she even started taking classes here. 
As a high school senior, Finnicum-Simmons attended Hatter Saturday in 2012 and volunteered with other accepted Stetson students to package meals to help end childhood hunger.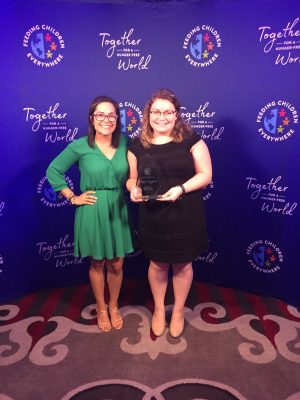 She's been a key volunteer every year since, organizing what has become an annual tradition at Stetson. Last fall, the service project expanded to include a meal-packing event for students during Homecoming week, which will continue this fall.
"We have estimated that we've packaged about 300,000 meals through our partnership with Feeding Children Everywhere," said Finnicum-Simmons, AmeriCorps VISTA Community Impact coordinator for Stetson's Center for Community Engagement.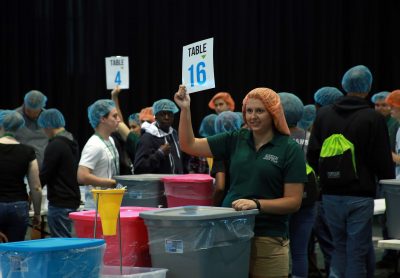 Stetson received the Collegiate Engagement Hunger Hero Award from Feeding Children Everywhere at a gala June 23 at Hard Rock Hotel at Universal Orlando. The banquet was attended by Finnicum-Simmons and Luisa De Guzman, Stetson's coordinator for the Bonner Program and Social Justice Education.
Stetson was the only college or university recognized nationally by the group. Other award winners included the Miami Dolphins, Chick-fil-A, JPMorgan Chase and Cigna, said Robert Andrescik, vice president of Communications & Technology for Feeding Children Everywhere.
Feeding Children Everywhere provides ingredients for volunteers to assemble Red Lentil Jambalaya in biodegradable meal bags with lentils, rice, six dehydrated vegetables and pink Himalayan salt, according to its website. Since 2010, the nonprofit has provided 75.9 million meals for hungry people around the world, with the help of hundreds of thousands of volunteers.
"There's no way we could have done this without partners like Stetson," Andrescik said. "This was an opportunity to honor those great organizations that clearly care about the people."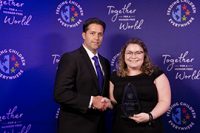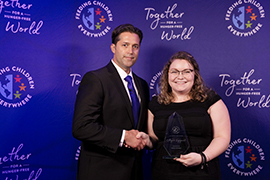 Finnicum-Simmons said incoming students at Hatter Saturday are given the chance to vote on where they would like their bagged meals to go. The past few years, the students have voted to split them between Haiti and Central Florida, although other years, the meals have been split between Central Florida, and Guatemala and Honduras.

-Cory Lancaster