Stetson University in the News, June 30-July 6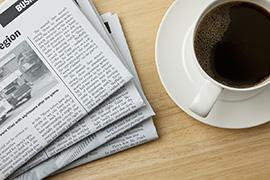 Top News:
Eugene Huskey

"The Anti-Tweeter: President Vladimir Putin and the Art of the Interview," an article by political science professor Eugene Huskey, Ph.D., appeared on the international blog Presidential Power, which publishes analyses and commentary on presidencies worldwide. The article used the recent media blitz to compare American and Russian presidential leadership styles, posted June 24.

Former Stetson University chaplain Michael Fronk was featured in the article, "Stetson Chaplain Turns to Oviedo Tech Company to Tell Life Story." According to the article, Fronk has been using the storytelling website TSOLife to document his life, posted by Orlando Sentinel July 2.
Christopher Ferguson, Ph.D., professor of psychology, was quoted in the article, "How Modern Life Affects Our Physical and Mental Health." Ferguson said, "Screens of various sorts are increasingly embedded into daily life, whether they involve education, work, socialization, or personal organization," posted by Medical News Today July 3.
K.C. Ma, Ph.D., professor of finance, was quoted in the article, "5 of the Best Stocks to Buy for July." Ma said, "Facebook's future revenue growth rate will be jointly determined by MAU growth and ARPU growth. ARPU has been increasing at a 30 percent annual rate and is expected to stabilize at a low teen level in the coming years," posted by U.S. News & World Report July 3.
Robert Sitler, Ph.D., professor of world languages and cultures, was featured in the article, "Stetson Professor Works to Save Florida's Aquatic Gems." According to Sitler, the degradation of Volusia County's local springs over the years has been noticeable, posted by The Deland-Deltona Beacon Online July 5.
Stetson University student Cornelius White was one of several students to receive the Black Heritage Planning Committee's "Young Pillar" Scholarship, awarded to students who were involved in various civic activities throughout high school, posted by The Miami Times June 28.
The June 30 NASDAQ quoted Law Professor Rebecca Morgan in the story, "Beware Fraudsters When You Go Online." Kiplinger also ran the article. Professor Rebecca Morgan wrote the June 29 Elder Law Prof Blog, "Medicaid Per Capita Caps Explained." She authored the July 5 Elder Law Prof Blog, "American Society on Aging-Call for Proposals Extended," and the July 6 Elder Law Prof Blog, "How Much Care do Family Caregivers Provide?" Professor Morgan wrote the June 30 Elder Law Prof Blog, "Tips to Living Longer from Those Who Are."
The July 5 Florida Trend listed Stetson College of Law among the top five Florida law schools in Legal Elite.
Law Professor Charles Rose spoke with the Tampa Bay Times for the story, "Judge to weigh use of new self-defense claim in slaying of ex-USF football player."
The International Jurist "Best LL.M. Programs" edition featured Stetson's LL.M. in International Law as an A+ for Student Experience.
Other News:
The June 30 Tampa Bay Business Journal ran the news that "Hot Leads: USF Sarasota-Manatee, Stetson launch admissions agreement."
The June 29 and 30 Bay News 9 and 13 News featured interviews with Law Professor Louis Virelli on constitutional issues.
Law Professor Jason Palmer is general editor and Professor Brooke Bowman is assistant editor of the 2016 Year in Review in the ABA Section of International Law, according to the ABA Section of International Law Journal.
The June 29 Targeted News Service reported that "Stetson Presents Awards to Alumni and Friends at Florida Bar Convention."
The June 30 InsuranceNewsNet and Targeted News Service picked up the article, "Professor Luz Nagle Speaks Around the World in Brazil, Canada, Costa Rica."
The June 30 Targeted News Service ran the article, "Career Development Leader Appointed to ABA Young Lawyers Division Senior Leadership Team."
Professor Roberta Flowers' presentation on ethics was mentioned in the July 1 Elderlaw Report article, "ASNP's 11th Annual Meeting: Special Needs Planning in an Era of Change."
The July 5 Plus Company Updates profiled honorary doctor of laws recipient Donald M. Kendall, chairman emeritus of EastWest Institute and co-founder of PepsiCo where he served as chairman and CEO for 21 years before his retirement in May 1986.
The July 5 Florida Politics reported that Law adjunct and retired Judge Simone Marstiller has joined Gunster.
Alumni News:
The June 30 BizWireExpress ran the article, "St. Petersburg Personal Injury Attorney Announces Candidacy for Florida House District 66," about law alumnus Berny Jacques.
The June 29 FloridaNewsLine featured law alumnus Andrew Rush, CEO of Made in Space, in the article, "St. Johns County graduate comes full circle."
Stetson University graduate Jim Looker was featured in the article, "Profile of Jim Looker Executive Vice President/Chief Lending Officer of The Summit Bank," posted by Plus Company Updates (PCU) June 29.
According to the July 2 Bradenton Herald, law alumnus Brett M. Henson was quoted in "Names and Faces in Manatee and Sarasota counties."
James Rutt, graduate of Stetson University and Chief Information Officer at the Dana Foundation, was featured in the article, "Profile of James Rutt Chief Information Officer of European Dana Alliance for the Brain," posted by Plus Company Updates (PCU) July 3.