From Blackfish and Beyond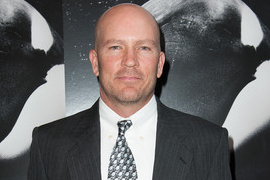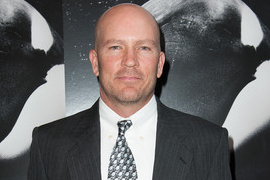 Within the first 10 minutes of walking into his new job as an Orca trainer at SeaWorld Orlando, John Jett was overcome by a mix of emotions.
Before him was a 12,000-pound killer whale named Tilikum, baking in the Florida sun. An animal so majestic, trapped in a captive environment, Jett thought to himself. Fighting the urge to leave, Jett decided to stay.
"I wanted to make a difference," Jett recounts. "I wanted to make his life, and the lives of the other Orcas, better each day."
During his time at SeaWorld, Jett grew to know and love Tilikum. Making friends with the magnificent beast, Jett and the other trainers worked day-in/day-out to enhance Tilikum's existence. It was a trying time personally, and after five years Jett left SeaWorld in 1996. He departed with one goal in mind: to educate the public about the realities of marine mammal captivity.
Today, Jett is making a difference at Stetson, now in his second tour of duty at the university. As the lab coordinator for the Department of Biology and a visiting research professor, Jett makes his mark conducting research and, he notes, inspiring future scientists by "helping to improve the education and student knowledge in natural sciences."
One of those future scientists is Danielle Barnes '16, who was an undergraduate student studying aquatic and marine biology at the time.
"I met Dr. Jett through my biology seminar class my sophomore year; he was one of the speakers that was providing us with a 'real-world look' for the jobs and fields that we could potentially have upon graduating from Stetson," says Barnes, now studying for a master's degree in Australia. "[Jett] is not only extremely experienced and knowledgeable in his field, but he is also extremely approachable, kind-hearted and genuinely wants to see his students succeed."
Jett is taking his students from Blackfish and beyond.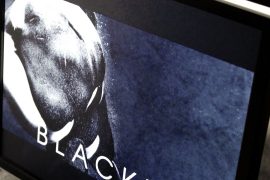 Jett arrived at Stetson in 2000. After earning bachelor's and master's degrees in environmental science at the University of Kansas and Oklahoma State University, respectively, he became the director of environmental affairs at Stetson, where he helped implement a recycling program and an energy-efficiency tracker for each building on campus, which is still in use today.
In 2003, Jett left Stetson to pursue a doctorate in health and human performance at the University of Florida, with an emphasis on the human dimension of wildlife conservation. He completed his dissertation on "Boater Behavior on Manatee Conservation" before attending the University of Missouri for a post-doctorate fellowship in natural sciences.
In 2009, Jett returned to Stetson as an adjunct professor, while continuing to consider how best to educate people about marine mammal captivity. He had remained especially sensitive to the need of educating the public about the lives of killer whales in manmade, concrete tanks.
Then on Feb. 24, 2010, the pivotal day in that pursuit came.
The death of an orca trainer sparked a fire in Jett's heart. It was time to speak out. In interview after interview for CNN and 60 Minutes Australia, among many others, along with article after article, Jett and his co-workers started a revelation that ultimately grabbed the attention of Gabriella Cowperthwaite, a movie director from Los Angeles.
From there, the documentary film Blackfish was born.
Blackfish, through firsthand stories and heart-wrenching footage, follows the journey of Tilikum and his trainers, including Jett. Released in January 2013, Blackfish took audiences on a rollercoaster ride that, in the end, seemingly all boiled down to money over mammals.
After premiering at the Sundance Film Festival, Blackfish exploded onto the global consciousness. CNN Films has aired the documentary more than 50 times, and it has been streamed on Netflix more than 160 million times and counting.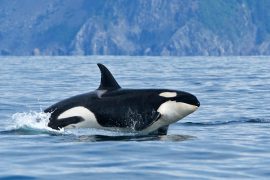 Jett was moved, too. Blackfish not only raised awareness of marine mammalian captivity, but it opened Jett's eyes to a new generation of inspired students, including ones at Stetson, who want to get involved and put an end to marine mammal captivity.
"There are a lot of great people trying to do great things."  Jett says. "I remain cautiously optimistic about the future of captive marine mammals."
"One of the main reasons Dr. Jett inspires me," says Barnes, "is that he fights for what he believes in, regardless of the backlash that he may receive in doing so, in order to make a change for the better."
While focusing on research and education at Stetson, Jett continues to work for the freedom of marine mammals in captivity. On campus, Jett recently held a screening on Blackfish for student cultural credit. Before showing the film, Jett gave a synopsis of his time at SeaWorld and about Blackfish. Afterward, a Q&A session with students revealed massive student engagement and interest toward marine-mammal captivity.
Also, Jett and former Orca trainer and best friend Jeffery Ventre, M.D., recently published an evidence-based research paper, titled "Tooth Damage in Captive Orcas (Orcinus orca) in the Archives of Oral Biology."
Jett continues to work for the cause while offering students at Stetson a special passion and perspective.
"I am so grateful," Jett concludes, "to be able to educate people on the conservation of marine mammals."
-Skye Schwartz '20 (Aquatic and Marine Biology)