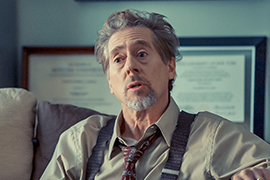 When Allen Enlow graduated from Stetson University in 1974 with an art degree, he moved to New York City. But this reluctant art major had no dreams of landing in MOMA or some hip Greenwich Village gallery.
Instead, Enlow became, among other things, a caricature artist drawing funny portraits at parties and the occasional Macy's in-store promotion.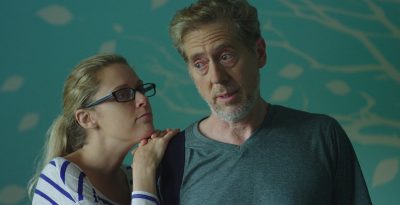 "I actually had a real problem with the caricatures for a long time," Enlow says by phone from his Brooklyn residence. "People would say, 'So you're a caricature artist?' "
Enlow switches to a faux angry, shouting voice: "No! No! I'm an actor! I'm an actor!"
Indeed, Enlow is an actor in film, television and theater, as well as voice-over roles. His many credits include roles as a neurologist on HBO's "The Sopranos," a biologist on HBO's "The Night Of," a British butler with Triumph the Insult Comic Dog on Hulu, and a cop and an attorney in episodes on the true-crime channel Investigative Discovery.
He's also appeared on Showtime's "Nurse Jackie," in the popular Mike Will/Miley Cyrus/Wiz Khalifa video "23," in independent films and in New York theater. His many voice credits include the Joker in the video game, "Batman: Dark Tomorrow," and Eddie the Bat in the 2016 animated film "The Dragon Spell."
"Right now, I seem to be on a little roll here," Enlow says of his current projects.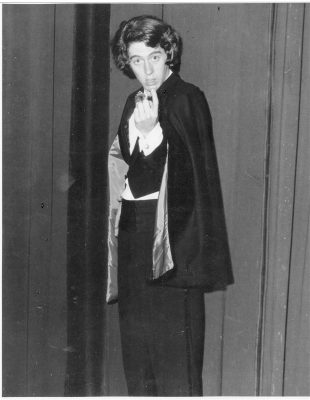 He was booked for two upcoming roles on the new Syfy series "Happy!" (which combines live action and animation a la "Who Framed Roger Rabbit"), and on the USA Network's "Mr. Robot." And he recently went to LA for a video game, where the creators planned to scan his face and body, and have him do a voiceover afterward.
And yes, he still draws caricatures "at parties on the weekend," says Enlow, a married father with a 25-year-old daughter. "I kind of have to juggle all the balls here. I wouldn't do it if I didn't need the money."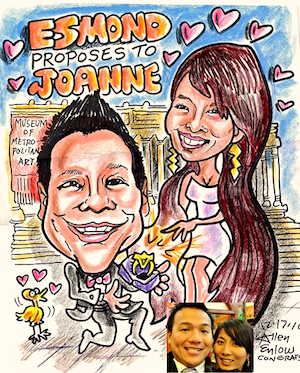 But he's made his peace with drawing big-headed, goofy but charming portraits of kids, couples and families.
"I finally I had a friend who said, 'Listen, stop being emotionally attached — you just gotta make a dollar,' " Enlow says with a laugh. "So now I just try to have a good time with it, and I'm very lucky to have it. If I didn't, I might have to be working at a nine-to-five job."
The late Fred Messersmith, who was Enlow's art professor and chairman of Stetson's art department from 1959 to 1989, would be surprised that his former student is pursuing any sort of creativity on paper.
Enlow chose Stetson because his father, Phil Enlow, a former FBI agent turned high school basketball coach, had attended the university. Also, Enlow's grandfather and an uncle were Southern Baptist ministers, and in the 1970s the university was still affiliated with the Southern Baptist Convention. (Enlow confesses, as a youngster, he was "always sitting in church actually dreaming of 'Wow, if that organist could just play 'Light My Fire' by the Doors, it would be awesome.' ")
As for becoming an art major?
"I actually majored in art because my daddy told me, too," Enlow says. "Somehow he thought that an artist would be able to make more money than an actor. I was a good boy at the time and I said, 'Yes, Daddy.' "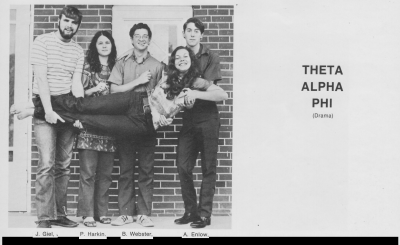 After a childhood as an "FBI brat," with his family moving from city to city along the East Coast, Enlow arrived at Stetson in 1970.
The school and the nation were still in the midst of "cultural hippiedom," he says. "And I was about as unhip as you could possibly get. I just fell into the theater thing."
James Wright, a professor in Stetson's theater department from 1965 until his retirement in 2004, including a stint as chairman, says he directed Enlow in several productions at what was then the school's theatrical home, Stover Theatre.
"The one I remember the most was 'Dark of the Moon,' " said Wright, who lives in DeLand. The play, which was based on an old European folk song, tells the tale of a "witch boy" who falls in love with a beautiful human girl. Enlow portrayed Floyd, a role which called for him to play guitar.
"He's a very good guitar player and also a good singer," Wright recalled recently. "I worked with him probably as much doing the sets – painting and building the scenery. He spent a lot of time in Stover Theatre."
After graduation, Enlow located to New York City, where he did standup comedy for 30 years.
With comedy, he could "just jump up on stage and start acting on my own – I didn't have to wait for anyone else. I was hanging out with everybody who got famous. I worked with Jon Stewart. I worked with Chris Rock."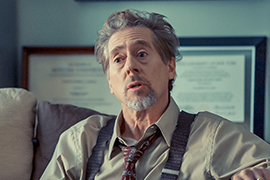 Ask him about some of his favorite gigs, and he doesn't mention roles in such big-time hits as "The Sopranos" or "Nurse Jackie." Instead, he says his favorite was the lead role as a faded rock guitarist in the indie film "Liner Notes," released earlier this year.
"I just had such a good time because I was in every scene," Enlow says. "That's all I had to do was make that film for three weeks. Every day I would go out and do a new scene. When you're working, that's the thing – you're not thinking. You're just working and learning. Something like that is very memorable. You kind of get bit by that bug again."
— Rick de Yampert