Phi Beta Kappa Visiting Scholar Lydia Liu to Speak at Stetson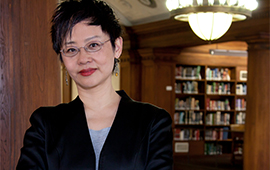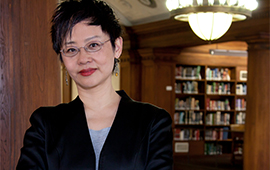 Stetson University will host respected theorist of media and translation Lydia Liu, Ph.D., this week to present two public lectures addressing the topics of moral ideas and the place of meaning in translation.
Both events are free, open to the public and offers cultural credit to students.
"Phi Beta Kappa is thrilled to welcome Dr. Lydia Liu to campus," said Melinda Hall, Ph.D., assistant professor of philosophy at Stetson University. "She is a dynamic scholar and writer whose work in comparative literature cuts across disciplinary boundaries and engages a wide array of interests, from poetry and translation to cultural relativism and feminism. While here, she will present her scholarship on both Lewis Carroll's famous Jabberwocky poem and the place of the struggle over moral ideas in international politics. We are so glad to be able to connect Stetson students with a high-profile scholar like Dr. Liu and look forward to developing many interesting conversations around her work and insights."
"Who Owns Great Ideas?"
Lynn Business Center, Rinker Auditorium, 345 N. Woodland Blvd., DeLand
"The Jabberwocky Nonsense: The Place of Meaning in Translation"
Homer and Dolly Hand Art Center classroom, 139 East Michigan Avenue, DeLand
Liu is Stetson University's Phi Beta Kappa Visiting Scholar for 2017-2018. She is a theorist of media and translation, a professor of comparative literature, and a bilingual writer in Chinese and English. She is Wun Tsun Tam Professor in the Humanities, director of Columbia's Institute for Comparative Literature and Society, and founding director of the Tsinghua-Columbia Center for Translingual and Transcultural Studies at Tsinghua University, Beijing. Her publications include The Freudian Robot: Digital Media and the Future of the Unconscious; The Clash of Empires: The Invention of China in Modern World Making; Translingual Practice: Literature, National Culture, and Translated Modernity; and, more recently, The Birth of Chinese Feminism: Essential Texts in Transnational Theory (co-editor/co-translator). As a creative writer in Chinese, she is the author of The Nesbit Code, a mock detective story.
Since 1956, the Phi Beta Kappa Visiting Scholar Program has been offering undergraduates the opportunity to spend time with some of America's most distinguished scholars. The purpose of the program is to contribute to the intellectual life of the campus by making possible an exchange of ideas between the Visiting Scholars and the resident faculty and students.