High School Programming Competition Draws Record Attendance at Stetson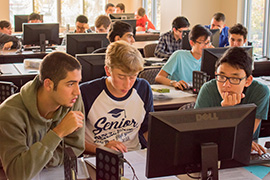 The 20th annual High School Programming Competition (HSPC) at Stetson University in DeLand had more participants than ever with 150 students from 21 Florida schools earlier this month.
"This year's HSPC was the largest ever and we added seven new schools to the roster," explained Joshua Eckroth, Ph.D., assistant professor of computer science at Stetson University. "We used seven computer labs in four buildings across campus, which was a needed change from last year where we used only three labs, all in the Lynn Business Center."
Teams traveled from as far as Jacksonville, Lake City, Sarasota and Miami to participate in the competition on Nov. 18.
"The HSPC event hosted by Stetson's Math and Computer Science Department is a service to the local community, as well as a recruitment effort for the university," said Eckroth. "Every participant received a Stetson scholarship, and winners received larger scholarships, as well as very valuable prizes."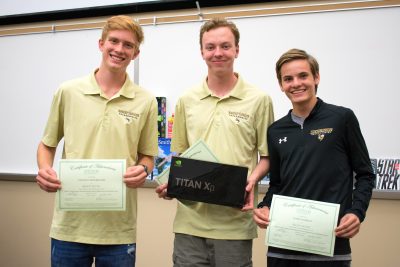 Only one team in the competition successfully answered all 10 complex programming questions correctly: Orlando's Bishop Moore Catholic High School team, which consisted of seniors Lawrence Stempkowski and Spencer Compton, and junior Corbin Goodyear.
Placing second in the competition with nine correct answers were three students from Doral Academy in Doral, Florida: junior Pedro Contipelli, senior Amanda Fernandez and sophomore Ethan Partidas.
Having successfully solved eight of the programming problems and capturing the third spot in the competition were students from Timber Creek in Orlando: senior Brett Fazio, junior Daniel West and sophomore Natalie Longtin.
Members of the teams who placed in first, second and third place qualify to receive a $24,000 Stetson scholarship over four years, which equates to $6,000 per year, per student.
In addition to the sizable scholarship money, prizes were also awarded for the top three spots:
Second Place winners from Doral Academy in Doral, Florida, were (left to right) junior Pedro Contipelli, senior Amanda Fernandez and sophomore Ethan Partidas.

1st: NVIDIA Titan Xp graphics card for gaming and "deep learning" (artificial intelligence) research (retail price $1,800);

2nd: NVIDIA GTX 1080 graphics card ($800);

3rd: NVIDIA GTX 1070 graphics card ($450).
Each team member who finished in fourth, fifth or sixth place was eligible to receive a $20,000 Stetson scholarship over four years ($5,000 per year), while those in seventh, eighth or ninth place each may receive a $16,000 Stetson scholarship over four years ($4,000 per year).
For all remaining places, each team member may receive a $8,000 Stetson scholarship over four years ($2,000 per year). As a bonus, any student who participates in the contest for more than one year receives his/her highest win, plus an additional $1,000 for each additional year of participation (for a maximum of four years at Stetson) – which could add up to an additional $12,000 Stetson scholarship.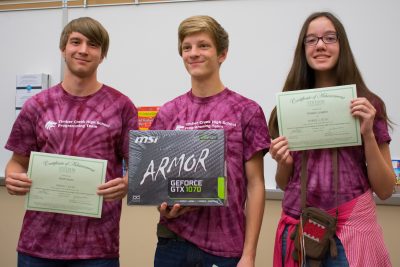 "To our knowledge, no other liberal arts college in Florida has a high school programming contest like this," explained Eckroth. "In early years, code submissions were judged by the math and computer science faculty. Now, everything is automated with software, though volunteers have to monitor everything continuously to address questions from teams."
For many years, including this 20th anniversary year, the contest has been funded by the Wuennenberg Family in addition to the team entry fees of $45 per three-person team. Stetson's math and computer science students, faculty and department staff always run the competition, including creating the problems, designs, choosing and buying the prizes, and managing the teams during the event. The inaugural HSCP event was launched by now-retired Stetson mathematics and computer science professor Michael Branton, Ph.D., in 1997.
"This year's prizes were highly valued by the student participants and should be very enticing to high school students who are considering participating in the future," Eckroth said.
-Trish Wieland