Stetson Students Play 'Instruments of Healing'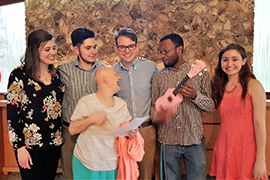 As Stetson music students performed recently at Duvall Homes, a residential facility for people with developmental disabilities, administrator Elizabeth Bhimjee noticed something new and strange.
While one student performed "Edelweiss," that gentle ballad from "The Sound of Music," a 30-something Duvall resident "started to sing along," Bhimjee said. "And she knew every word to that song. After the student was done, I turned to her and said, 'Gosh, you've got a beautiful voice.' She said, 'Oh I know.' "
Bhimjee laughed joyfully at the memory, then added: "I was just astonished. Who knew? Until this opportunity presented itself, none of us knew that she liked to sing. None of us knew she has this recollection of certain songs. This opened a new window to her entire personality."
That opportunity came courtesy of Instruments of Healing, a program founded last spring by Stetson sophomore Lauren Baucum, a guitar performance major from Enterprise, Ala. With guidance from guitar professor and faculty advisor Stephen Robinson, D.M., and his wife, Patrece Robinson, retired adjunct professor of music at Stetson, Baucam worked through Stetson's Center for Community Engagement to jumpstart the program.
Instruments of Healing boasts more than a dozen Stetson music students as participants. Various members perform on various Fridays at area facilities that include Duvall Homes in Glenwood, the Good Samaritan Society – Florida Lutheran senior living facility in DeLand, and the respite program of the Council on Aging in Orange City.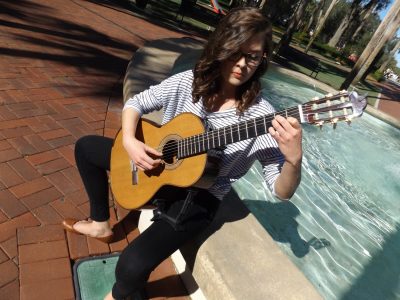 Witnessing the transformative, healing power of music is not something new for Baucum.
"When I was growing up, I'd play music in nursing homes in my hometown with some groups from my middle school," said Baucum, who began playing guitar at age 9. "It was orchestrated by the parents, obviously, at that age. When I got to Stetson, it struck me as odd that there wasn't something that provided opportunities for people to go out and use music that way.
"Being in the practice room can only do so much for you. For me, being a musician doesn't always mean just playing music – it means playing music for people."
In his book "Music: Physician for Times to Come," author-editor Don Campbell, who also penned "The Mozart Effect," wrote: "We are just beginning to realize the deep and profound scientific, medical, psychological and spiritual questions involved in the power of music." The book collected writings by researchers, musicians, physicians and therapists, who explored "what we know about the properties of music in the healing process," Campbell said.
At Instruments of Healing sessions, students have performed on guitar, keyboard, ukuleles, trombone, violin, viola, vocals and keytar (a keyboard strapped like a guitar across one's body). Students play solo, in duets and in various ad-hoc ensembles.
Their repertoire has included Beatles songs, "Carry on My Wayward Son" by the rock band Kansas, Christmas carols, classical pieces and more.
"Everything besides rap or country," said Justin Dalisay, a guitarist and 19-year-old junior from Jacksonville majoring in music with an outside field of business. "We always keep classical in there — we keep our roots in there. We do a lot of jazz standards – 'Autumn Leaves,' 'Fly Me to the Moon.' Fiddle music on the violin — residents really like that. We try to do stuff that residents might know, a lot of older tunes. And we always ask the audience if they have suggestions."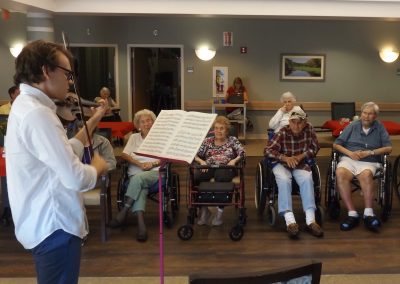 At a performance on Dec. 1 at the Good Samaritan Society facility, Baucum and Lindsey Peterson, a sophomore majoring in music with an outside field of business, played and sang "Silent Night" on ukuleles. Guitarist Eshtemoh Morgan played an original song titled "Impossible Things," then led a jam session of the eight students present that morphed into Chuck Berry's "Johnny B. Goode." When a resident requested "Amazing Grace," seven students jumped in to play that classic on violin, guitar and other instruments.
Instruments of Healing sessions at Duvall Homes, whose residents include adults with autism, Down syndrome, cerebral palsy and other disabilities, quickly developed into interactive experiences.
"The second time we went to Duvall Homes, we had residents come up and play percussion instruments with us, clap along and sing into the microphone with us," Baucum said. "It's really blossomed into us just sort of helping incorporate them into the music."
"From that point on, this thing became this cheerful, raucous, celebratory kind of a party," said Bhimjee, who was formerly development director at Stetson and is now Duvall Homes' chief marketing and development officer. "More than 50 percent of these residents have no verbal capacity at all. This whole musical program is a means of self-expression for them. We're seeing behaviors through the music that we haven't seen before.
"It's become almost like a therapeutic avenue for them. We're seeing new personalities emerge just by being introduced to something different. It's just been incredible. It's been incredibly fun, too."
In September during its annual fundraising event, Duvall Homes presented its Inspiration Award to Instruments of Healing in recognition of the students' "kindness and generosity in bringing this opportunity," Bhimjee said.
Baucum and her fellow Stetson students were joined by six Duvall residents and the gala's six-piece band to perform the Beatles' "With a Little Help from My Friends." The event featured speaker and Duvall CEO Steven DeVane, a Stetson alum, and Bill Voges, a Duvall supporter and Stetson Law alum. Thomas Masse, D.M., dean of Stetson's School of Music, and Professor Robinson also attended the event.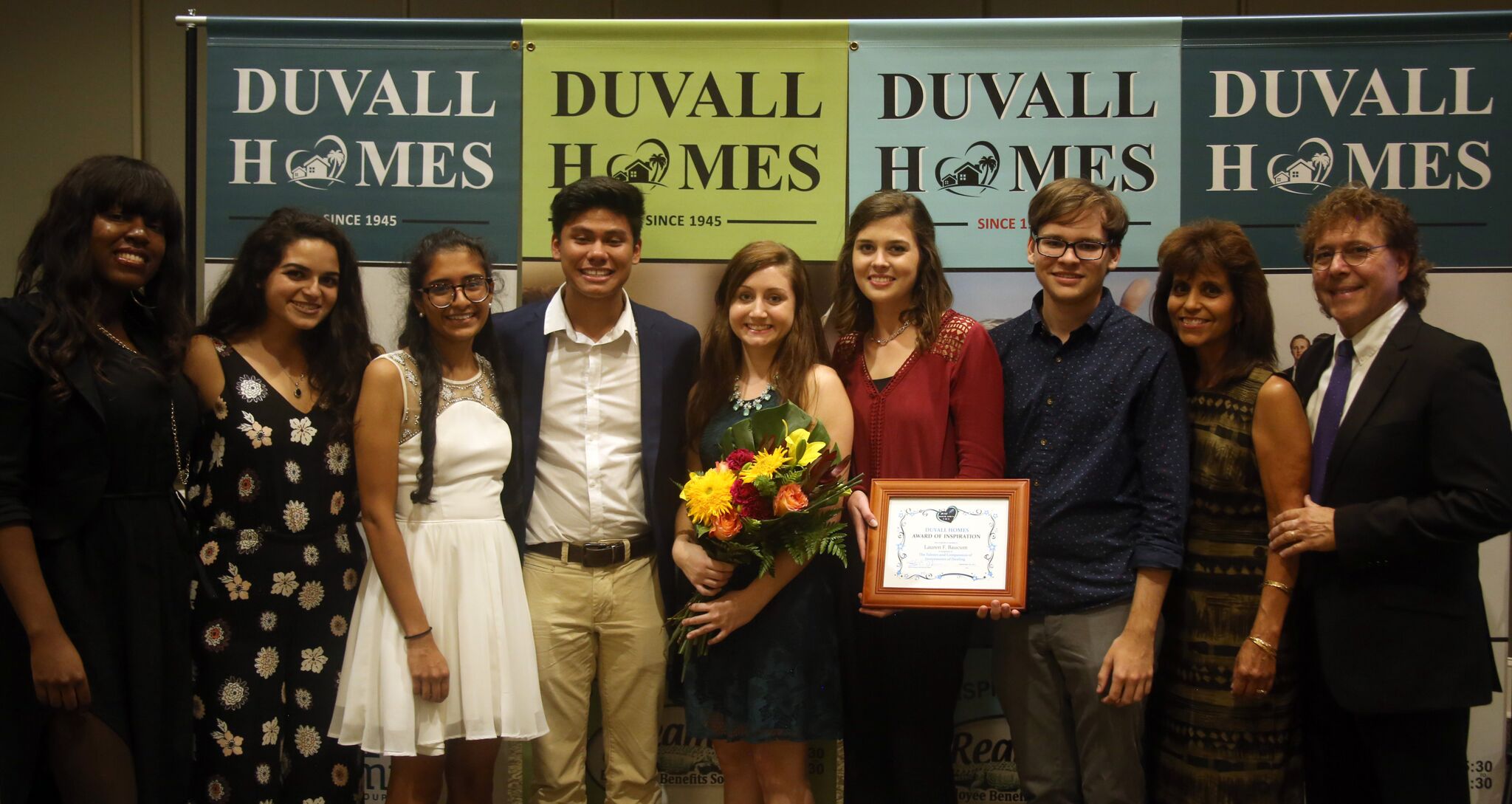 Seeing Duvall residents perform with Instruments of Healing students that night "was one of those heartwarming moments – to see our folks accepted and integrated and immersed in the general guest population," Bhimjee said. "Pretty cool program – amazing group of students."
To find out more about Instruments of Healing, visit the program's Facebook page or its HatterSync page at https://orgsync.com/168093/chapter.
— Rick de Yampert